4060
Views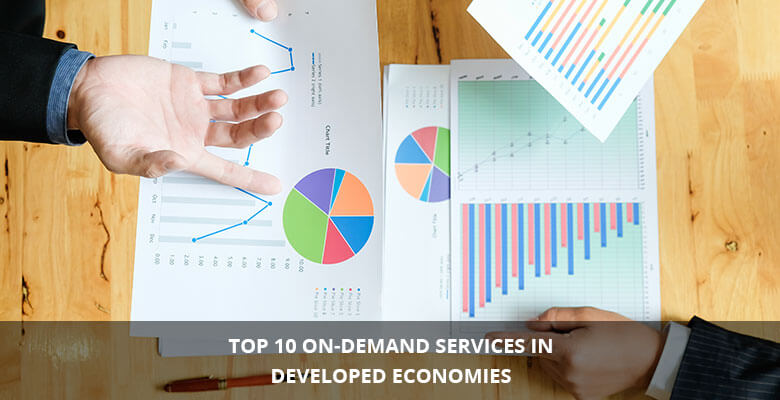 We live in an era where every business aims to fulfill the complete demands of its target customers. With a few taps on our smartphone, we can get everything delivered to our doorstep.
Isn't this a dream come true? Yes, it is!
Today, almost every startup and business has realized the potential growth in this sector and have started investing in its development and launch. The on-demand economy is now playing a significant role in driving the economies of various developed countries. Industries adopting this change are not just booming but expanding at rapid rates. According to PwC research, the on-demand business will grow to be worth close to $335 billion by 2025 as a whole. In this article, we will be covering the top 10 on-demand services that are currently expanding in deeveloped countries and simultaneously the reasons why the on-demand industry is becoming so popular.
Why is the on-demand economy so popular these days?
As the world is embracing the on-demand economy, the industry continues to offer millions of profit to businesses and a lot more comfort to customers daily. The adoption of disruptive technologies is consistently optimizing the customer experience.
We know there has been a rise in the gig economy, but knowing the reasons behind the growth is also very important. Here are some of the influential factors behind the skyrocketing growth:
Contactless delivery has become the new normal post-COVID. The pandemic has brought about uncommon changes in human behavior because businesses that used to offer home deliveries have embraced the modern contactless delivery methodology to meet customers' expectations. As a part of this methodology, companies have started implementing a contactless delivery process, where the delivery agent leaves the package at the customer's door and give them a call to pick it up from outside. Along with that, the payment processes have also gone completely online by ending accepting cash-on-delivery options.
Increased emphasis on entrepreneurship
On-demand software solutions have brought a wave of entrepreneurship and freelancing since they have allowed employees to choose their working hours and get paid based on the amount of work completed. This work culture has made life easier for freelancers and entrepreneurs to find work online and is life-changing for the ones who wish to pursue multiple gigs. The company culture has also been greatly impacted, and everyone now respects each other's spirit of entrepreneurship.
Increased possibility of customization
Customers today are keeping high expectations from companies. Everyone today is looking for customized solutions. They are unhappy with conventional business practices and want every organization to operate in a way that allows customers to have an extremely engaging experience.
With this, there has been a humongous growth in opportunities for companies and enterprises.
Services offered by on-demand apps are very safe and scalable. Because of this, incorporating them into your business operations gives you a highly scalable solution to satisfy the diverse needs of your firm.
These recommendations have persuaded business owners and marketers that converting to the on-demand business model is essential because it is more profitable than the conventional strategy.
Product replacement and refund policy
Returning goods is a major concern in physical stores. You must have the receipt, visit the store, speak with the concerned employee, wait, and then determine the likelihood of obtaining a product replaced. However, it is only a customer service request away when it comes to on-demand services, particularly eCommerce.
Or, in certain companies, clients need to access their dashboards to place a replacement purchase. Additionally, buyers have the choice between a full refund and a credit. Customers once more do this from the convenience of their houses, increasing the dependability of on-demand services.
On-demand services in developed countries
On-demand food & grocery delivery services
The on-demand delivery model has been growing at a very fast pace and is going to stay in the market for a much longer time. No one can deny the fact that food solutions are always in demand. According to Statista, the US market for online meal delivery generated US$306,808 million in sales in 2021 and is anticipated to expand at a rate of 10.01% a year (CAGR 2021–2025), with a predicted market volume of US$449,292 million by 2025.
Food and grocery delivery is one of the most common services flourishing in most developed countries. It not only offers a concept of food delivery in no time to customers but also provides restaurant owners with better opportunities to sell their products.
Companies like UberEats, GrubHub, Instacart, Glovo, and Postmates are a few of the names that are offering such services and ruling the markets of developed countries.
On-demand home services are also one of those sectors which is the talk of the talk these days. The demand for home services is elevating day by day as people are getting engaged in their hectic daily schedules. Every second person is seeking some assistance to manage their household activities effortlessly.
On-demand home services can be classified as:
House cleaning services
Repair services
Babysitting
Pet care
Pest control services
Carpentry
Others
Statista's most recent data indicate that in 2014, on-demand home service apps only brought in a total of USD 97.7 billion worldwide. The global income number, however, shot up to USD 581.9 billion in 2020 and is projected to reach an astounding USD 935.2 billion by 2023. Thumbtack, TaskRabbit, Urban Company, HouseJoy, Zimmber, Mr. Right, and Handyman are a few of the famous companies that offer such services.
On-demand health services
If you are unable to get your doctor's appointment or you are in a far-off location, or you do not have time to see a doctor, on-demand health services can help you counter all such situations. They have got your entire healthcare covered.
The telemedicine industry is quickly developing after the pandemic and is continuously adopting emerging technologies to provide the best experience to users. Not only does it allow you to book your doctor's appointment, but it also delivers all your prescribed medicines to your home. Not only that, many apps have additional features where you can get your basic health check-up and get recommendations for your health problems by just answering a few questions. You can even set medicine reminders in the app itself.
Here are a few names that are popular in the telemedicine industry:
MDLIVE
Doctor on Demand
Amwell
Teladoc
LiveHealth
Healthtap

On-demand salon services
According to Fortune Business Insights, there has been a growing trend of salon services globally as a large number of people are becoming increasingly desirous of having good looks. This global population becoming conscious of their looks is the driving factor for the market growth in this sector.
With the increasing growth in this sector, companies are coming up with tech solutions to modernize traditional salon services. Mobile apps are making it possible to offer on-demand services to clients. This is the best solution for the ones having a busy schedule and who do not have time to visit the salon and undergo long-duration processes. Using the at-home salon beauty service allows such clients to book a beauty professional and enjoy the services at home. Users can even book their appointments at a beauty salon or spa center with beauty-on-demand apps.
On-demand car wash services
On-demand car wash services are also becoming very popular these days. Installing an on-demand car wash mobile app will be your best option if you want to have your car cleaned but don't want to stand in long queues or waste time scheduling the service and waiting for your turn. Car washing is faster and easier with on-demand apps. You can just book the service through the app and choose your time slot as per your comfort.
Businesses are focusing on such services as there is a huge possibility of success because most people have cars today and everyone wants to own a well-maintained one. A professionally cleaned automobile might cost anywhere between $30 and $50. Accordingly, the cost to have one's car washed every month for the ordinary person is between $80 and $100. Up to 60% of individuals utilize vehicle wash services in the United States alone. These services produced a significant amount of revenue. There are around 100,000 car wash facilities worldwide, and Americans spend $5.8 billion annually on car washes.
On-demand travel and transportation services
Today, you are no more required to stand in long queues to book your travel tickets or worry about getting a hotel for your next trip. On-demand travel apps have got you covered in this. They help you smoothen your entire travel journey and try their best to give you a unique experience. With a few clicks, you can book your desired hotel in your desired location with minimum possible costs, and guess what? You can even book your taxi through these apps. It works wonders for travelers since these apps have got everything one needs to plan a smooth trip.
The on-demand transportation services are no way behind. It has been around for a while now. Earlier, people used to dial-up schedule a car, but now it's all on our smartphones. App-based services are being used to connect users to a fleet of privately owned vehicles. A universe of options is becoming available to us thanks to our smartphones. We have the choice of taking a scooter, a cab, some form of public transportation, or single occupancy vehicles (SOVs) to get to work. In many places, it is even possible to use a smartphone to locate the nearest bus stop and board at a convenient spot.
On-demand fitness services
Not only do entertainment platforms today offer video streaming, but online fitness platforms are also in the game. However, they offer live/ recorded streaming of workout programs.
The two main drivers driving the growth of the fitness app market are the rise in usage of fitness mobile applications and the rise in demand for wearable fitness tracker devices among people around the world. Today, more and more people are becoming health conscious, and they choose the fitness industry, which has lots of diverse solutions to offer. The mobile market promotes the widespread trend of healthy living by providing a variety of solutions that can be used in any circumstance. Thus, the creation of fitness apps brings up exciting opportunities within the healthcare sector.
The size of the worldwide fitness app market was estimated at USD 1.1 billion in 2021, and it is anticipated to increase at a CAGR of 17.6% from 2022 to 2030. The COVID-19 epidemic caused widespread lockdowns and social segregation rules, which aided in the shift from conventional studios and gyms to virtual fitness. As a result, there have been more downloads and subscriptions to fitness apps. Fitness apps were placed number 13 in terms of 2019 fitness trends, according to research released by the American College of Sports Medicine (ACSM).
These apps provide their users with individualized exercise plans by leveraging machine learning, artificial intelligence, and other technologies. They also provide customized health and fitness trainers, no-equipment workout programs, step tracking, diet monitoring, and customizable diet charts. The market is anticipated to have greater growth potential as a result of these services and advantages over brick-and-mortar stores.
On-demand entertainment services
Entertainment-on-demand is another booming service that businesses today are going for. The popularity of on-demand streaming services to watch TV shows, series, documentaries, and movies has significantly increased since the launch of Netflix and Amazon Prime.
On-demand entertainment services are one of the highest growing sectors in recent days. It was estimated that, by 2023, 18.5% of users would be using video streaming apps for their daily entertainment purposes.
When we talk about the top on-demand video streaming platforms, Youtube is at the top of the list. Other platforms include Hotstar, Hulu, Amazon Prime, Netflix, etc.
On-demand cooking gas delivery services
The region's imports from LPG-producing nations like the US and Saudi Arabia are set to increase due to the anticipated rise in demand for the fuel brought on by government initiatives in Asia, with India and China emerging as the main consumers. With continued growth in the number of natural gas fields being developed across LPG-producing countries, the outlook for LPG supply is likewise getting better. Additionally, governments in developing nations are making efforts to inform the rural populace about the advantages of using LPG.
Witnessing the growing trend, on-demand cooking gas delivery will be in high demand in the future. Future technology will undoubtedly include some novel characteristics as a result of ongoing development. Therefore, now is the ideal time to create a cutting-edge on-demand cooking gas distribution system for your company.
On-demand fuel delivery is a fresh concept in the market and is a quickly expanding domain. However, many companies have stepped into this sector and are generating great revenue also.
Here is the list of some of the globally recognized fuel delivery apps:
Yoshi
Fuelster
Booster Fuel
Fuelbuddy
On-demand fuel delivery services are having a significant impact on the current oil and gas business by providing exceptional customer service. In the coming years, an increasing number of gas delivery startups will offer their services to both businesses and consumers. However, the complicated flow process and architecture require a powerful tech stack.
Conclusion
Since the on-demand economy is flourishing today, the demand for on-demand app development has also surged. Companies are looking for IT partners who can help them launch their businesses in this industry. Choosing the right business partner is not an easy task, but once done rightly, it works wonders. We at Ncrypted Technologies have years of experience in this field, and we have successfully helped thousands of visionaries in launching their business solutions.
If you are also willing to launch your on-demand mobile app, NCrypted Technology has perfect solutions developed by our innovative and competent workforce. We offer customized and innovative features as per your requirement to let you launch a successful on-demand platform.