Travel Script, Open Source
Travel is the movement of people between relatively distant geographical locations, and can involve travel by foot, bicycle, automobile, train, boat, airplane, or other means, with or without luggage, and can be one way or round trip. Travel is the basic requirement of the people nowadays as business is expanding daily. As we know in past days, travelling and hotel booking was tedious job to do, when you are planning vacations, holidays and tours. You can't get an idea in what you will be travelling and where will you stay during a trip and many more things that are to be planned to have hassle free trip, in-short trip won't be pre-planned. New trend of Travel Websites and Hotel Websites are available in market due to huge traffic on the limited number of popular websites available.
Requirement of Travel Script in today's market
Ticketing is getting online starting from all the information one needs basically from time of departure to time of landing. People, who are planning to travel, either on business or for pleasure, naturally turn to the web to find out information on places to visit and the travel agency that will help them and make it a smooth process. A travel portal with a web presence can reach people around the world; it is not only localized but the scope of business breaks all the geographical barriers. Clients anywhere in the world can register for your services and book tickets for their travel holidays via bus, charters, cruises, hotels, trains or flights.
Salient features of travel script
Ticket Booking
Account Setting
Trip Type – one way or roundtrip
Departure Date and Return Date
Search for flights, hotels, cruises, etc.
Google Maps API
Reviews and Comments
NCrypted Solutions' ready-made solutions for Travel Script
How data integration will work for your Travel website?
The popularity of online travel agents(OTA) model grew in the Travel and accommodation field that led travel agents to use third party level APIs and integration for travel portals and online reservation. For your travel business, NCrypted Solutions work on providing the two integration methods such as GDS and CRS.
What is GDS?
Global distribution system (GDS) is an online system which utilizes a platform between tour operators and travel bookers by rendering streamlined services of hotel rooms, air ticketing, car rental, vacation rental and many more. GDS network helps travel agents and companies by balancing listings, reservation selections, rates, scheduling with choice of permitting the customers to book tickets online.
GDS Integration
The 4 leading GDS providers in the travel industry are given below.
Amadeus, Sabre, Galilio and Worldspan
They are serving travel agents with quality service. At NCrypted, we have hands on experience in integration of GDS and XML API to make your airline, hotel booking, car rental, vacation rental business fully automated and very easy to use.
What is CRS?
Computer reservation system (CRS) is the kernel of your hotel group procedures, centralizing the information from all your Property management systems (PMS) and other reservation systems.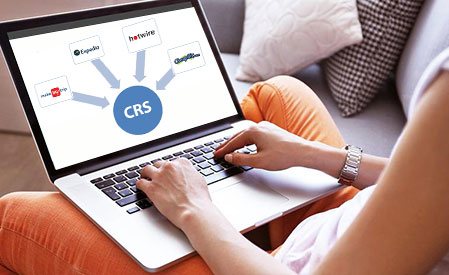 CRS Integration
We integrate your CRS with some popular Online travel agents(OTA) as well as aggregators as mentioned below:
MakeMyTrip, Expedia, Hotwire and CheapAir
We provide service that integrates your CRS with major online travel agencies(OTA) to increase your reach globally and reduce the cost of your distribution.