Why Fashmark for your e-commerce venture?
Fashmark is an innovative multi vendor ecommerce script for buying and selling of the products for any industry or market segment. The default design UI is suitable for the fashion industry but the scalability of the script enables it to be used for any industry, range and category of products such as handmade items, crafts, vintage etc.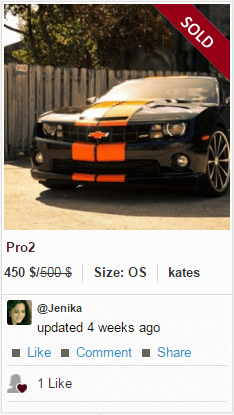 Salient features of Fashmark
Multi Vendor Script: Enterprise edition has multi vendor module enabled and thus can easily enable merchants to set up their stores and parties where customers can attend virtual parties with various dress codes, or join any friend's community. Fashmark is a feature rich platform enhanced with functionalities like parties management, order management, product listing, account management, etc.
Flawless Shopping Cart: Fashmark is an innovative e-commerce script which enables you to start your own multi vendor shopping cart site similar to Etsy, eBay, Amazon, Poshmark, Gilt etc. where your users can explore through all the stores, closets and listings to buy and sell the latest trend product. A wide range of categories makes the fashmark more user-friendly as they are well classified according to their uses, targeted users and many other factors. The photo listing is very easy, as you can click the photo from your device and upload directly to your closets for sale.
Auction Module: You can enable/disable auction module in case you plan on using Fashmark similar to eBay.
Discount Store: Run discounts and offers whenever required with ease! Discount module lets you manage store image, description, guidelines and history - thus giving you more control over the way you would want to run your discount store!
In-built Marketing Features: Fashmark is SEO friendly which will help you from marketing point of view to market your fashmark at nominal prices. Not only that, other features such as the promotional panel on the homepage, social sharing widgets, star ratings, testimonials and newsletter management modules in the Admin Panel Console will give more power to your marketing efforts.