5879
Views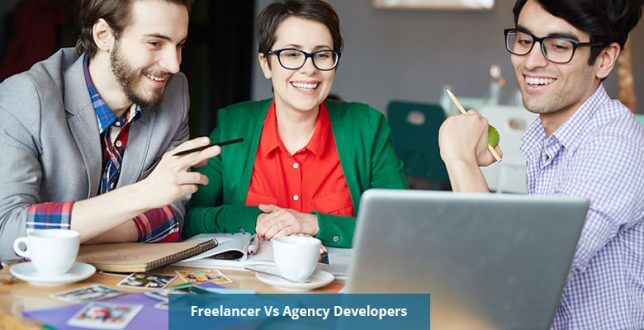 Being an Entrepreneur, you must have thought of a splendid idea to lend a remarkable boost to your business. Moreover, you are as keen as mustard to launch your bright idea. Aren't you? Well, you must have listened to the proverb- "Hit the Iron while It's Hot". There's no time like the present to begin striving to make it fruitful. Just one slight hitch – you don't have the foggiest idea how to code! Well, nothing to worry about. For this product advancements, you need proficient people for the deployment of the product. In the event that you need your vehicle fixed, you go to a garage and get it fixed by the person who is a specialist in vehicles. The equivalent applies to the product development industry. You should have an expert you can trust with the design, improvement, and deployment of your product.
The significant Question arises is, whom do you find the perfect fit to ensure your project's success? I'm sure you would have come across this dilemma. Would it be smarter to employ a freelancer to carry out different responsibilities or to Hire Developers having specialized and outstanding skills? Well, we should not forget Universal panacea does exist for all the problems.
To begin with, before choosing anything, you have to ask yourself a couple of questions about the current Project.
What is the vision of my completed item?
How Complex is my Project Idea?
What is my financial plan?
Do I have an Internal project supervisor or manager to manage the cycle?
In this way, you will have to make a choice and should settle on your decision of passing your project to a freelancer or to hire Pre-eminent agency developers?
What's a Better Solution than?
Both Freelancers and agency developers have their upsides and downsides, and you need an away from of every alternative. The freelancers and agency developers both are working ceaselessly to give better results to their customers to advance an ideal development. Moreover, would you employ only one individual to manufacture a whole house for you from the beginning: acquiring grants or permits, structural plan, establishment, plumbing, electrical, furnishing, and roofing? Would you be able to envision the completed home on account of one individual endeavoring to satisfy every one of these components of development? A top-notch website, is the sort of site that can really accomplish your business objectives, is certainly not a one-man work. It takes a little multitude of experts, each with their specialty, working perfectly over an all-encompassing measure of time. Additionally, we will cover a few advantages and disadvantages in this article so it is simple for you to pick the most ideal choice. Thus, being an agency ourselves. I oath not to be biased!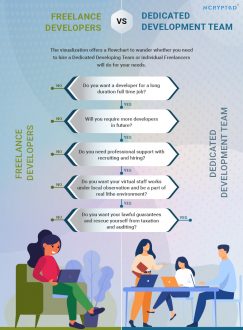 Who are Freelancers and Agency Developers?
A Freelancer is an independently employed individual who has an explicit aptitude for in demand skills. For instance, a consultant may work in front-end advancement, UI/UX plan, or data analytics. They are generally not committed for the long run along with that, they dodge workplaces and work from homes, or popular downshifting spots.
Programmer's or developers of an organization are built up groups of experts that function admirably together. Normally, the groups comprise of designers, programmers, business analysts, quality confirmation specialists, and project administrators. The organizations to hire developers offer the types of assistance of full-cycle programming improvement, from scratch to the final product.
Pros of Hiring Freelancers:
Freelancers are moderate and less expensive when contrasted with software development agencies. Freelancers seem to be a budget-friendly alternative. This may sound engaging for your startup in the event that you are on a short budget or on the off chance that you have to build only one explicit element for the project. Nonetheless, employing a lot of freelancers for various parts of your project as the front end, back end, the quality analysis may end up costing you an arm and a leg!
Specialists are accessible whenever and moment of the day they don't stick on traditional working hours. On the off chance that the need is, you can also hire web designer at one go and when the need dies down, you can release them.
Freelancers are usually specialized in one specific area. You should examine their portfolio before recruiting one to know precisely what he/she is best in. you can hire them for some specific task, for instance, to add features to your existing project. However, this pro also comes along with their own set of drawbacks.
Drawbacks of Hiring Freelancers:
Freelancers work for many customers. Now and again, the assignments and timelines heap up around his work area. This can influence the work of freelancers. The undertaking projects may be hurried and not appropriately done on the grounds that they are excessively depleted. This can bring less fulfilling outcomes.
With numerous undertakings of projects, the center focus, consideration, and devotion go down and the chance that blunders rise fundamentally.
70% of specialists have gone on record to state that they are shuffling between 2 to 4 customers and similarly 13% of freelancers working on 5 or 9 projects at some random point
No Maintenance support and Continuity:
Freelancers must be brisk and lithe. They complete one project and start over with the other. However, this implies they typically don't stay for maintenance. So, in the event that something turns out wrong with the code and it gets buggy, at that point you need to search for others to perform fixes and support.
As indicated by a source, 25% of consultants can get a new line of work inside a day, so the misfortune will generally be yours as the specialist will have the option to proceed onward to different positions easily.
Lack of confidentiality or breach of secrecy:
The Freelancers regularly don't sign agreements. When there is no agreement, there is additionally no non-disclosure agreement to protect your confidentiality. Along these lines, there is a possibility of your thoughts and plans being spilled out.
Based on the upsides and downsides of Hiring Freelancers, you should employ them when:
Your task is small or for a specific feature
You can undoubtedly hire at least three Freelancers for the whole project
You do not need a whole team of professionals proficient in varied fields.
Pros of Working with Developers of Agency:
There's no "I "in the team:
The greatest favorable advantage of recruiting the developers of an organization is to have access to a whole multi-faceted team ready to oblige the entirety of your development, design, and marketing needs. Besides, since each part of the undertaking is conveyed by one group, the Final product is more consistent and clean than hiring few freelancers who don't work together.
Since you are working with a team of professionals here, you get tips and guidance for pretty much all aspects of your task as the group will comprise of individuals with different expertise.
At the point when you hire developer of agency, the project manager will be entrusted to deal with your development needs. Along with that, handles the team, tracks the hours, and gives input. It's simpler to experience project manager who watches the group, than separately checking every freelancer on your own. This gives you more opportunity for other significant things like client meetings.
Additionally, you don't need to stress over freelancers dropping your project and ditching you at the last minute. Apart from this an agency will honor the agreement and deliver the on-time desired result.
Depending upon your project size, most organizations offer continuous help, for example, providing professional tech support for a different task such as coding, deploying, designing, and reliability for fixing up the issues if some exist even after completion of development along with that you do not need to find the others.
Confidentiality and Adapt New technology:
While working with the agency and to hire developers you don't need to hassle for confidentiality issues as they sign up the agreement of Non-disclosure.
To stay static with the competitors, organizations consistently adjust to the most recent technology and actualize them on your project. They know about the most recent advancements of technology and adds up more enhancements to your project.
Drawbacks of Hiring an Agency Developers:
Slightly expensive than Individual freelancers:
The least expensive isn't the most ideal decision – that is just a thing to remember while connecting with any of them. While employing agency web developer, the customer may in some cases overpay for the administration which can disturb the cost budget somehow. As they offer you the best group of architects, designers, quality examiners, and so on., you need to pay more.
Traditional Working Hours:
Organizations have built up timetables and work processes. Some of them work 9-to-5, and additional time when vital. In any case, as they are goal orientated, they meet issues of their clients in the most ideal manner.
Finding the Right Agency:
Finding the correct organization to hire developer is the greatest obstacle to overcome. On the off chance that you don't choose the correct agency, all the upsides will in return turn into the downsides. You can obscure the details about the agency by checking their portfolios, drafting a crystal-clear agreement.
After examining the pros and cons you can hire developer from agency if:
The project is complex requires numerous workstreams and professionals to oversee.
Need a whole team of professionals working together and if working with the new technology.
Tight deadline.
You can't oversee multiple freelancers at a time.
You are consistently occupied with other work.
Conclusion
Freelancing Marketplace without a doubt offers freedom, at a lower cost, but it also comes along with a brisk and risky outcome. However, the low cost and high-risk situation regularly counterbalance the points of interest.
Conversely, Agency is a balanced approach to deal with the issues and hire developers easily. They offer unwavering quality, along with support and security, and become an all-inclusive arm of your business and delivering the desired final outcome on time.
As mentioned above, both approaches have their own pros and cons. But the decision to choose among them depends on the project complexity, budget, expertise, and industry knowledge. According to my perspective, an individual specialist would be ideal to build up specific features in the existing project but when you talk about the new project the approach to Hire developers from an agency is the ultimate approach to scale your Project.
Scale your sustainable growth in the market industry with your own highly scalable customized software or website clones amalgamated with the help of our best developers.