5385
Views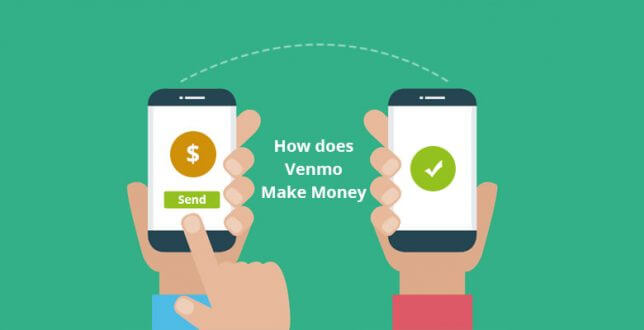 What came first to your mind when you read the word 'Venmo'? A digital payment platform, isn't it? Imagine would you have thought the same before a decade? The fintech industry had not developed to that extent back then.
Venmo is all about bringing convenience to its users. Today everyone has a smartphone and most of our work is done through smartphones or other digital gadgets. The same way, Venmo helps its users to split bills, transfer money, send money requests, or even stalk others sometimes (true story!) with its social component. Not only this, but it has also become the go-to peer to peer platform for merchant sites as well.
Venmo is a combination of fintech and social networking. Since its 2016 Edition, it has also become useful for merchant sites and created a new stream of revenue that we will discuss elaboratively in the section 'how does Venmo make money?'
However, did you know that it actually started off as a text messaging-based payment delivery system? Let's have a few more insights on Venmo before talking about how does Venmo make money.
What is Venmo?
Venmo is a peer to peer payment app for quick money transfers. It started out in 2009 as a payment delivery system but by 2012 they found their core niche in digital payments. That means it allowed people to connect their credit cards and bank accounts and make a transaction anytime anywhere.
What makes Venmo different from other digital payment apps is its 'social feed'. It is one of its kind feature introduced in fintech for the first time. It makes the process much more transparent however it is also encrypted in the form of emojis which leads users to enjoy a lot of inside jokes too.
Another key element of Venmo is that it has linked with a lot of merchants and other eCommerce and food delivery apps. Although it charges some amount of fee from the merchants, the transactions get easier for the merchants and their users. Another plus point for the merchants is that they get more users to follow them or like their content through Venmo's social feed and the customers get regular updates.
Although this feature is quite interesting to the users, it sometimes can hinder their privacy as well. People can keep a watch on other people's expenses and hence form a timeline of where they were at what time on what day. However, this provides more content to Venmo and the merchants to where the customers like to spend their money, and as we all know Data is the King. It is the key to customized ads and offers and generate revenue from that.
How does Venmo work?
Using Venmo is as simple as using any other social media account. The users have to just connect their bank account and credit, as well as debit cards, with their Venmo account and they can start making transactions.
One can also send requests to other people asking them for money and the other person can accept or decline the request accordingly. Doesn't it sound much like a financial Facebook? Users can also remind others of their payment requests. There's also a feature of writing a memo. Once a user receives the money they can keep it as Venmo Balance. They can later transfer it to their bank accounts or credit cards.
Other exciting features of Venmo are "Nearby Payments" and "Trust". The Nearby payment feature allows the users to transfer money to people in close geographical proximity. One needs not to be in their friend's group. The Trust function allows the users to recur their regular payments like monthly rents with this auto-pay function.
In a nutshell, Venmo helps you do a lot of things be it splitting bills, sharing cab fare, or paying merchants while shopping online as well as offline. Despite all these free facilities, let us see, how does Venmo make money?
How does Venmo make money?
Venmo claims to charge no amount of transaction fee if transactions are done through Venmo balance or through bank accounts. It only charges fees for transactions done through credit cards. Venmo charges a 3% additional charge if the user is making transactions using a credit card.
But that's a small amount and fairly avoidable. The major revenue stream of Venmo is the additional charge paid by the merchants per transaction. It charges a 3% fee on the total value of the transaction. When the consumers use Venmo as a payment gateway, Venmo charges 2.9% fees from the businesses. Venmo has partnerships across the digital world with various platforms, for instance, Uber and UberEats. All the users that pay their Uber fares through Venmo help Venmo generate revenue as it charges Uber a 2.9% transaction fee.
But why do businesses encourage their customers to use Venmo must be a question in your mind. Well, merchants use Venmo as just another business tactic to advertise socially with Venmo's social component.
Another trajectory of Venmo's revenue scheme is when a user withdraws cash from the app. When any user transfers money from their Venmo balance to their bank account, they have to pay a 1% charge for the money transfer. Although on the surface, Venmo is a totally free app to use, it earns money through some of its perks. Now that you've found how does Venmo makes money, you must think is Venmo safe? Here's a brief about it.
Why are we talking about Venmo now?
Although Venmo started its journey way back in 2009, it is still in the buzz after a decade. Right after 3 years, it was acquired by Braintree. Later in a year, PayPal acquired Braintree along with Venmo for $800 million. If you asked me the question of how does Venmo work & how does Venmo make money back then, I wouldn't have been able to answer you thoroughly as it had only one revenue stream.
In the year 2019, Venmo ended with 52 million active users and raised its revenue rate to more than $450 million. Venmo payment volume increased to $102 billion. With Venmo being the first peer to peer digital platform it has become a dominant competitor for all other apps in the P2P market.
The pandemic has hit us all hard but what kept us up is that we were able to do almost everything digitally from paying bills to buying groceries to ordering essentials. And at such times, what do we use the most? The digital payment gateways like Venmo. It also helped us to have contactless financial transactions. You can send anyone money through Venmo from any part of the US, all you two need to have is a US bank account linked with your Venmo accounts.
Venmo has proved to be one of the best payment options for the millennials with its very own catchphrase "Just Venmo me". It also means that no one has to ask anyone for money …very awkward, just send a request! Plus you can pay your nannies or even merchants with Venmo!
Venmo Business Model Canvas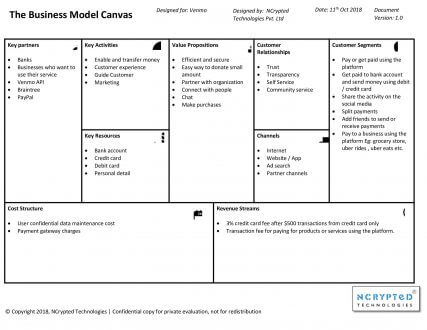 Is Venmo Safe?
You must think with all of the public display of financial transactions on Venmo's social feed, is Venmo safe after all? Well, the option of displaying your activity on the social feed is totally optional. The users can completely turn it off if they wish to. The website claims to be taking 100% precautions and safety measures for all its transactions. It uses bank-level security to guard Venmo users from unauthorized transactions.
However, Venmo does not take the responsibility of accidental payments to the wrong people. It cannot recover that amount. It has increased it's security features. It lets the users create a PIN for their transactions.
Venmo in today's world
After knowing all about Venmo and how Venmo makes money, do you think it is a good startup idea? Venmo is not just like any other digital payment gateway. It has its own unique features but what might actually add to it is a little brush up with the new needs of the world. Venmo can expand its business model and up a few more features such as international transactions despite the currency gap or become available globally. Features like that can add up to its uniqueness and expand the Venmo revenue model.
With the Fintech world increasing its developments across the globe, it is now the best time to invest in such startup ideas. What should that include? Digitalization, contactless tech, and security. With our technology experts, you can build something just like that. Or if you want you can also go with the traditional model of Venmo. You can also share you ideas with our domain experts and come around with something unique and leave the rest upon us!
How to Launch Your Own Online Payment business?
If you're willing to start your own online payment platform with advanced and your own customized features then Paypal Clone can be your key to success for scaling up your business.