3927
Views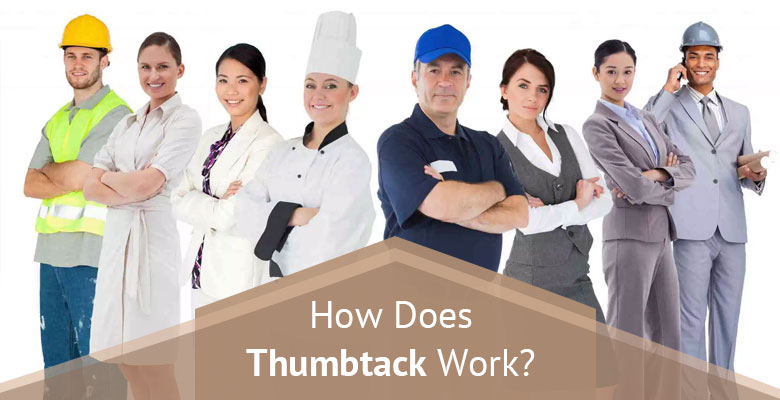 Are you a noticeboard person to pin your tasks? or have you evolved to the one who uses sticky notes, or the glass to go with a gorgeous white pen? Oh, not any?! I am certain, you are that technophile who has a fine technological zest, or probably a gusto of an amazing techy. So, why boards, pens or notes when their pixels are more exciting. Oh yes! it is the dominant Digitality. (: And, It is always that such technophiles and techies unite to bang the world with a change!
In order to replace the conventional methods with the newer ones, Thumbtack took birth. Need a math teacher? A gardener? A yoga trainer? It is the Thumbtack where you get them all. Any tasks where you need a specialist, it plays its role. Thumbtack the tasks online and get them done with professional's guidance. Fewer clicks and consider them done. It is not any hyperbole, for such quick and amazing is on demand business.
Let us now learn about what is Thumbtack first in order to unpin other learnings about How does Thumbtack work and Thumbtack business model.
What is Thumbtack?
So, what is Thumbtack? Thumbtack is a platform which connects the customers with local professionals. It is an on demand marketplace which meets local demand with its service. It offers services in sectors like wellness, education, housekeeping, photography etc with a professional touch. It is the best platform for small businesses to flourish.
How does Thumbtack work?
Thumbtack has proven to benefit small businesses to fly. There are lot many pros whom Thumbtack has helped widen their business horizons. When you have something good to offer, people accept them wholeheartedly. It is the time when even our grannies do not mind the shift. They happily accept the newer way of handling things and life, substituting conventional methods. Just so, Large groups participate with Thumbtack to offer their services. And, large group participate in a way to seek professional guidance.
Let us proceed in order to understand how does thumbtack work for both of them differently.
How does Thumbtack pro work?
Thumbtack for professionals could be a quick buck. Thumbtack showcases professionals' business and by building a fine profile pros can add a cherry, not a final one though :p, to their cake. Pros can get into this work loop either when customers choose to work with them or when they choose their customers.
Customers choose pros for them:
When customers choose pros for them, they approach pros via message, call or booking. It is called as a generated lead for pros. And this is the best-case scenario, a piece of heaven! Pros must build their profile the best to benefit from this best-case, for people check us online before they approach us. Moreover, It is a matter of good honour that somebody approaches us for some help.
Pros choose their customers:
Professionals can choose customers for them too. And how? By setting the work preferences. Elaborating, Pros by targeting the preferences tell Thumbtack about their choices of where to work when to work and what to work. Targeting preferences would help pros to get a good rank in search results. When pros target their preferences, Thumbtack aids them to rank well while in customers' search for similar work help.
Open opportunities
Open opportunities are the ones where pros so directly pitch a customer. And it is sunshine when customers accept their offer.
It was a simple understanding of how does thumbtack pro work, which portrayed all the activities a pro can do with Thumbtack. Let us move forward in order to understand how does thumbtack work for users seeking professional's aid.
How does Thumbtack work for users?
Thumbtack offers a very straightforward way for the ones seeking professional's aid. It is simply, search for your need, select a professional and chat to discuss, and hire. That's it, here you go! Consider it done! The user can opt the services suggested by Thumbtack or can specify it precisely. Thumbtack would process the input and will provide with the list of professionals working in their vicinity. Just like any other platform, Thumbtack also has its registration process for users to sign up.
Thumbtack Business Model
The way any business platform works is very much well understood when we learn about its business model. The working of any business model highlights the efforts to put in to keep the business lighted all the time. Let us proceed to understand Thumbtack business model to understand more clearly about how does Thumbtack work.
Thumbtack business model has been chiefly built by keeping the small businesses in mind. It creates a big opportunity for the group working professionally and wish to broaden their business horizons. Just so, A large group participates with this platform to expand their businesses resulting in a win-win situation. Building such a platform where professionals or specialists unite in a way to cater their services benefit customers a good as well. Like mentioned earlier, when we offer something good to people, they accept it in an amazingly well manner.
Pros signing in with Thumbtack can so finely make their businesses scalable and more efficient. And, during this digital era choosing on demand business over any other and sacrificing all the opportunity costs, if any, is worthwhile. It is certain that any opportunity cost will not have enough value.
Thumbtack business model is an on demand marketplace business model. Thus, it gets the benefit of on demand business model and marketplace business model. It is the analysis that marketplace based business model is the best for the startups as it has negligible first level costs.
Over the years, Thumbtack has been refurbishing its business model. Beginning from offering the service for free, later making a shift to a commission model. Then, Monitoring the outcomes and in order to get all that one is able of, Thumbtack business model was dressed up with subscription based model. Business model planning and forecast is crucial to keep it well protected. Finally, Thumbtack business model is following a pattern where the ones partnering in order to offer their services, the professionals, have to pay some amount to Thumbtack whenever they close any lead.
Thumbtack with its sheer hard work managed to earn a good amount of funding even during the recession period in America. Thumbtack, unlike its competitor TaskRabbit, make sure to aid the end customers with the local professionals. This way, people can get in touch with the best suit specialists overcoming conventional methods.
Primary Stakeholders of Thumbtack business model
Professionals providing services

End Customers

Payment processors

Investors
Thumbtack Business Model Canvas
How does Thumbtack make money?
Designing the revenue model and business model so finely is very very important, right during the planning phase of business development, for it is the very heart! And, we at NCrypted call it a crime if one leaves any room for blunder in designing them. Just so, Thumbtack has monitored and built a model for them to keep its pep up.
Thumbtack earns an amount whenever any lead is generated. Professionals have to pay some amount to Thumbtack every time a lead is generated, i.e. whenever any customer approaches pros.
Do you wish to build a platform similar to Thumbtack?
Have you found how does Thumbtack work fascinating and wish to develop and begin a business similar to it? Thumbtack clone script is a ready-to-go solution, for website clone scripts are way more than what is called as apt for any entrepreneur to kickstart the business. NCrypted has a fine team which promises to handle the project since its very beginning, the business experts to negotiate about all the commercial stuff and adroit project managers to plan and give the finest of the shapes to the project. Let us get the ball rolling and amalgamate your blue-sky thinking with that of NCrypted.
Thumbpin a simple, powerful and customizable platform. A ready-made product to kickstart your business. It is a service marketplace similar to Thumbtack. To give your bright ideas a quick boost and to give them a life swiftly, Thumbpin by NCrypted is the best selection, so do not miss to thumbtack the Thumbpin! (:
Share your thoughts with us!
Thank you for reaching up to here while reading and learning about how does Thumbtack work. Hope you have found this information helpful. Gift us with your valuable feedback in the comment section below.