5059
Views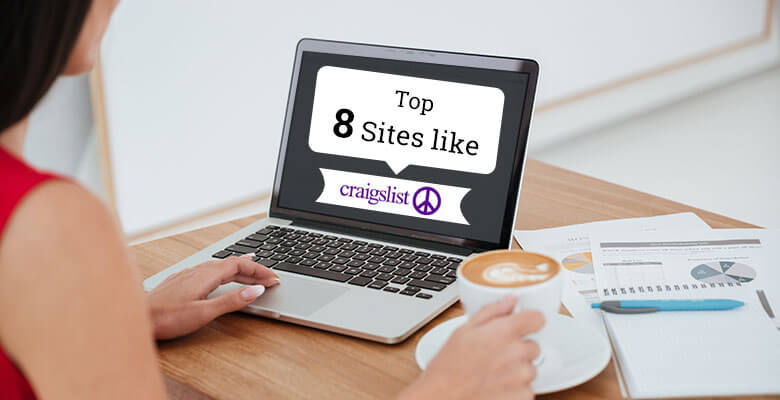 Craigslist is a huge success because it provides a simple platform to sellers and works as a marketplace not only buying and selling stuff online but also a platform for people who are looking for a job as well as employers. If you live in a city (or nearby) with its own Craigslist page, you can easily buy and sell stuff online. There are many other usages of Craigslist but let us not divulge into those.
So, why is Craigslist such a huge success? The major cost of any company is used Advertisement. It is a major form of Marketing. For selling or even buying anything, one must come across an advertisement. This is what is provided by Craigslist. It provides a market wherein anybody could make an advertisement and list their items for free. This is one of the reasons why it is such a huge success.
But, Craigslist is not just one such platform. There are many other sites like Craigslist that list classified ads. So if you're looking for sites like craigslist to sell items or buy stuff, take a look at the list below!
8 Sites like Craigslist
1. Facebook
Yes, Facebook is one such marketplace. Most people use Facebook for staying in touch with their old friends, colleagues and posting their life updates and to become a part of the groups they're interested in. But very few of us know about Facebook's marketplace.
There are a lot of groups on Facebook that are used by the local people to buy and sell things. Selling in the neighbourhood becomes easier as it could quicken the process of transactions and both the parties involved could meet easily. To find such a group near you, you can type "[your city name] Yard Sale" and find results like below;
You can also search for buy and sell groups in the explore menu or go on the Marketplace tab on your Facebook page's left sidebar. Facebook marketplace allows buyers and sellers to interact on the page via their Facebook profiles.
2. LetGo
LetGo is one of the most popular free classified sites like Craigslist. It is very easy to use LetGo due to its easy layout and options offered by the classified ads platform. LetGo has an attractive site compared to Facebook and Craigslist. It also provides more security than Craigslist as it verifies a user's Google or Facebook before creating their profile.
LetGo has a website as well as an app for both Android and iPhone. More than anything, it is convenient for the users as it allows the users to interact on the platform, unlike Craigslist where a user has to list their phone number or email address.
3. Oodle
The feature that makes Oodle different from other websites to buy and sell items is that keeping all the competition aside, it displays posts from other buy and sell sites. Other than being in the category of free classified sites like craigslist, Oodle also follows the design of social networking websites.
Oodle also helps the users to find jobs nearby. Compared to other classified ads websites, Oodle provides better geographical results. It is also supported in various other countries besides the US. Because of its extra features such as social networking, it is highly popular among people.
4. GumTree
GumTree is one of the best sites like Craigslist to sell that is popular all over the UK and other countries like Australia and South Africa. It works like a European version of Craigslist. It has features such as free as well as paid ads. It provides a meeting platform to the buyers and sellers. It is famous for buying and selling motors and for job listing across the UK.
GumTree also has an option that could feature the ads posted by the user to the homepage of the site. The spotlight feature lets a user to feature their ad on top for 7 days. There are several other features that could help a user to post jobs and attract a large audience.
5. Geebo
Geebo is one another competitive of the buy and sell sites across the internet. This website claims to have the safest and most familiar atmosphere on their site. The design of Geebo is simple yet modern than that of Craigslist and Geebo too focuses more on the US audience.
The site also offers a blog platform that makes people aware of the ongoings of such marketplaces. It also offers tips to buyers and sellers. The site also takes the responsibility of answering the scams or abuses that happen on their platform hence the users can report any such activity on the site and they take further actions. Geebo is one such platform that focuses on the local communities and tends to provide a personal atmosphere.
6. OfferUp
OfferUp has a more secure outlook than other sites like craigslist. It has native apps for Android and iOS users. The apps make the user experience better and easier. Another plus point for OfferUp users is that the sellers have an ID verification that helps the buyers be assured about the sellers and their details.
OfferUp is one of the best sites for classified ads as it also touches upon the social networking features by offering the feature of linking the facebook account of the users with their account on the site. This turns out to be a plus as it lets the users also see if they have mutual connections which could make the transaction more trustworthy and secure.
7. Bookoo
Bookoo is one of the websites to buy and sell items. It works like Craigslist and it focuses more on the Yard sale fans. Bookoo makes it easier for the users to buy and sell items online within their neighborhood across the US and some other regions. The layout and processes of this website are similar to Craigslist but it targets more to the local audience (like a single community, family and friends).
Like other websites, Bookoo also has its own unique feature that makes it stand out from the crowd. It offers more information about the sellers through the bio feature that gives the users more information about the other users which advances better communication. It also provides users with information on what the seller generally sells on a % basis.
8. OLX
OLX is India's largest buy and sell platform. It is widely used across 100 countries. One can find anything and everything on this marketplace. What makes it more popular in India is the large user base as compared to Craigslist and other classified ads sites. It also offers job listing portal to its users. OLX also offers apps that has gained it more popularity among the target audience. OLX group claims to be serving more than 350 million people every month.
How do Websites like Craigslist make Money?
On the surface, sites like Craigslist and Craigslist itself appear to be free. These sites do not admit to charging fees for any postings and other features to avoid commercializing the online classified ads platform. However, that's not fully true. There are several options through which sites like Craigslist make money.
The following revenue streams could work for businesses like Craigslist:
Fees for Job listing in major cities.
Fees for Property Rental posts in major cities.
Banner advertising
Google Ads
Featured Ads on the home page
Parting Thoughts
With this, the free classified ads sites could earn a good amount of revenue. With the boon of technology, the buy and sell rate has increased rapidly with the ease of such platforms. Hence, free classified sites like Craigslist have become profitable platforms.
NCrypted offers you Busewe that enables you to kickstart your own buy and sell platform The name Busewe itself suggests what it stands for Buy and Sell Website. Our team of tech experts helps you personalize your platform to serve your target audience the best. Contact us to know more about the classified ads marketplace and how you could profit from such a platform.
How well did you like our blog "Top 8 Sites Like Craigslist For Buying and Selling that You Must Know About!" Which site according to you serves its purpose the best? Let us know in the comment section below.