5309
Views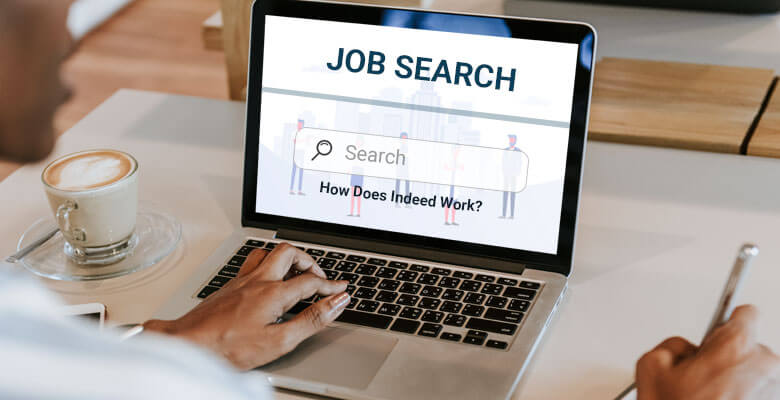 Before a few years searching for a job was a tedious, slow, and confusing task. It was like one need to go to specific job boards, wherein they would advertise only for some specific roles in some of the companies. All these monotonous tasks came to an end with the help of technology. These days the widespread online job search can help the job seekers to get their best-fit job with lesser efforts. And this is when Indeed comes in the picture.
We can say that Indeed has revolutionized the way the job hunting process is being done. With that, Indeed is the top-most aggregated search engine for any and every job that a person seeks. It has made things easier for freshers as well as employers to reach their destination in a short span of time.
There will be a lot many questions going on in your mind like what is Indeed, how does Indeed work or how does Indeed make money and whatnot. Relax, you will get all your answers below.
Let us start with a glimpse of what is Indeed, to make your notes clear.
What is Indeed?
Indeed is one of the world's largest and widespread job boards. By now, it has more than 180 million visitors per month. One of the best things about Indeed is that they allow free job posting ads to employers. With all these, they even have some listed some of the highest quality resumes over their sites.
Over here, a jobseeker can find any job there are in search of or an employer can get the best candidate their needed designation. Whether it is an employer or employee, everyone can get something out as per their niches. In short, we can say that Indeed plays a big part in matching the employer with their perfect candidate.
Indeed's History and Statistics
In 2004, Indeed was co-founded by Paul Forster and Rony Kahan. It is an American job hunting site available across the globe. By now, it is available in approximately 60 countries around the world in 28 different languages. As per the reports, in 2010, Indeed passed Monster.com by becoming the most visited job search website in the United States. Further in 2011, Indeed allowed job seekers to directly apply for jobs from the Indeed's site.
When coming to statistics, Indeed is now known to millions of aimed applications, offering innumerable job options in almost every known field. When things come to average search analysis for Indeed, it includes 87.32% of organic search results, while 12.68% of traffic is coming from paid searches. 1.73% of traffic is from Social platforms, out of which Facebook and YouTube contribute the most with 46.31% and 25.63%, respectively.
You may like to read: Cracking the Affiliate Business Model Code
What is Indeed Prime?
Indeed Prime is a subscription-based service that came into existence since 2016. As per this service, it will provide recruiters and employers access to a pool of pre-screened applicant. These applicants are selected based on their work experience, skills and graduation.
The basic plan for Indeed Prime as of now has received more than 85,000 offers. The subscription plans enable access to various services such as personal dashboard, response rate, recruiting analytics and even the rejection reasons. All in one, the paid services contain some innovative and attractive features for the employers.
After having every detail on what is Indeed, let us now take a deep dive on how does indeed work to enhance your knowledge.
How Does Indeed Work?
Looking at Indeed's wide industrial reach and employment network, most of the job seekers, recruiters or the HR managers rely on the site to achieve their aim. The Indeed portal comes with several add-on benefits as well as they have added convenience support to help a user get their goal with great ease. To understand how does Indeed work in-depth, let us go through it in two parts as below.
You may like to read: Analysis of The Freemium Business Model
How Does Indeed Work For Employers?
Indeed offers optimal ease for you as an employer to post a job on their interface with few clicks. The portal requires a registered account, to get access to different features of the site. With this, it will help you to seamlessly monitor application request and can even let you track the candidate participation.
All you need to do here is get your company registered over the portal and further, can start posting jobs. To make your job post visible to a large number of candidates Indeed provides the sponsored ads services. Here, your job will appear as a first choice for the potential candidates. This will even make you hire smartly you required candidates.
With this Indeed provides you with a detailed dashboard, where you manage the job seekers data flawlessly. The Indeed dashboard will assist you in reviewing the application request, scheduling interviews and going through the recommended candidates in a single pane. You can even update the job description and budget whenever you wish too. Here you can even get the Indeed Resume service, whereby mentioning the required skills you can get your needed candidates.
How Does Indeed Work For Job Seekers?
For jobseekers, Indeed works in an effective way. All a user needs to do here is creating an account and search for their designation. Here you as a job seeker can find any type of jobs like contract positions, summer jobs, work from home jobs, full-time jobs, jobs and even the volunteer work. You can easily search for your destination by applying a filter over the city, profile, salary, experience.
Indeed provides a resume template where you can fill up your information and send it to different companies as per your niches. You can either choose the Indeed's resume or can upload your own resume while applying for a job. Another thing for the resume is that you can set your resume as private or public. It will be totally depended on you whether you want to keep your resume a public so that any recruiter or employer can go through it or keeping it private, wherein you need to attach resume while applying for a job.
This is all about how does Indeed work. You might be curious to know despite providing these services for free, how does Indeed make money?
How Does Indeed Make Money?
After getting your thoughts clear on what is Indeed, let us understand its revenue system. Indeed's revenue model is straightforward and simple to understand. They have a simple policy for the employer and job boards. They charge based on pay per click (PPC) to promote their jobs. With these, they even generate revenue through different sponsored ads, resume search, and strategic relationships. For instance, consider a fairly conservative average cost per click of 20 cents and a CTR of approximately 15% per page, they can make $30 per thousands of page views. Further, with 730 page views per month, it could be a revenue of $20 million per month in the US alone.
Indeed Business Model
Indeed business model is offering a seamless interface to an employer and a job seeker to meet their expectation. The portal over here lists various job choices and can help the recruiters and HR managers to announce vacancies in their companies. With that, Indeed business model includes an updated database to help job seekers to find jobs as per their relevant industries. The site uses a web crawler to search for jobs that are being posted by various employers. Here, the data collected by a web crawler is then displayed over the site. Apart from serving as a job listing portal, they even help employers finding the right candidate for their company with its web crawler engine. Indeed, by now, has approximately 200 million active users monthly.
Indeed Business Model Canvas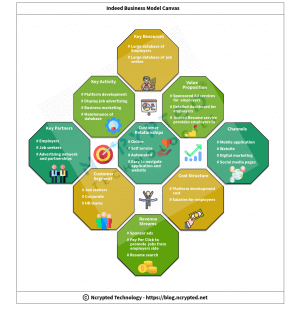 Are You Keen To Have a Startup Like Indeed?
After having every detail on what is Indeed from tip to tail, are you planning for a startup with your own job portal? We at NCrypted have our own product names as "JobGator", a job board software. JobGator enables you to get started with your own job board software. With that, we even have website clone available for Indeed clone. We even offer customized solutions, where you can easily custom your job board software as per your niche. We, at NCrypted, provide you with every possible technical solution. Contact us, to get more information on it.
Share your thoughts with us!
What are your thoughts for our blog on "What is Indeed? Modernizing The System For Employer & Employee With Indeed"? Let us know about your consideration in the comment section below.