8235
Views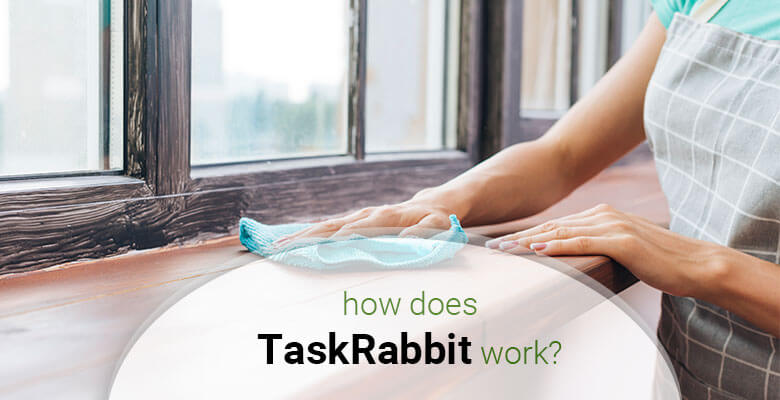 On demand economy has been running at a great pace. And as it comes with a set of advantages, it is foreseen that it is going to be an unstoppable force in this digital realm. One such on demand business called TaskRabbit, which took birth a decade ago with a bright and kind idea of 'neighbours helping neighbours' is playing its fortunes.
On demand businesses tend to be very much people-oriented while managing lot many things under a hand, an important factor is, keeping your independent clients happy, the ones that participate with you in order to cater their services to the end customers. While in this world, gratification comes with its own pace, on demand economy has outperformed and pleases everybody with instant gratification.
In a busy world where people are working in order to achieve their goals and follow their dreams, there are higher chances that they do not get time for household chores. This is where TaskRabbit plays its role. So listen, all the wives, do not make husbands wash the dishes, call the TaskRabbits and please your husband and rabbits as well :p
Let us move forward in order to understand what is TaskRabbit.
What is TaskRabbit?
TaskRabbit is an online peer to peer marketplace which offers services that would aid the users with their day to day tasks. Whether your need is cleaning or heavy lifting or mounting/installation or grocery shopping or any other endless number of tasks, for indubitably there are and they are all important in organizing our lives well; TaskRabbit understands it and offers an immediate help with all such tasks (so that it can earn and enjoy carrots :p). Thus, TaskRabbit is a same-day service platform providing instant aid. It is an on demand platform and follows the crowdsourced economy.
These days people often live alone and travel and work hence there are more chances that they do not get time for household chores. With TaskRabbit, those bunch of people could benefit. While the group that is interested in household activities or wish to earn from this offers their services and benefits. Thus, TaskRabbit plays an essential role in offering its contribution to Home Services Sector.
History of TaskRabbit
TaskRabbit was founded eleven years ago in 2008 by Leah Busque as RunMyErrand. It was later in 2010 renamed as TaskRabbit. TaskRabbit has been born with a kind idea of – neighbours helping neighbours.
The company received $1.8 million of seed funding and hired its first employee. Though 2008 was a period of an economic crisis in the US, TaskRabbit managed to become dear to many Venture Capital firms. In 2011, it received $5 million of the fund and the company has been flourishing since then.
Today, TaskRabbit services are available in around 68 cities in the US, UK and Canada and It has over 1,40,000 appraised Taskers. Since 2017 TaskRabbit has been acquired by IKEA.
Now that we know – 'What is TaskRabbit', let us dig deep in this rabbit's burrow to learn about how does TaskRabbit work.
How does TaskRabbit work?
Let us run our eyes, thoroughly indeed, over – How does TaskRabbit work? TaskRabbit has two different groups of people: one called Taskers – ones who offer the services and another Task-Givers – ones who demand the services. Let us understand them both differently.
What is TaskRabbit Task-Givers?
When it is about the ones who assign the tasks, it is super simple, one just needs to go to the website or mobile app and select the interested service. Aid TaskRabbit with the location as well. Once these details are posted, a list of available Taskers – ones that match the selection in the vicinity will be shown. One can select a Tasker after analyzing his skills, rates and reviews. Chat with the Tasker to confirm once they accept the request.
What is TaskRabbit Taskers?
The first thing Taskers need to do is register them online via website or app, simply by providing basic details like name, address/zip, email etc. Upon registering, one needs to attend an onboarding session in their respective city, it is just the investigation and approval process. The identity verification process is handled by IDology, A Third-Party which offers Identification Verification Service. If shortlisted, the next step is to download Tasker App and select the jobs they are interested in, hourly rates and the schedule that would suit them.
Whenever any new job post is available that would match their profile, TaskRabbit sends them an alert. They can accept the job solely as per their wish. Also, it shows a list of all available jobs in their vicinity. Upon accepting Task-Giver's request, they can chat with the clients for detailed discussion and can confirm the details. Task-Rabbits then must run and offer the service. Upon completion, they are meant to give invoice and receive their payment via TaskRabbit website/app.
After reading all about what is TaskRabbit and its two major stakeholders, let us find out how does TaskRabbit make money?
How does TaskRabbit make money?
TaskRabbit makes money by charging the fees like service fee and Trust & Support fee from each transaction that takes place via TaskRabbit App/Website. So, what is TaskRabbit service charge? TaskRabbit charges 15% of the total amount as its service fee. It also charges an additional amount called Trust & Support fee which TaskRabbit invests in developing its customer service and safety measures.
TaskRabbit charges one-time registration fees, the only time TaskRabbit charges Taskers, about $25.
All the payments done on the TaskRabbit platform are handled by Braintree Payments or Stripe Payments. Both of them are third party payment processors.
TaskRabbit Business Model
TaskRabbit began its journey by following the auction model, where Taskers would bid for the available tasks and the accepted price would play its game. But this model did not become fruitful and gave birth to fewer problems like decrease rates of task-bids and task completion.
TaskRabbit Business Model needed a different outlook, so the company soon changed its model from a model suitable to TaskGivers to a model suitable to Taskers, where Taskers would give their hourly rates. The end results of this model were super and helped TaskRabbit climb higher. Thus, TaskRabbit Business Model is very much a combination of peer to peer marketplace business model and on demand business model.
There has been found a great scope of repeat business between TaskGivers and Taskers after acquiring a kinship. It benefits both parties.
TaskRabbit Business Model Canvas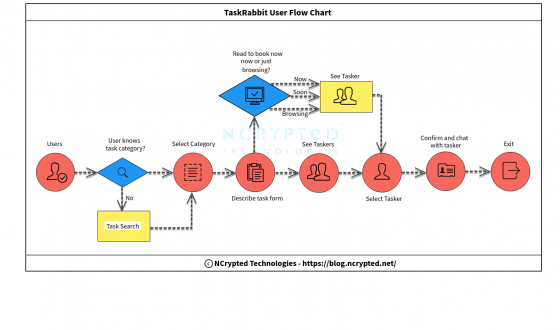 TaskRabbit Revenue Model
Now, let us take a look at TaskRabbit revenue model – TaskRabbit, being an on demand marketplace gets the double benefit of an on demand business model and marketplace based business model which apparently generates revenue through commissions and instant rewards. Also, it follows the crowd sourcing economy to add more benefit to the business by expanding vast and wide.
Besides, it had its own business model and revenue model since its early stages, it became darling to lot many Venture Capital firms which participated in seed and Series A funding. It has received a huge amount of funding to date.
TaskRabbit Business
Initially, during its journey, TaskRabbit launched a new tool called 'TaskRabbit Business' where it allowed companies to hire temporary workers for them from the list of TaskRabbit Users. For this, TaskRabbit charged 26% of commission from the total. TaskRabbit did not continue with this model for longer.
IKEA with TaskRabbit
IKEA, in September 2017 acquired TaskRabbit. And in March 2018, it launched Furniture Assembly Service on its platform so that it can provide easy and proper furniture assembly help. A different handle called IKEA Services is mentioned in TaskRabbit's list of services. This move allowed TaskRabbit to climb a step higher.
TaskRabbit Elite
What is TaskRabbit Elite? TaskRabbit Elite is a feature where it portrays the Taskers who have received the highest number of rates and love. Thus, TaskRabbit Elites are those rabbits/taskers whose work has received most love and can be considered as highly skilled or professional. Elite taskers are provided with a label so that they can be differentiated easily.
Tipping using TaskRabbit
TaskRabbit also provides an option to tip the taskers. The tip amount wholly goes into the tasker's account, neither is considered as any reimbursement amount nor is deducted as a form of service tax. One can tip the taskers up to 30% of the total amount.
Future of TaskRabbit
At this metamorphosis, when the on demand economy is getting wings, there is not any doubt that it is going to soar higher and for longer. TaskRabbit is one such on demand platform which caters services that aid people so appropriately in upgrading their lives. It is occupying a place must have in our day to day lives. Trust, once you acquire knowledge about what is TaskRabbit you cannot deny having its carrot in your hand.
Do you know about TaskGator by NCrypted?
TaskGator is a simple, powerful and customizable platform that would help you start such an online service marketplace website. It is a readymade web platform which would help initiate your business quickly. Invest a piece of your valuable time in learning more about 'TastGator' by NCrypted Websites, we would be pleased.
How to start a business like TaskRabbit?
After reading all about TaskRabbit business model, from how does TaskRabbit work to how does TaskRabbit make money, do you wish to start a business similar to TaskRabbit? Have got something extra in mind that would fit and suit this model impeccably? TaskRabbit Clone by NCrypted would help you start your business in an easier way and at a faster pace.
Share your thoughts with us!
Thank you for reaching up to here reading and learning about what is TaskRabbit and how does TaskRabbit work. Hope you have found this information helpful. Kindly share your valuable feedback in the comments section below.