6706
Views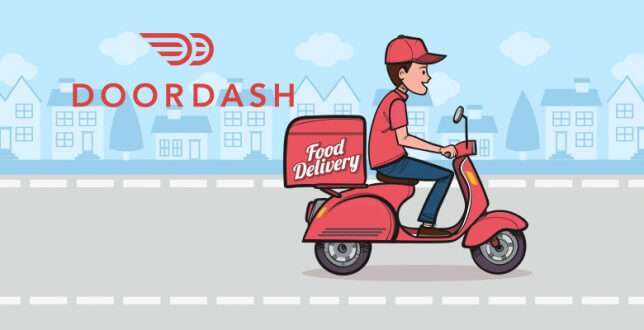 Though most users on DoorDash are just ordering food, founder & CEO Tony Xu believes that Doordash has one goal: to get whatever people need in their hands as efficiently as possible. How does Doordash work is that it is an app that connects users and local stores. The bridge between these two are the "dashers". Working for Doordash is open for all. All you need to do is to register & you will start receiving orders that you have to pick up & deliver at and to specified locations. DoorDash likes people to call them a logistics company. They claim to serve three different audiences. The local stores (at the moment, mainly restaurants), end customers who order & dashers who are basically the mediums to transport.
Doordash works across 600 cities in America. It is a unique 3-way cohesion between restaurants, customers and the delivery team. Restaurants register on DoorDash by putting their menus. Dashers can register by putting their vehicle details provided that they match the required criteria and users just need to fill in basic information and start ordering.
How does DoorDash Work?
It is available on all platforms such as Android, apple as well as the web. It initially charged $1 for first delivery and $4.99 for the following deliveries. Currently how Doordash makes money is relied on their charges of $6 per delivery. There is a track feature as well so you know where your order has reached. A good thing about the way Doordash work is that it is not just limited to end users at home to use. Those restaurants or stores who do not have delivery facilities but still got orders on phone or online, they can also ask Doordash to complete their deliveries.
Types of deliveries:
Normal DoorDash orders – These are normal delivery orders made by users from their phones or computers at their homes or offices.
DoorDash drives orders – These are orders in a big chunk that require bigger vehicles or bigger space to be delivered. These orders are usually made by restaurant owners or a party. They could be catering orders with a large amount of food to be delivered.
Dashers usually make $25 per hour as per Doordash. The drive orders are preferred ahead of normal orders by dashers as the delivery fees are higher for big orders. The payments to dashers are made weekly.
The Funding for DoorDash
Doordash was founded in 2013. Within the same year, they found the generous investment of $2.4m from Khosla Ventures. The popularity it gained, then after how Doordash makes money was never a struggle. Their main investors include Sequoia, CRV, Y-combinator and others. Y-combinator was one of the founding investors of Doordash. Till date, Doordash has managed to raise over $700m over series of investment rounds.
How does DoorDash Make Money?
Let's see how does DoorDash make money. One of it is their commission in the delivery fees. The delivery fees can be between $5 to $8 depending on your location and how far the restaurant you have ordered from is placed. Doordash reportedly charges 20% of these delivery fees and the rest of it goes to the dashers.
The unpredictability factor is pretty high in such businesses. You just don't know what and how many resources you are going to need. There was no previous business model where a mere delivery person would get 80% of the chunk from the delivery fees. So how does Doordash work with this idea? Well, much after a loss of revenue and resources, they realized that they need to involve all the people from both the other two parties into the whole financial system to be able to operate at mediate costs. They initially paid drivers a flat fee. That meant that regardless of any deliveries, the drivers were getting paid. Sometimes, Doordash was just paying their drivers for waiting for any delivery order! This needed to be changed and it did. They found two pioneer ways to address how does Doordash make money.
The Delivery fees
So there was no payment upfront and the drivers would only get paid if they are assigned to any delivery. But in this case, the drivers were involved in the profit sharing system. So now they had to figure out how does Doordash work by paying the drivers as much as 80% of the delivery fees and keeping 20% with them, although they never revealed the true percentage ratio as a part of how does Doordash make money. This was mainly because dashers were independently contracted drivers.
This sounded appealing to the investors. The company was only emptying their pockets if they were getting something, which is the safest business model. Not to anybody's surprise, the fast-growing logistics and delivery app was getting handsome investments, as much as $57m in a couple of rounds of investments in 2014 and in 2015.
Partnering With Restaurants
Sighting the popularity of their startup, Doordash opened doors to place owners to partner with them to get more revenue for the company and better offers for their consumers. How Doordash works by partnering with restaurants was a strategic move to boost the revenue. Restaurant owners pay a certain amount to Doordash and in return, they get featured more than their competitors, the other food places, in the search results or in the featured results on the app. There is no clear figure on what these fees are, but it is believed that the fee depends on the frequency of orders, the type of food the place offers, its location etc.
The restaurants stay on top of the featured lists and search lists for a chosen period of time. The fee they pay is limited for a certain period only. This helps Doordash to wave off some amount from the delivery fees and explains how does Doordash make money in return from the restaurants.
DoorDash Business Model
Dashers: The unique Y model that ventures like Doordash are working with, require a very stable strategy. Since they have to keep both the parties happy, Doordash needs to be the one taking the high road every time. The success relies heavily on the delivery people. These are independently contracted drivers like Uber. To boost the services, Doordash has to empower their dashers and perhaps that is the reason why they get such a massive share in profit. The good paycheck is inspiring many people to join the army of Dashers. It is arguably better than being a cab driver because people are more likely to order something that costs them less amount in the delivery fee. Very rarely we see someone being very fond of a particular café or a restaurant across the city and ordering food from there even though it might cost them a lot. Dashers also get to keep the entire amount of tip they get.
Businesses: For businesses, they just got one more platform to market their products at. All they got to do is to put their menus on the app and they are good to go. For any normal order, they do not have to pay a single penny. However, to boost their business, they can always pay a certain amount to Doordash to promote themselves on the app. This brings great results and footfalls. Comparatively, this cost of partnering with Doordash for promotions is less than that of any print or digital ad that they earlier preferred. how does Doordash work has been a great help for smaller cafes and diners as they can't afford to keep on the go delivery guys. Many small diners serve the nicest food and have a massive fan following. With the help of Doordash, people can now get their food delivered sitting at their homes or workplaces.
Gains for DoorDash: Doordash has become very popular in such a short period of time because of their bridging of small shops and their loyal customers. For now, food deliveries dominate the frequency of orders, but with Doordash's recent partnership Walmart, they are eyeing a large market of groceries business which is still done in person from the store. They are eyeing to boost how Doordash makes money by boosting the online grocery ordering to 40% of the US households by next year. The services have begun in Atlanta and may soon cover a lot of other regions across the US. This might be the turning point in the history of Doordash as the brand Walmart is not unknown to anybody in the USA. However, Walmart has also joined hands with Doordash's rivals Postmates to offer the same services. The revenue sharing is still unclear but the move looks to be a hit already.
With partnerships with Walmart and Doordash Drive features, the increasing popularity of deliveries is getting good results for Doordash and its loyal users. With the Drive feature, they are offering a helping hand to small-time catering businesses who can rent the logistics from Doordash. It's a business to business concept that is welcomed by a lot of restaurants for their party orders as well. The target for Doordash is to join hands with more local stores from all the departments other than food. Whether or not the users can afford the convenience fees of getting their stuff delivered at home, is a story for time to tell. For now, Doordash has made food ordering very easy for its users and helped not just the independent drivers with their income, but also boosted businesses for small diners all across the US.
Tell Us What You Think!
Have you got any more interesting stories, facts on DoorDash? Let's hear it in the comment section below. You can start a website like DealDash using DoorDash Clone
Here are some informative business model articles crafted by NCrypted Websites.