2394
Views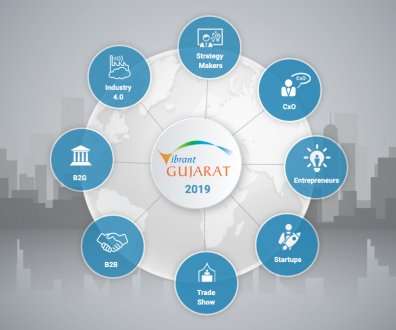 What is Vibrant Gujarat Global Summit?
The term "Vibrant Gujarat" was first coined in 2003. The Vibrant Gujarat Global Summit came into the picture with one vision – Bring together investors, business leaders, policymakers to revitalize the stride of investments in the state. The vibrant global summit that actually started in 2003 to actually rekindle the pace of investments in the state.
Vibrant Gujarat Global Summit is an instance of the visionary methodology of the Government of Gujarat towards comprehensive and economic development by guaranteeing policy coherence and successful investments. A long way from the local investment fair that described the primary Summit in 2003, the biennial Summit has today turned into one of a kind place for trading thoughts, sharing learning, organizing, networking, investigating business openings while setting the policy program for meeting a portion of the current global challenges.
Today, the Summit has advanced into a platform for conceptualizing on plans of worldwide financial development, notwithstanding being a facilitator for information sharing and manufacturing powerful organizations. The eighth Vibrant Gujarat Global Summit, held in January 2017, saw support from 25,000+ representatives from 100+ countries, including 4 Heads of States, Nobel Laureates, Captains of worldwide industry and Thought Leaders.
The ninth Vibrant Gujarat 2019 Summit is currently proposed to deliver a forum for discussion on
Global Challenges
National and State-level agendas
With a sharp spotlight on all-round economic and progressive development for a "New India"
Before we dive deep into what's Vibrant Gujarat 2019 entail – Let's see the glimpse of what happened in some of the previous summits.
Vibrant Gujarat – 2015
The seventh Vibrant Gujarat Summit was arranged from 11 to 13 January 2015 at Mahatma Mandir, Gandhinagar, Gujarat, India. Six summits held so far had been a reverberating achievement and enormously added to the change of Gujarat into a "Worldwide Business Hub". The prime focal point of Government of Gujarat was Inclusive development and the key territories for improvement distinguished included: Innovation, Sustainability, Youth and Skill Development, Knowledge Sharing and Networking. This Summit was a perfect stage for different states and nations to grandstand their qualities, feature business openings, encourage learning dispersal and so forth.
Apart from Summit, Vibrant Gujarat is additionally known for the Trade Shows. Consistently 2000+ Companies do take an interest in this display, and around 1 million guests took an interest in Vibrant Gujarat 2015.
More than 25,000 Delegates from India and 110 different nations took an interest in the seventh Vibrant Gujarat Summit 2015. Following are the dignitaries and negotiators who denoted their quality in Vibrant Gujarat 2015:
Vibrant Gujarat – 2017
After arranging seven effective Summits, Government of Gujarat moved further in its journey towards development and comprehensive growth by sorting out the eighth edition of Vibrant Gujarat Global Summit from 10th to 13 January 2017 in Gandhinagar. The focal point of the eighth release of the Vibrant Gujarat Global Summit was "Manageable Economic and Social Development". The Summit united Heads of States and Governments, Ministers, Leaders of the Corporate World, Senior Policy Makers, Heads of International Institutions and Academia from around the globe to assist the reason for development and advance collaboration.
Gujarat Chief Minister Vijay Rupani proclaimed finish of the eighth release of Vibrant Gujarat Global Summit, at Mahatma Mandir on 12 January 2017, on a politically sure note, by welcoming every one of the visitors for the following version of the biennial occasion in January 2019 even as the state is planned to go for get together decisions in 2017. A sum of 25,578 Memorandum of Understanding (MoU) were announced to have been marked by various modern units. Out of the marked MOUs, 18,533 were from MSME area, 5,938 from the extensive scale segment and 1,107 MOUs were for key and mechanical association division. In any case, the quantity of the aggregate worth of MOUs was not pronounced.
Have a look at the glimpse of what Vibrant Gujarat 2019 will be having:
Value Proposition: Vibrant Gujarat Global Summit 2019
The 9th Vibrant Gujarat Global Summit 2019 is projected to deliver a forum for discussion on National, state level and Global agendas with an acute focus on economic growth and development for a new and better India.
The Marquee Offerings
Summit to be initiated by Hon'ble Prime Minister of India
Investment opportunities for global investors
Technical sessions and seminars on Industry 4.0 and other rising sectors
Seminars by various participating states
The Attendees
Heads of Governments from over the world
Strategy Makers
Heads of Global Multilateral Development Organizations
Worldwide and Indian CxOs
Worldwide Change Makers
Thought Leaders, Academicians and Researchers
Youth Icons and Motivators
Councils of Commerce and Industry Associations
Innovators, Entrepreneurs and Thinkers
Miniaturized scale, Small and Medium Enterprises
Networking Opportunities
Business-to-Business Meetings
Business-to-Government Meetings with Central and State Government authorities
Learn about investment opportunities in partner countries and partner states of the summit.
Vibrant Gujarat Global Trade Show 2019
Along with Vibrant Gujarat Global Summit 2019, this global trade show will unfold as a cherry on top for the summit. This show will be presented in what could be perceived as one of the largest trade shows in the world.
How to Register for Vibrant Gujarat Global Summit 2019?
There are basically 3 different ways one can register for Vibrant Gujarat Global Summit 2019.
If you're attending the summit as an individual or as a delegate or as a company, you can register in your respective category.
Here are the registration links for Vibrant Gujarat Global Summit 2019.
Meet NCrypted at Vibrant Gujarat Global Summit 2019
NCrypted is an ISO 9001:2008 certified, startup enabler software company offering high-end online and offline solutions to startups and medium to large scale businesses and enterprises. NCrypted to be a part of Vibrant Gujarat Global Summit 2019.
At NCrypted, our mission is to deliver progressive, excellent and enterprise-grade services and IT products to global business, thus enabling them to embrace technology for business growth.
We don't want you to miss this welcome chance to meet up with different companies and indulge in potential business collaborations, NCrypted is willing to partner up with the companies attending the Vibrant Gujarat global summit 2019.
Get in touch with us today to get more information.
You may like to read: