1224
Views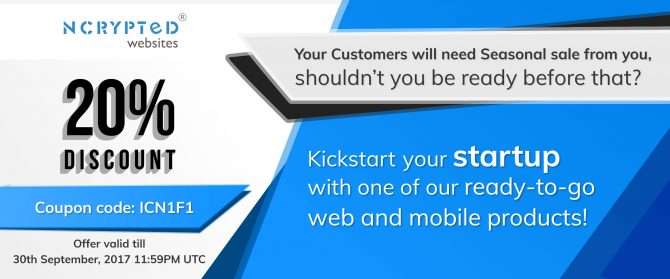 Are you looking to kick-start your own business? Don't miss to grab this opportunity that we have for you. It's well apprehended that the internet is dispersed around with an endless number of small business that renders the perfect imitating outcome of booming website brands. As we've been talking about your innovative ideas and startups, don't just sit but strike while the iron is hot with our offer for there is no better time than getting started right now.
You can enter the code while checking out at the payment info page. Use this coupon code ICN1F1 to avail 20% flat discount on all products.
Check out our startup enabler products that will help you grow your business or help you establish your startup to achieve desired credibility.
BistroStays – A Vacation Rental software
BooknRide – A Taxi Booking App
NLance – A Freelance Marketplace Software
Fundraiser – A Crowdfunding Software
TaskGator – A Tasks Marketplace Software
Thumbpin – A Service Marketplace Software
ConnectIn – A Professional Networking Software
JobGator – A Job Portal Platform
Trademart – A B2B Trading Software
Soundify – An Audio Streaming Software
Busewe – A Website Marketplace Software
Fashmark – An eCommerce Software
Bookitt – A Social Bookmarking Software
Let's connect with us to talk about the possibilities to amplify your business.
Terms & Condition :
Not valid on previous purchases or in combination with any other offer.
Please note that NCrypted reserves the right to rescind, revoke or terminate this offer at any time, with or without cause. This includes, without limitation, if the terms of the offer do not accurately describe our intent due to errors or omissions.
Use coupon code 'ICN1F1' to receive the discount.
Additional charges may apply on taxes, if any.
Offer expires on Saturday, 30th September, 2017.
Coupon code can be used multiple times on separate orders