10697
Views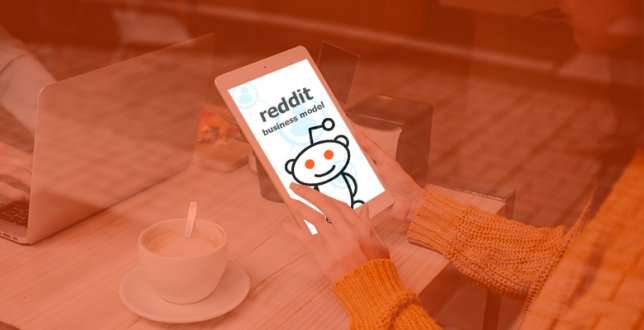 Reddit is a social news aggregation, discussion and web content rating website which allows a user to submit content such as links, text and image post, which can be voted by other users on Reddit. Reddit was founded by Alexis Ohanian and Steve Huffman.It was acquired by Condé Nast in 2006.
Reddit Business Model
Over the years, Reddit has grown vastly in popularity, getting over 200 million visitors each and every month, and the Reddit society has become a genuine thing. Reddit is divided into sub communities or subreddits. Be it any category – literature, sports, movies, music, one can find a subreddit that would feel tailor-made for you.
Reddit's business model is sturdy. So how does it work? How does Reddit make money? Let's see the answer of these questions in the following sections.
How does Reddit Work?
Registered members can submit the content to the site which can be voted up or down by members.
Post can be arranged by subject into a user-created board called as "subreddits" which includes a different kind of topics such as news,video-games, science, music, food, fitness, book and image-sharing, movies…etc.
If specific submission got a good vote then it can be shown on top of the subreddits and if it got enough vote then it can be shown on front page of the site.
Pros and Cons of Reddit
Pros
Reddit is incredibly simple to use.
It is very simple to use and create an account on Reddit.
Reddit is effective at driving traffic, advertising on Reddit can drive more traffic than any other social media networks.
Very secure platform.
Easily get followers on a community.
Reddit enables you to pick the target audience for your ads.
Reddit has the capacity to cater taste of the diverse audience.
Reddit has the potential to create a great niche for your business.
The ranking system of Reddit enables you to examine how well your ads are being received by your targeted audience.
Ultimately,it ensures you that you are generating real-time ROI.
Cons
Reddit users can make or break you
If Reddit users like your content it may generate great traffic but if they don't like it then be prepared for a heavy dose of criticism.
Requires a lot of hard work to search the content you want
You have to literally hunt for the content you really want to explore.
Reddit Funding Rounds
In 2005, Reddit had raised money to $100k which then raised to $50M in 2014. The lead investor was Y Combinator and in 2017, Reddit raised a whooping figure of $200M.

Reddit Business Model Canvas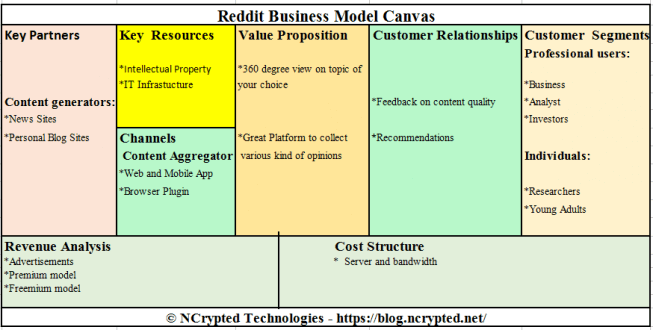 Reddit Business Model Canvas includes these following segments.
Customer Segments
In customer segments there are three major professional users. Business, Analyst and Investors. And as an individual there are two major divisions. Researchers and young adults.
Customer Relationships
A customer can give feedback on the quality of the content.
Channels
Main Channels through which people reach to the Reddit are the website and mobile app.
Value proposition
Reddit is an amazing platform to collect a different kind of opinions for the content you post. You can have a 360-degree view on your favorite topics.
Cost structure
Major Cost includes: Server and bandwidth cost.
Key resources
IT infrastructure and intellectual property can be considered as key resources.
Key partners
Key partners or content generators are News sites, Blog sites and Editorials.
How does Reddit Make Money?
Just like many other social networking sites, Reddit also makes money through advertisements. But that's not the only thing. Following are the more sources in the revenue model of Reddit.
Advertising
Reddit makes money through advertising, but it is not the only source of income for it.
Reddit ad space can be utilized in two ways:
1)Managed ads
2)Self-serve ads
Price may vary of managed ads and self-serve ads as per the target audience. There are various types of other sources also in the revenue model of Reddit.
Reddit Gold
Reddit Gold is a premium membership plan enables a user to pay for premium features.
Premium features enable a user to turn off ads any time they want, allowing users to manage, filter and save comments he/she likes and can categorize them.
Reddit Products
By selling branded products Reddit also can make money.
Redditgifts
Redditgifts is an online gift exchange events where strangers matched only by their Reddit accounts and can exchange gifts on a specific day.
Redditgifts does not charge users for their registration. It is completely free to register to exchange gifts with each other.
There are three types of memberships available as per the latest information which is listed below:
1)3 months membership: Users can receive all the benefits of being an elf for 3 months
2)6 months membership: Users can receive all the benefits of being an elf for 6 months.
3) 1-year membership: Users can receive all the benefits of being an elf for 1 year.
Membership benefits that can be enjoyed by Redditgifts Elves are:
Access to the private subreddit /elves
Exclusive Elves-only matching
Award gift trophies
Submit and vote on future exchanges
It's absolutely free to register for the gift exchange. These premiums, the elite members are called RedditGifts Elves.
How to Start a website similar to Reddit?
If you are attracted with the facts and figures of Reddit and also want to start a similar website like Reddit then Take a look at a customizable ready-to-go script for your startup.
What is your opinion regarding the article on Insights into Reddit Business model and revenue model of Reddit? Tell us in the comment section below.
Take a look at other interesting business models from the social media industry.