14791
Views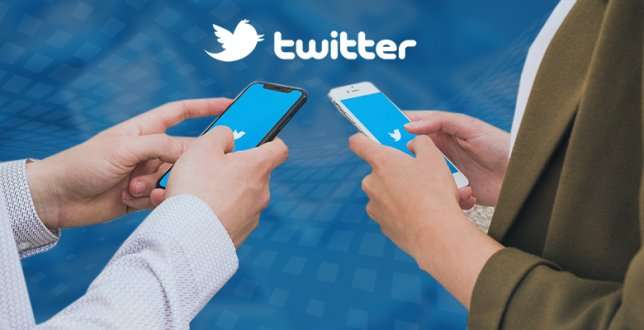 Just like any other social networking platform twitter helps it's users to stay connected with the world virtually. Gradually Twitter has created its own set of vocabulary and terminology behind all the activities being done within the application.
How does Twitter Work?
Now, let's look at how does Twitter work. Some of the widely used lingoes of Twitter are mentioned below.
Tweet
Twitter can be accessed from web and mobile device, through which user can post a short message, update or information that can be of 140 characters. Recently the character limit of tweets has been doubled and got increased by 280 characters per tweet. Any tweet can include an image, video or link.
Follow
Twitter allows it's users to choose who they would like to follow, that way user can have a total control over their home page and feeds being displayed within the same. If any twitter account is being set as Private then the user will have control over who can follow them, basically, the user will have a hold and need to approve every new follower as per their choice.
Tweets will get displayed on the homepage of all the followers as well as in users own home page. Each tweet will contain replies, any follower of a user will have rights to reply upon tweet posted by the user whom they follow. That way Twitter basically provides one too many communication facilities to users, unlike traditional emailing, and one to one chat.
Direct Messages
Two users who follow each other will be able to send a direct message it will be private and will not get displayed in a home page of any of the user.
Re-Tweeting
Re-tweeting is used to share an interesting tweet with other users. It will make that particular content being displayed on your home page and even those user will be able to see and read this content who are not following the user who has initiated the tweet.
Hashtags '#' sign is used for marketing and broadcasting, it is used as a label on tweet's topics/subjects so that other user will be able to see tweets on the same topic.
Mention With @ sign user will be able to mention other users in their tweets or replies.
Handle
A handle is a URL link to a user's profile. With help of handle, anyone can find the actual profile of user they want to follow. That's how Twitter is both private and speedy and has everything that a social networking and micro-blogging platform has to provide.
History of Twitter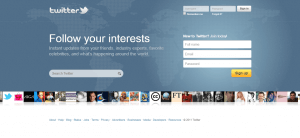 It was a brainchild of Jack Dorsey, to create a pod-casting and/or SMS based communication platform. Dorsey then shared his idea of SMS based platform, " where a group of friends could communicate with each other about their daily ideas and activities with help status updates" with Evan Wiliams and Biz Stone – co-founder of Odeo. (And that is the potential reason behind why Twitter followed 140 characters limit. Because it was conceptualized as an SMS based platform)At that time Twitter was referred as "twttr" which was suggested by Noah Glass.
While "twttr" was being programmed Apple released a pod-casting platform which was similar to twttr's business model. Followed by the incarnation of the existing name Twitter and it's existing business model it was in 2007 when Twitter got huge usage after an interactive conference @sxsw.
Since then based on close analysis of user innovation twitter introduced many upgradations in its functioning. Eventually, a side project started by a group of friends during the weekend became a huge sensation in the world of social networking.
Investors of Twitter
Just like many other start-ups, Twitter was also backed by venture capitalist based in New York – Fred Wilson in 2008. It will be a surprising news for many that Jeff Bezos, Ron Conway, Marc Andreessen and Dick Costolo of Amazon have been the early investors of Twitter.
After the company has been listed the major shareholders are Ev Williams (Director & Co-founder), Prince Alwaleed Bin Talal (CEO Kingdom Holding Company), Steve Ballmer (Owner, Los Angeles Clippers), Jack Dorsey (CEO & Co-founder), Peter Fenton (Director, Partner at Benchmark)
Partnerships of Twitter
Twitter has always been in search for tools and services that can help and enhance the performance and user experience of its platform. In order to do so, Twitter has done many (54) collaboration with many companies having a various expertise and technological abilities. Let us have a look at some of the most known acquisitions and partnerships of Twitter:
TweetDeck (2011)
The deal was of $40 million, invested in a social media dashboard application. It is used to track all the real time conversation. TweetDeck was destined to be used by marketers, brands, publishers, advertisers and everyone who wants to see and manage their business through Twitter.
Vine (2013)
The deal was of $30 million, invested in Vine to strengthen Twitter's video sharing services.
Crashlytics (2013)
The deal was of $100 million, invested in a crash reporting and analysis tool for mobiles.
MoPub Advertising solutions (2013)
The deal was of $350 million invested in the world's largest mobile advertising company based in San Francisco. MoPub had servers with real-time bidding exchange which allows the advertisers to automate and measure purchases, it can be called advertising marketplace.
Gnip (2014)
The deal was of $134 million, invested in a social media application programming interface API – aggregation firm. Gnip used to be a data provider to Twitter before acquisition so considering that this deal added the value towards technological growth.
TapCommerce (2014)
The deal was of $100 million invested in mobile ad Start-up Company. Through this acquisition, Twitter got help in improving mobile installation and advertisements. As mobile devices don't support cookies, the main use of this tool was to re-target advertisement that needs a large amount of data and related statistical analysis.
Zipdial (2015)
The deal was of $30 million, invested on an India based company working upon response collection technology and missed call marketing.
Periscope (2015)
The deal was of $100 million invested in live video streaming start-up company.
TellApart (2016)
The deal was of $478 million, one of the largest investment was in a digital advertisement platform.
The purpose was to increase Twitter's advertising profits generated by ads that look like tweets and hearten users to make a certain action. Another expertise of TellApart is targeting users to monitor usage across the application.
Magic Pony Technology (2016)
The deal was of $150 million along with both the co-founders of magic pony technology. The agenda behind this acquisition was to strengthen machine learning abilities which can help in improving the loading of photos and videos within the apps.
It is supposed to be noted Twitter has already acquired two other start-ups with the same agenda of improving the machine learning named – Whetlab (2015) and Madbits (2014)
Twitter Business Model
After not being successful with its initial SMS service platform Twitter moved on towards social networking. And created a platform that allows users to create, discover, and broadcast content. Later, Twitter business model turned into the success. At present Twitter is having services for individuals and business use. Individuals will be able to stay connected with their group of friends and quickly share information about their day to day life, activities, learning, adventure and almost everything.
A user is also having the facility to post images, links and videos through their tweets. Businesses can make use of Twitter to broadcast the latest news, latest products, blogs, and similar information, which will be visible to a large number of customers simultaneously. To do so Twitter offers Promoted Tweets, Promoted Products, Promoted Trends and Promoted Accounts. Business is being charged to get these services in return promoted service of individual business will get listed in the top searches. With help of Twitter's huge user bank, many Data Mining companies can get analysis and insights into the relevant subjects they require and make it worth.
How does Twitter Make Money?
You must be wondering, How does Twitter Make Money! so let's go through details.
Valuation of any social network is totally depended upon its user bank and user engagement. Mass gathering (be it physical or virtual) is the potential platform for branding and marketing, and marketing has a straight connection with advertising. Thus social networking platforms these days follow a very simple thumb rule – the more users it has the more advertisement it will get and more advertisement will bring more revenue.
By following the same 'mantra' maximum revenue of Twitter is coming from advertising sales and Firehose, let us see how:
Advertising
Twitter's 86 percent or more revenue is being earned from advertising – as per 2018 revenue was reportedly $575 million, increasing by a CAGR of 21 percent year over a year (YOY).
Promoted Tweets
Twitter offers promoted tweets to businesses, these tweets get displayed in a feed of Twitter users. The purpose is to get more eyeballs to the ad campaign of marketing and promotional activities of businesses.
Twitter earns when users get engaged with the promoted tweets i.e. when user mark any tweet to be favourite or make comment upon any tweet or re-tweet the advertisement.
Promoted Accounts
Another way of promotion is through promoted accounts. If a company wants more follower, it can pay to have its account promoted and get recommended to Twitter users.
Promoted Trends
Promoted Trends is something when Twitter lists which topics are being talked about most. Trends being displayed on Twitter are different for each location. That way Twitter's list of topics in the US might not be the same as the list in England.
Twitter has also provided a facility to advertisers to make a selection of topics that they would want to be listed in trends. Promoted Trends will list all the promoted tweets as the first result followed actual trending contents as per the algorithm.
Twitter has developed Tailored advertising opportunities by using various algorithms to make sure endorsed tweets make it into the appropriate user timeline.
The advertisers are being charged based on the number of communication tweets make. Advertisers are supposed to pay on per click or per retweet basis. Per day a promoted trend can cost $200,000 approximately considering US market.
Firehose
Twitter also has the other way of earning through its Firehose access, but it has been said that this service is limited to selected business/companies. Through this medium twitter shares around 600 million tweets each day to selected companies.
Twitter has four companies as their official data re-seller and these companies have direct access to all the tweets. Each associated company has developed their own algorithms for data mining that observe consumer response to everything from brands to movies, and new to political impacts.
Twitter generated $33 million of revenue from data licensing in the year 2015.
Search Engine
In addition to this Twitter also charges search engine and allows them to display their stream in their search results. Twitter has advertisement contracts with Microsoft's Bing and Yahoo!. Twitter once was considered a serious threat to Facebook for the social networking and social media verticals.
However, over the period of time, Facebook over passed Twitter in terms of monthly active users and overall popularity. Facebook today has a valuation of over US$500 billion while Twitter has around US$42 billion (NYSE: TWTR).
The hurdles in the road of profitability for Twitter is a huge investment in advertising technology, staffing and keep spending after going public. Twitter went from $18 billion USD per IPO valuation to $50 billion USD and now trading at a $15 billion USD.
Twitter Business Model Canvas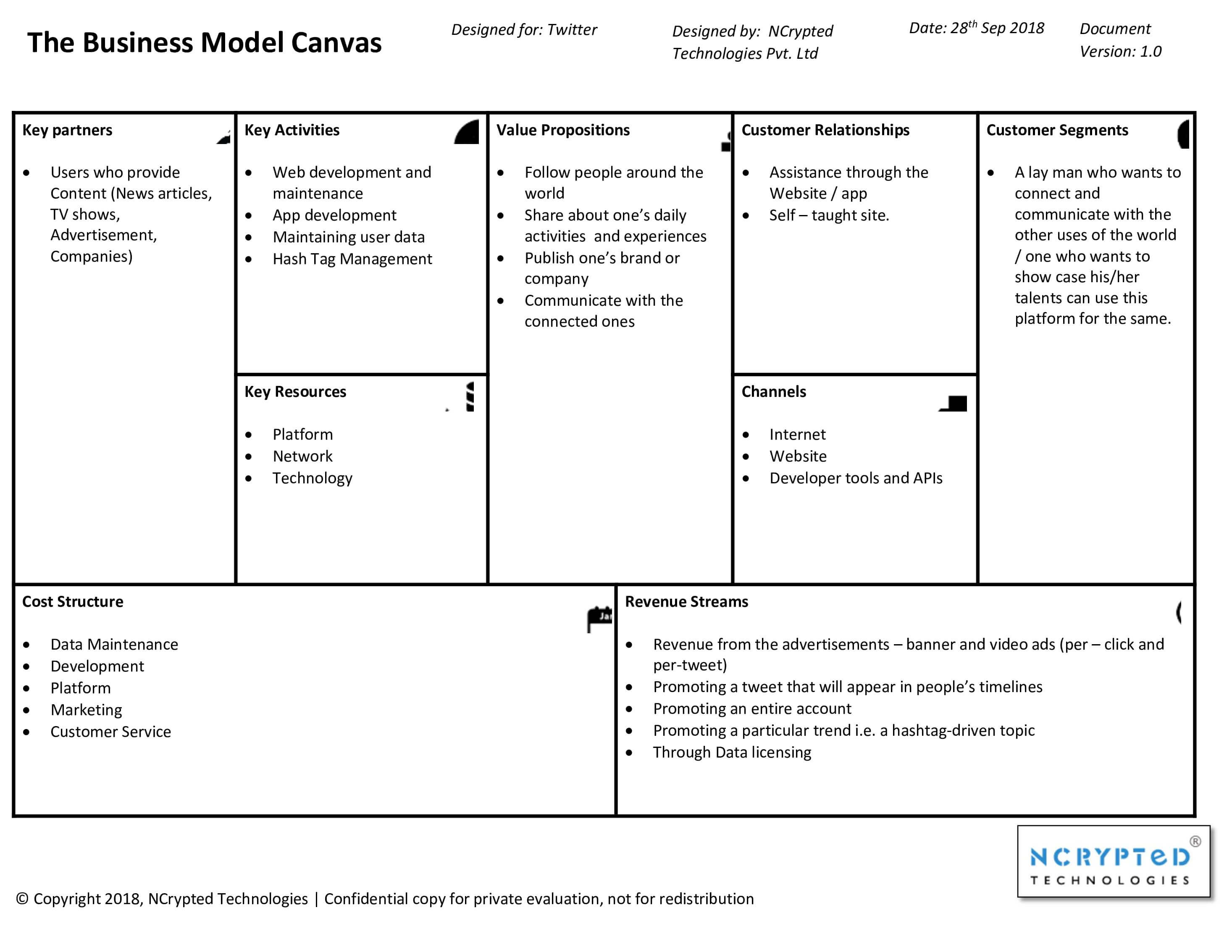 Future of Twitter
Twitter is having a large group of influential people for whom Twitter is their preferred social networking platform to broadcast their thoughts and work.
That includes a group of people from various profession like media, news, politics, publications, individuals, business owners and much more. Twitter's popularity has been proved hands-on during the 2016 presidential election in the US. When 40 million tweets got posted with election-related topics.
How to Start a Website Similar to Twitter?
If you are attracted with the facts and figures of Twitter and also want to start a similar Website like Twitter then take a look at a customizable ready-to-go Twitter clone script for your start-up.
What is your opinion regarding the article on Insights into Twitter Business model and revenue model of Twitter? Tell us in the comment section below.
Take a look at other interesting business models from the social media industry.