5482
Views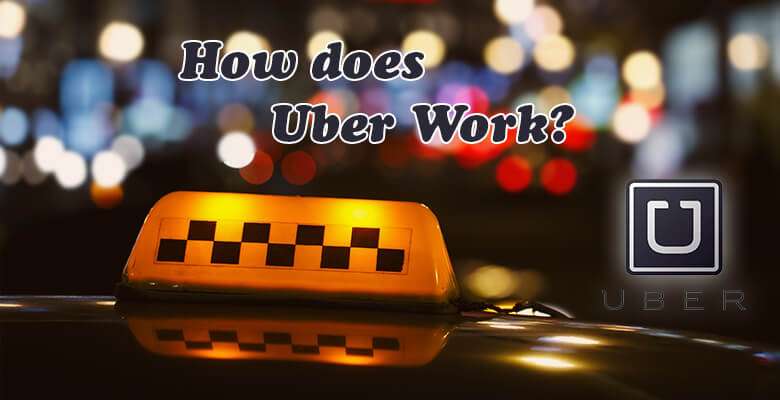 It is no wonder that Uber has taken the on demand industry by storm. Uber's disruptive technology, continuous growth and acute service make it one of the most promising companies to have surfaced over the past decade.
Uber's story takes us back to The City of Light, Paris in 2008. Two pals, Garrett Camp and Travis Kalanick were in the mood to attend the LeWeb, an annual tech conference, a place where revolutionaries get together to shape the future.
In 2007, both of them had sold their startups they co-founded. Travis sold Red Swoosh to Akamai Technologies for $19 million and Garrett sold StumbleUpon to eBay for $75.
Word has it that the concept of Uber was originated on one cold winter night during the conference when the duo was unable to get a cab. In the beginning, the idea was pretty simple. It was to provide a limo service that could be called upon via an application. After the conference, both of them took their directions, but Garrett was simply attached to the idea and bought the domain name UberCab.com
In 2009, Garrett was still the CEO of StumbleUpon, but he began working on UberCab as a side project. Somehow, Garrett had managed to sway Travis to join as UberCab's chief incubator. After this, the official launching took place in San Francisco in May. And that's how Uber was born.
How does Uber Work?
So, how does Uber work basically? Uber has been a pioneer in the ride hailing industry and the concept of Uberification has managed to revolutionize the Uber business model and how it works. Uber works on a simple formula. Uber works as an aggregator between riders and separate partners for various platforms. Now, these platforms take care of the ride requests and the different cities that it generally operates in. One thing to understand here is that each and every cab is owned by drivers. Here, drivers will sign up with Uber and they get to be the part of it. Riders will be having a different app through which they can request for a ride. The driver who will first receive the request will be the one in the nearby locality. If in any case, the driver decides to cancel the request, the notification will simply switch from the current driver to the next nearby driver until the passenger accept it.
How does Uber Work for Safety?
How does Uber Work for safety? – This question has intrigued many of us. Let's find out the answer.
Safe Pickups
Uber works around GPS. The application will automatically find passenger's location and send a driver your way, despite not knowing the address by yourself.
No Inequity
Each driver has a profile with insights about them and their vehicle. Data incorporates name, tag number, telephone, and rating, so you can guarantee the right vehicle is lifting you up before you bounce in. This data additionally helps in the event that you abandoned something in the vehicle and need to contact the driver once more.
Offer Your ETA
Once your ride starts, you can impart your ETA and course to loved ones so they know where you are and when to expect you. You additionally will have the capacity to take after your excursion progressively. In UberPool, you will dependably know who you share your ride with since each rider needs to make a record with their fundamental points of interest.
Rating System
Uber keeps drivers responsible with their star rating framework. In the event that a driver seems to be hazardous, impolite, or show unfortunate conduct, you can give them a low evaluating and give unknown criticism. Uber will audit various things driver won't be coordinated for future rides.
All day, every day Support
Riders can rest guaranteed knowing there is a whole group remaining behind them all day, every day. There are many ways to contact Uber to report any issues, including general inquiries, wellbeing issues, or even lost things.
While the news likes to feature the uncommon stories from rebel Uber drivers, realize that there are a huge number of Uber drivers everywhere throughout the world, working all day, every day. It's possible that even with the best wellbeing measures set up, somewhere around one of them will inevitably accomplish something newsworthy. Be that as it may, generally, Uber is sheltered.
How does Uber Work for Payment?
To make a payment, riders must enter a legitimate charge/Visa which will consequently be an endless supply of a ride. Riders can include various instalment techniques, and afterwards, select one of them as a default decision.
On the off chance that you'd get a kick out of the chance to pay with money, go to "Installments" from inside the application, at that point select "Money". Demand the ride and once the outing closes, make the instalment with money straightforwardly to the driver.
Different Uber Vehicle Types
We should now take a gander at the different kinds of auto administrations Uber gives its riders.
What is UberX?
As the flagship administration of the Uber mark, UberX is its most reasonable and vigorously utilized administration level.
UberX autos are minimal effort cars that seat up to 4 travellers. Numerous UberX drivers will give a couple of additional items like containers of water, light tidbits, and telephone chargers.
Uber necessitates that these autos be close to 10-15 years of age. Particular year necessities on this vehicle compose will shift by showcase.
Run of the mill UberX autos:
Dodge Charger

Toyota Prius

Toyota Camry

Kia Sorento and Optima

Hyundai Sonata

Nissan Maxima
Geniuses
UberX is exceptionally moderate.

UberX autos are all over the place. Regardless of whether you are in the New York, San Francisco, Seattle, London, or anyplace else on the planet where Uber works, an UberX auto is generally practically around the bend.
CONS
Surge Pricing can expand the admissions.

Since the driver profit from UberX is low, many postpone burning through cash on routine vehicle support.

UberX drivers might not have business protection which makes it difficult to guarantee protection in an occasion of a mischance.

UberX drivers are not industrially authorized by the state, city or any administrative body. They just experience the record verification given by Uber. They aren't fingerprinted or put through the more stringent historical verifications that state and city taxi laws require. This applies to the greater part of Uber's other administration composes.

The UberX autos can just serenely convey two mid to extensive size bags. On the off chance that you have greater baggage than that you'd be in an ideal situation calling a UberXL auto.
What is UberPOOL?
UberPOOL gives you a chance to share your rides and split the admission with different travellers heading indistinguishable course from you. The cost is even lower than UberX.
In case you're the main traveller in your UberPOOL ride, odds are another person will be gotten en route. They may drop the second individual off before you relying upon what the best course is between their pickup point and both of your goals.
What is UberXL?
UberXL are moderate SUV's that seats between 4-6 travellers. They are extraordinary for when you have a considerable measure of things or payload that won't fit in an UberX. The charges for UberXL are for the most part 1.5x higher than UberX.
Common UberXL autos
Kia Sorrento

Toyota Highlander

Toyota Sienna

Dodge Grand Caravan

Chevrolet Traverse

Ford Explorer

Hyundai Santa Fe
Professionals
XLs are SUV measured vehicles that give you a lot of space for heaps of things and other payloads. They're ideal for aeroplane terminal excursions

They give both of you a larger number of seats than the four seats you get in an X auto. So when you're out with an expansive gathering of individuals, call an XL and you'll have the capacity to serenely fit everybody in a similar auto.
What is UberSELECT?
UberSELECT is a mid-level extravagance car with vinyl or cowhide insides that seats up to 4 travellers. Rates are for the most part 2.5x higher than UberX yet around 1.5x lower than UberBLACK.
Average UberSELECT autos
Acura RDX/MDX/TLX+

Kia K900

Audi A3/Q3/S4/A6/Q7+

BMW 5 Series and 7 Series

Cadillac CTS, Escalade, SRX+

Hyundai Genesis Sedan

Infiniti EX/FX/QX/Q50+
What is UberBLACK?
In spite of the fact that UberX is their most utilized administration, UberBLACK was Uber's first item.
It's an ideal choice for when needing an upscale ride for exceptional occasions like going out on the town a major customer or going out on a major date.
Run of the mill UberBLACK autos
BMW 5-Series and 7-Series.

Mercedes S/G/GL/GLC-Class +

Volvo XC90

Infiniti Q70

Lexus ES350

Audi A6, A7, A8 and more

Hyundai Genesis

Jaguar XF/XJ
If you need a fancier extravagance auto choice than an average UberX, UberBLACK is the best approach.
You've likewise ensured a profoundly appraised proficient driver. Uber presently necessitates that BLACK drivers keep up somewhere around a 4.80 traveller rating.
The autos are very much kept up, and the drivers are completely guaranteed which implies you will be ensured on the off chance that they get into a mischance.
Unlike other Uber benefit composes, UberBLACK drivers are professionally authorized and fingerprinted by neighbourhood administrative bodies.
What is UberSUV?
With UberSUV you get an extravagance SUV that is ideal for a gathering with 6 individuals. It's the most costly class of Uber you can take in many urban communities. In any case, few urban communities have another administration called UberLUX which is much more costly than UberSUV!
Average UberSUV vehicles

Cadillac Escalade

Chevrolet Suburban

Lincoln Navigator

GMC Yukon XL

Infiniti QX80

Mercedes GL-Class

Lexus LX
UberSUV drivers are completely authorized proficient drivers and economically guaranteed. They likewise experience a thorough city or state historical verifications that typically incorporate fingerprinting.
The SUVs are extravagance SUVs and exceptionally agreeable.
You can take up to six travellers and there is space for bunches of baggage or load.
Drivers must keep up no less than a 4.80 normal traveller rating
How does Uber Work For Passengers?
How does Uber work for Passengers? The initial step is to download the application on your Android or Apple gadget and give essential data including your name, telephone number, and charge card number. When everything is set up, you have to enter the goal address into the case named "where to?" close to the highest point of the screen. Try not to stress on the off chance that you don't have the foggiest idea about the correct location; you can discover where you have to pass by entering the name of a business, as "Starbucks" or "GameStop." Uber likewise gives clients a chance to add shortstops to each trek.
Affirm your goal, affirm your correct pickup point by dropping a blue tick on the guide, and the application will disclose to you around to what extent it will take to arrive. It likewise gives the evaluated cost of each support to guarantee straightforwardness, a component increased in value by voyagers who have become very used to getting cheated by cabbies asserting not to have a meter. The expense of a ride relies upon which benefit you pick, and at what time of day. The more individuals ask for a Uber ride in the meantime, the more costly a passage gets. Uber calls this "flood evaluating."
The fundamental administrations are called UberX, UberXL, and UberSELECT, individually. The distinction lies in the cost and the sort of auto that will lift you up. UberX drivers are ordinarily in a standard traveller auto (e.g., a Honda Accord) fit for conveying up to four riders. UberXL administrators have a greater model, (for example, a Chrysler Pacifica) that can convey up to six travellers. At last, UberSELECT is a more upscale administration Mercedes-Benz, Audi, and BMW drivers can take an interest in.
Is it accurate to say that you are climbing throughout everyday life? Uber has you secured with UberBlack and UberSUV administrations that offer even more pleasant vehicles. You may hitch a ride in a Cadillac Escalade, a BMW 7 Series, a Mercedes-Benz S-Class, or a best spec Chevrolet Suburban. UberBlack and UberSUV drivers must be industrially enlisted. A bunch of urban communities around the globe additionally offer UberLux, the organization's leader benefit. It's costly, however, you're ensured to touch base at your goal in an Audi A8, a Land Rover Range Rover, or a practically identical top of the line show. Discuss making a passageway!
Uber additionally offers a different administration for riders who require wheelchair-available vehicles, and a minimal effort benefit named UberPool. As its name suggests, UberPool is a carpooling administration that gives clients a chance to have a similar ride. Envision you're going from downtown Washington, D.C. to Alexandria, Virginia. Your Uber could stop and get a traveller going generally indistinguishable way from you; from the Lincoln Memorial to Arlington, for instance. It takes longer since you're getting from indicating A point B through focuses C and D, but on the other hand, it's the least expensive alternative.
The client is careful: there's no chance to get off knowing ahead of time who you'll ride with when utilizing UberPool. You could fortunes out and share an auto with a calm, careful outsider, yet you could likewise burn through 15 minutes sitting alongside a nauseous understudy who is hungover from the prior night. Or on the other hand, guardians who think their child shouting is delightful. As far as we can tell, utilizing UberPool resembles playing society's Russian roulette, and the danger of a repulsive ride does not merit sparing $2.50 on your passage. Your mileage may fluctuate, obviously.
Pick a passage, and you'll before long get a message advising you that an auto is en route. The application gives the name of the driver and his or her rating early. It additionally records the auto's make, model, shading, and enrollment number, in addition to roughly how long until the point when it touches base at the pickup point. You can tell your Uber is en route by taking a gander at the area of the auto moulded symbol on the guide.
Jump in, welcome the driver, and you're headed. Despite which benefit you pick, there's a bar at the highest point of the application that tracks the outing's advancement and the evaluated time of landing. There is the alternative of sharing outing progress by means of various correspondence channels, including Facebook Messenger, WhatsApp, Gmail, and an out-dated instant message.
The considerable part about Uber is there's no compelling reason to pay with money; the application consequently pays the driver utilizing the credit or platinum card on record. After achieving their goal, travellers basically escape the auto and get on with their day. Clients are requested to rate the driver after achieving ride, and they're given the alternative to leaving a tip. Both are discretionary. Note drivers are requested to rate clients on a zero-to-five scale, as well. Remember your rating is your notoriety in the Uber people group; few individuals have an immaculate rating, however having one that is uncommonly low may make finding a ride curiously confounded.
Uber plans to make each ride as smooth as could reasonably be expected. It as of late revealed a frenzy catch for clients, as well, giving clients additional true serenity. In the case of something turns out badly, basically swipe up on the wellbeing focus symbol and tap "911 help," before tapping again to affirm the call. The additional tap is required to limit coincidental 911 calls, as indicated by the organization.
How does Uber Work For Drivers?
So, how does Uber work for drivers? To drive, begin by downloading a free application named Uber Driver and rounding out data about yourself (counting your government-managed savings number, for a basic individual verification) and your auto. Note not every person is qualified to drive a Uber, and few out of every odd auto is acknowledged by the organization.
To drive, drivers have to first download the free application called Uber Driver and they have to start rounding out data about themselves. One thing here is also notable that not each and everyone is qualified driver Uber and few out of every odd auto is acknowledged by the auto.
Drivers must be something like 21 years of age, and they should have an in-express driver's permit. You require somewhere around three long stretches of driving background in case you're under 23 years of age, and something like a time of understanding in case you're 24 or more established. You should be safeguarded, and you have to pass both a personal investigation and a criminal history check. You'll be fine in the event that you've gotten the intermittent speeding ticket, yet don't rely on driving for Uber on the off chance that you've been indicted a DUI or on the off chance that you have any sort of criminal history.
One thing to add here is that the alternative requirements apply to the auto. Hence to drive one should claim that an auto is no more seasoned than an old model's year with basically four entryways including the one that has not been used. It should be noticed and it definitely needs to get a better Uber vehicle review that spreads necessary things like tires, lights and last but not the least safety belts. And for that, you have to be prepared to give your first ride.
Alternate necessities apply to the auto. To drive, you should claim an auto no more seasoned than a 2008 model year, with four entryways, and one that is not rescued. It should be protected and enlisted, and it needs to get pass a Uber vehicle review that spreads essential things like brakes, tires, lights, and safety belts. Submit everything, meet the majority of the prerequisites, and you're prepared to give your first ride.
Basically turn on the application to get notices from riders who require a lift. With Uber, you can choose how long you function every day. There's no base or most extreme. The sum you make will rely upon the amount you drive, and when you drive; the flood valuing we specified in the rider area is helpful to drivers since they win all the more amid occupied hours. Uber, for the most part, furnishes drivers with a rundown of the busiest hours in their general vicinity.
A few variables worry your profit. Drivers aren't utilized by Uber — they're self-employed entities, so gas, support (tires, oil changes, and so on), and devaluation fall on the driver's lap. Drivers keep 75 percent of the charge, while Uber takes the rest of the 25 per cent, and cash earned through the application must be accounted for to the IRS as salary.
You'll require an information association with utilize the Uber Driver application, and Uber cautions it commonly utilizes around 2GB of information for each month. The application additionally lessens battery life, so we prescribe getting a quality telephone charger to guarantee you don't need to request that your travellers turn on Google Maps. A strong automount is an unquestionable requirement have, as well.
How to Start an On Demand Taxi App Business like Uber?
Building an on demand taxi booking app isn't expensive anymore – much thanks to NCrypted solution for taxi booking business – BooknRide. What you would be needing is the Uber business model to help you get started with your own taxi booking business. You can check out BooknRide, to help you get started with your own Uber clone. Our business experts are available for a free consultation session on this subject – get in touch today.
Share Your Thoughts With Us
What's your opinion on getting the insights on: How does Uber Work? Do you want to build a web or app like Uber Feel free to contact us and for any query, you can discuss in the comment section, given below.
You may like to read other blogs articulated by NCrypted Websites: