2344
Views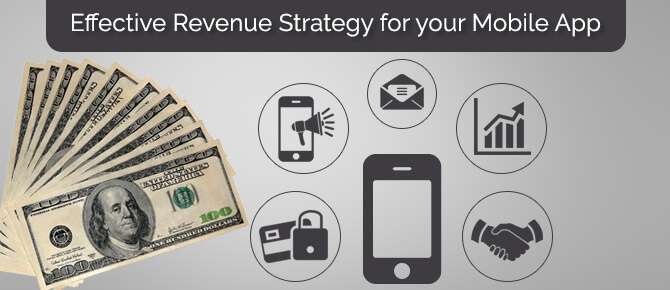 Getting a mobile app for your business has become extremely easy and quickly with the availability of high techs and ready-made software. But, building an app that can survive amongst the large pool of competing mobile apps has become the arduous tasks for the mobile app owners. The reason behind this is, saturated market having free options.
Creating a mobile app is just not enough, one has to think about strategies to effectively monetize it and integrate them with their mobile app to make it successful. Today millions of apps are available on app stores, but approximately 85% of those apps fail to generate handsome revenue due to lack of effective revenue strategy.
Given this profoundly focused situation, where clients reconsider before spending even $1 on purchasing in-app, has raised a million dollar question for the small, medium and behemoths business entrepreneurs:
How to Device Right Revenue Strategy for your Mobile App to growth hack your business?
Here are 7 essential ways to device right revenue strategy for your Mobile App:
1. Sign-up for Newsletters and Emails
If you have newsletters' to publish, circulate it through your mobile app. You can drive huge traffic on your website from the same at side it can be tough job to track but it's sure, that it works. You can't just avoid mobile app because it's one of the 4 pillar of your brand. Remember that survival is not possible if you don't add value to your audience.
2. Advertising
Though developers prefer to add in-app purchases and subscription user tends to have free service and only fraction of user will be really ready to pay small amount from their pocket. Ads with different size and unit works best on portable devices such as smartphones, tablets of different screen sizes etc. that helps you to increase CPM and CTR.
3. Versions of App
You can offer multiple versions of App which can be free app and paid app. When you have mobile app you should go with free app initially, so that user can have proper idea, what your app actually is? Once they accept your app by integrating it as a part of daily routine then after you can offer paid version of app. Assisting upgrades is one of the big way establish app's importance that values customer.
Free versions of app can also be named as Freemium. Free app with limited functionality can be termed as freemium apps.
Paid versions falls under in-app purchases version, which means enhanced services are offered within app for great user experience.
4. Effective Content Strategy
In case if you are going to give extra efforts to make your mobile app versatile, then you must focus on effective content strategy along with its unique features. Usually mobile app owner believe that one mobile app is developed and up on app store their job is done, but actually it is beginning. Your focus is to get 3 or 5 star reviews and rating for your mobile app.
5. Various Payment Options
If your app is accepting subscriptions or in-app purchases, you can offer several options that insists user to make purchases willingly. The way major apps are offering lucrative offers like Amazon, it is offering books for 1. Kindle Edition book $5 2. Hardcover book $20 3. Kindle Edition + Hardcover $20. You will observe that your app would receive most subscription for 3rd option because it values more to user. Effective pricing strategy helps you to convert more users that adds great value to mobile app's core offerings.
6. Effective App Engagement Strategy
When it comes to mobile app marketing strategy, mobile marketers are keen to increase user acquisition to the extent that they even forget stronger side of app monetization which is re-engagement of current users. Gaming user tends to have spent maximum among whole revenue generated from mobile app. So instead of getting new users you can focus on maintaining the users that your app currently have, the main focus should be re-engagement.
7. Sponsorship
One of the new strategy among major app stores is Sponsorship. In order to convince sponsor you need to keep one thing in mind, that to get sponsorship for your mobile app you need strong user base pre-build. Once you are with strong engaged users on your business app, you can directly approach to reputed brands and can discuss marketing activities within your mobile app.
So, when you are deciding revenue strategy for your mobile app, you must be clear with your goals which ultimately leads to higher revenue generation without spoiling user experience. Initially revenue generation can take time to achieve pace and the process would be iterative until correct revenue strategy is being worked out. You can continue testing before you hit the grand slam!
Visit our Mobile App Development Section!