2532
Views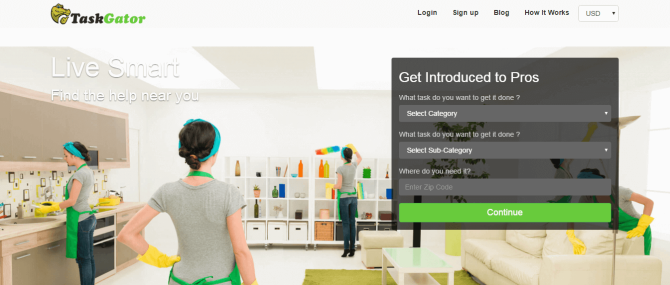 With the current disruption by sharing economy, startups have plunged in capitalizing in online marketplaces for various niche categories. One such niche category where investors are bullish today is marketplace for freelancers and micro jobs. And, to help them scrutinize best one, NCrypted introduces new online marketplace platform – TaskGator.
What is TaskGator?
TaskGator is a readymade web platform that lets business startups and entrepreneurs to launch their own on demand service marketplace website similar to TaskRabbit. It is an effort made to create the communication channel between the task providers (Taskers) and customers. The customers desiring to outsource errands, can post their jobs on TaskGator and task providers who are skilled pros can earn income by offering services to the customers.
TaskGator implements commission based business model, where a small percentage of commission is being charged from the providers as service fee. Coded in PHP5 and MySQL, TaskGator lets you quickly launch your own online marketplace website without moving a muscle and hassle free. Developed in our progressive framework, high emphasis has also been laid on technologies like JavaScript, jQuery, jSON, cURL etc.
TaskGator comes loaded with a bunch of in-built features like:
Attractive and user-friendly admin dashboard
Supports wide range of service categories
User-Friendly and Mobile Friendly (Responsive) GUI
Geo IP Location tracking
Social Media Integration
Private messaging system (between Tasker(provider) and customer)
Reviews and Ratings panel
Secured payment gateway system
Content management system
SQL Injection Proof coding structure
SEO Friendly pages
You might also want to checkout complete Demo of the platform here.
Despite of in-built features of web-platform, the TaskRabbit Clone script is highly scalable and robust to implement any customization ideas as per your business requirements. If you are willing to start one such freelance marketplace website, you can effortlessly launch it with TaskGator. Moreover, if you want to target it to your niche audience, share your ideas with us and we shall customize it with TaskGator. To discuss more on TaskGator please get in touch with us.
With the disruptive On Demand Mobile Service industry, TaskGator platform can also be used to offer the On Demand Services on mobile application. However, a question might be raised in your mind as to which on-demand platform should you go with TaskGator or Thumbpin as both the platforms cater on demand services over marketplace services?
Difference between TaskGator and Thumbpin:
TaskGator and Thumbpin both are online marketplace platforms by NCrypted that generally differs in their workflows. Thumbpin requires the customer to post their service requirements as to what task they want to get it done, when and where along with the rates. To this, Thumbpin platform match up appropriate service providers and suggest them to customer. Later, customer can hire the most suitable provider for getting their job done. Here, each provider needs to pay minimum amount to the thumbpin platform before placing a quote on customer's request.
TaskGator is a micro jobs marketplace platform where people can search taskers for their specific task or can directly hire them based on their hourly rates. TaskGator acts here as an escrow that manages the payment between the customer and tasker. TaskGator too cuts-off minimum percentage of amount from the tasker as a commission fee.
Despite of the differences in their work flow, both TaskGator and Thumbpin lets you growth hack your on demand mobile services in the market. Please get in touch to know more on this subject. Our business experts shall help you in deciding best business model for your marketplace website.
How NCrypted delivers business value?

Our primary focus would be on understanding your requirements and providing you with technology solutions while keeping your target audience and market in mind. We understand that a serious project is an on-going engagement that requires technical, functional, financial and emotional commitment. We want to believe in your idea as much as you do. Get in touch to find out how NCrypted can help bring your idea to life so that you can go to market with confidence.