Crowdfunding script
Crowdfunding is on the increase because there are more funding needs and startups than Venture Capitalists can, or will, fund. Time and again crowdfunding has proved to be a successful platform that could raise the bar for your business. Crowdfunding is one of the best options for raising funds for your organizations activities and for undertaking projects. Crowdfunding activities include everything legal, including exhibitions, games, interviews, meeting people, concerts, magic shows, project development, and other activities for fundraising.
NCrypted Solutions' online fundraising platform
NCrypted Solutions' Crowdfunding Script is a Kickstarter clone that enables you to create your own reward based crowdfunding website, where fundraisers can create an unlimited number of projects and the backers who fund the projects are rewarded when projects are fully funded.
Salient Features of Fundraiser
Attractive Admin Dashboard
Fundraiser has a user-friendly Admin Panel Dashboard for the admin to manage various modules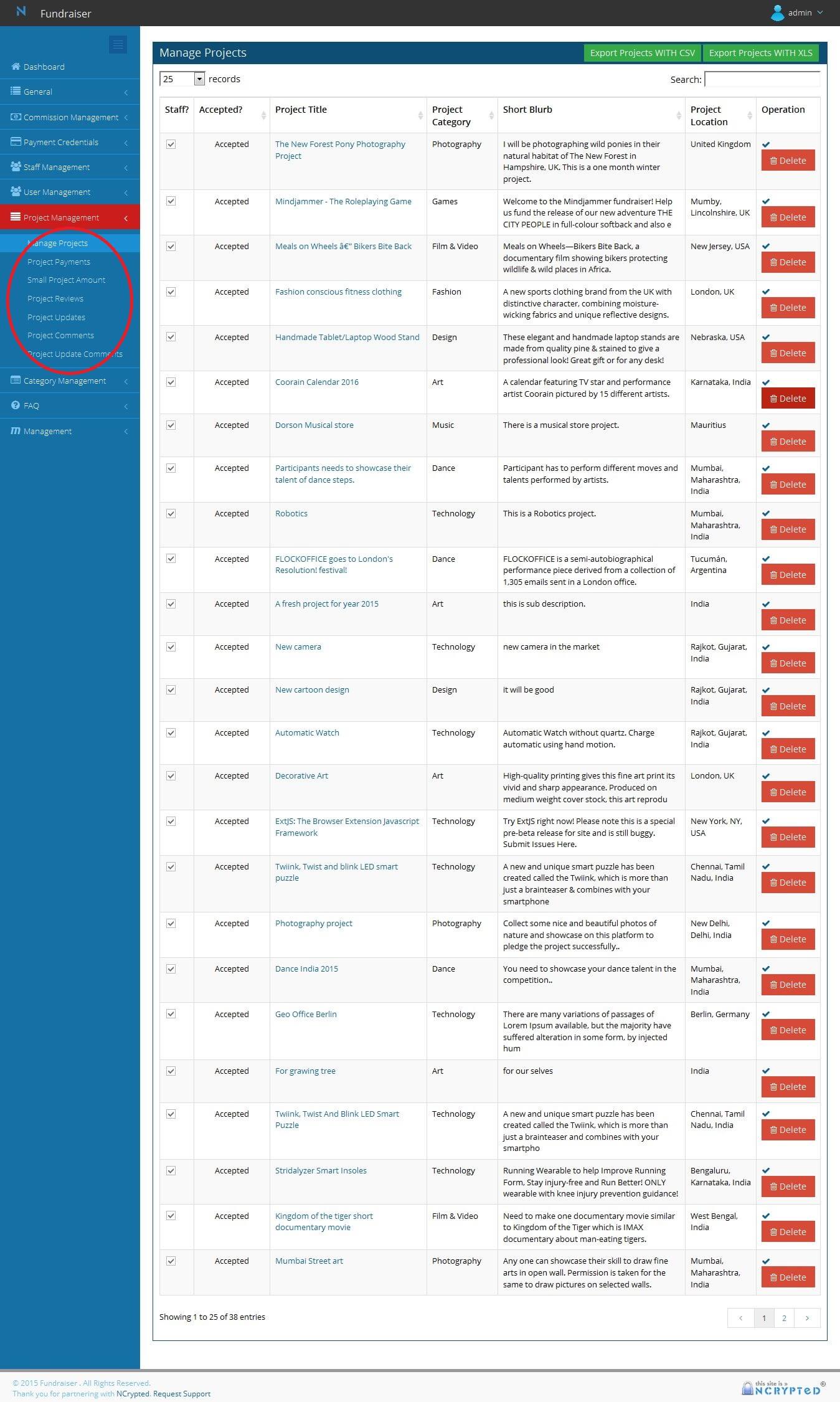 Project Management
Admin is provided with the authority to manage different projects which are being posted in the website with their category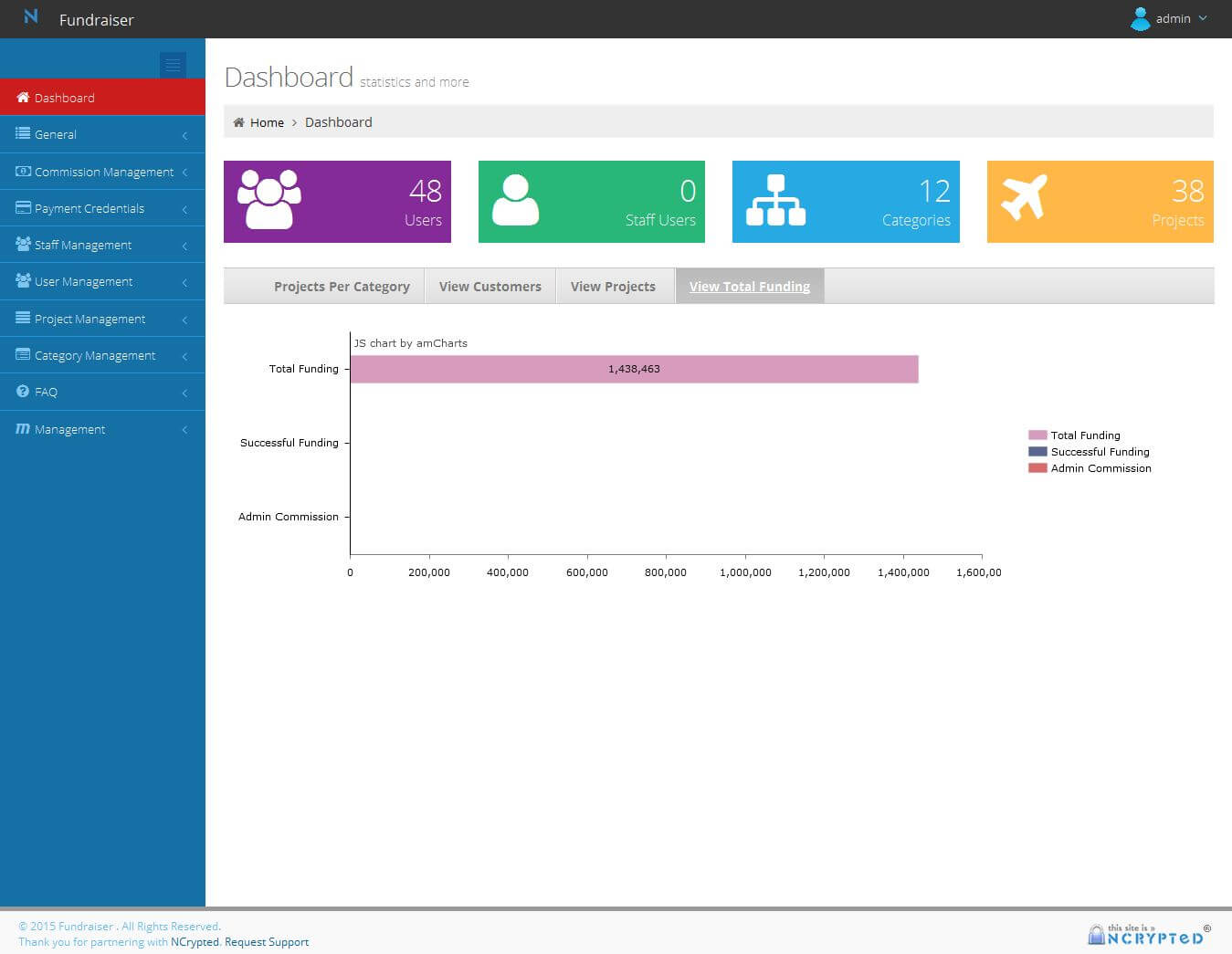 Real-time Funding Progress Bar
The real time funding progress bar provides visuals relating to the percentage of amount raised for particular project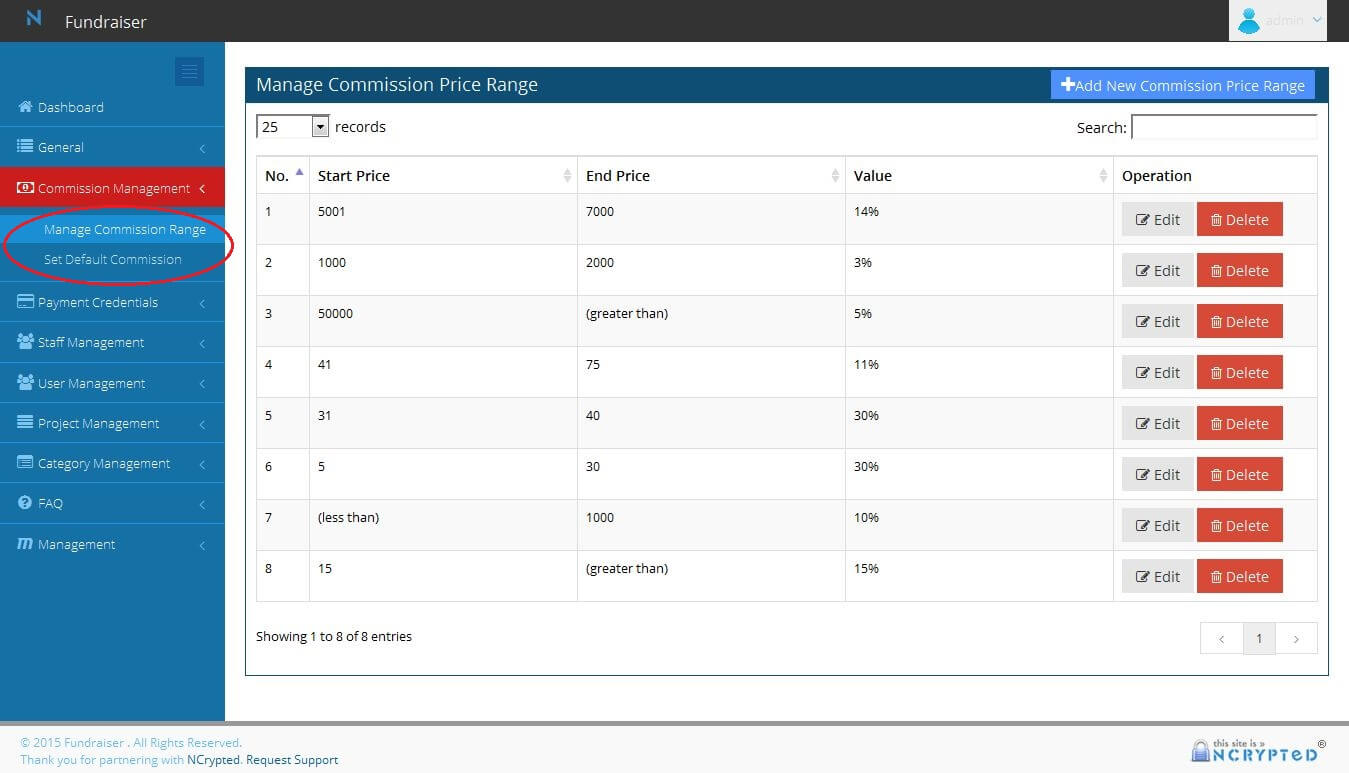 Payment Gateway
PayPal Adaptive Payments method is integrated with Fundraiser to ensure secure transactions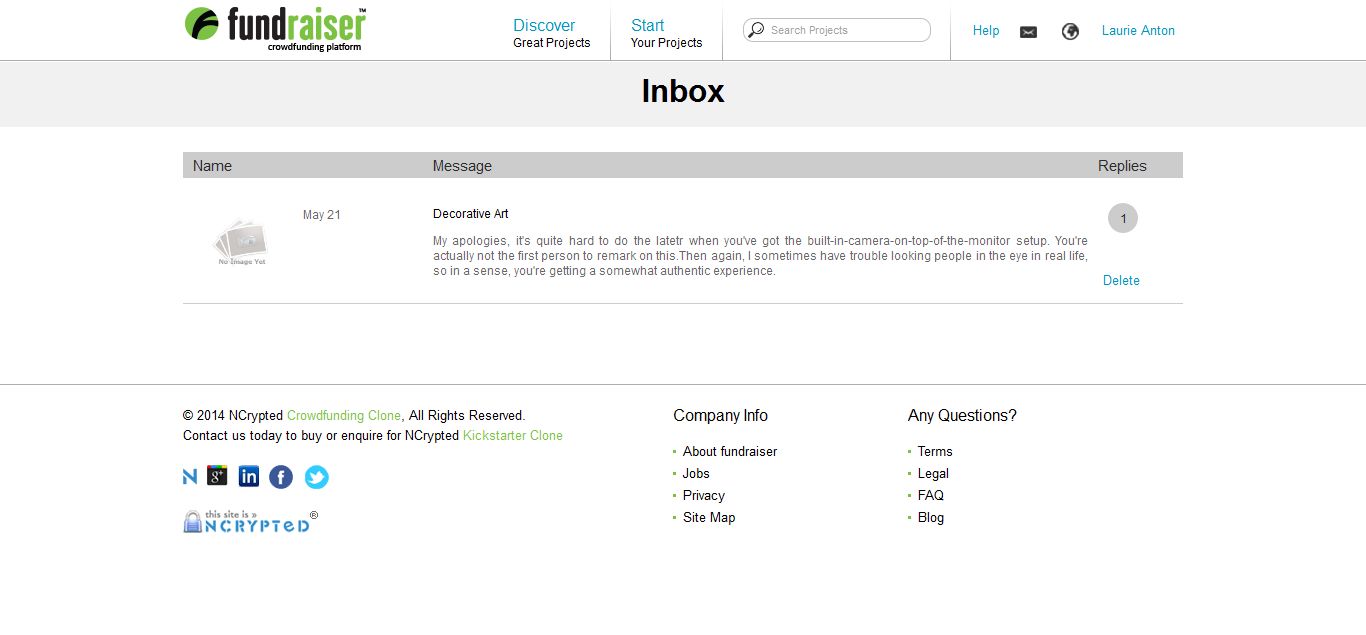 Private Messaging System
The backers and fundraisers can communicate via Private Messaging System accorded with Fundraiser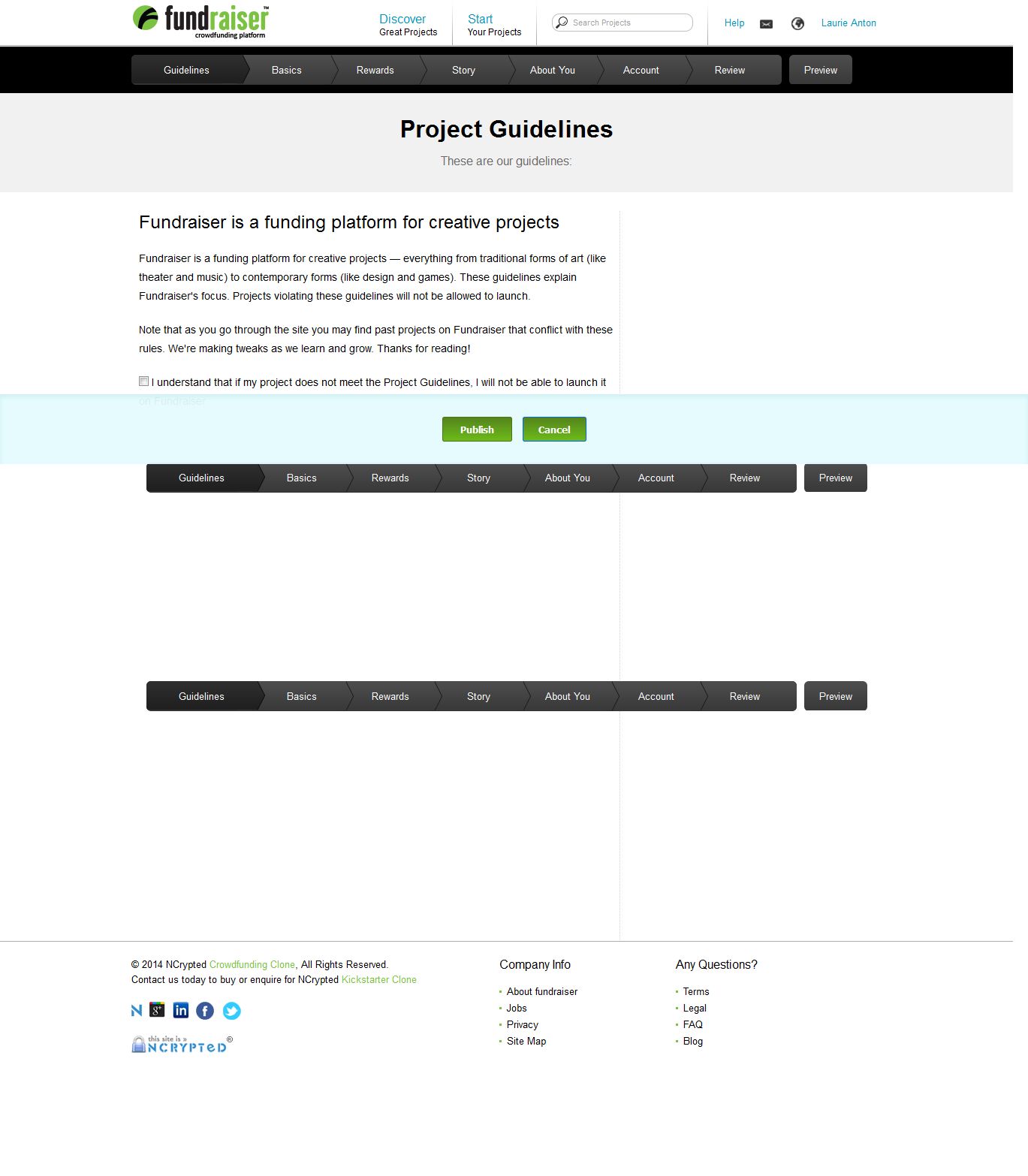 Effective Ways to Raise Funds
Fundraiser has an extensive features that enables the project creators to raise fund from crowd in an innovative manner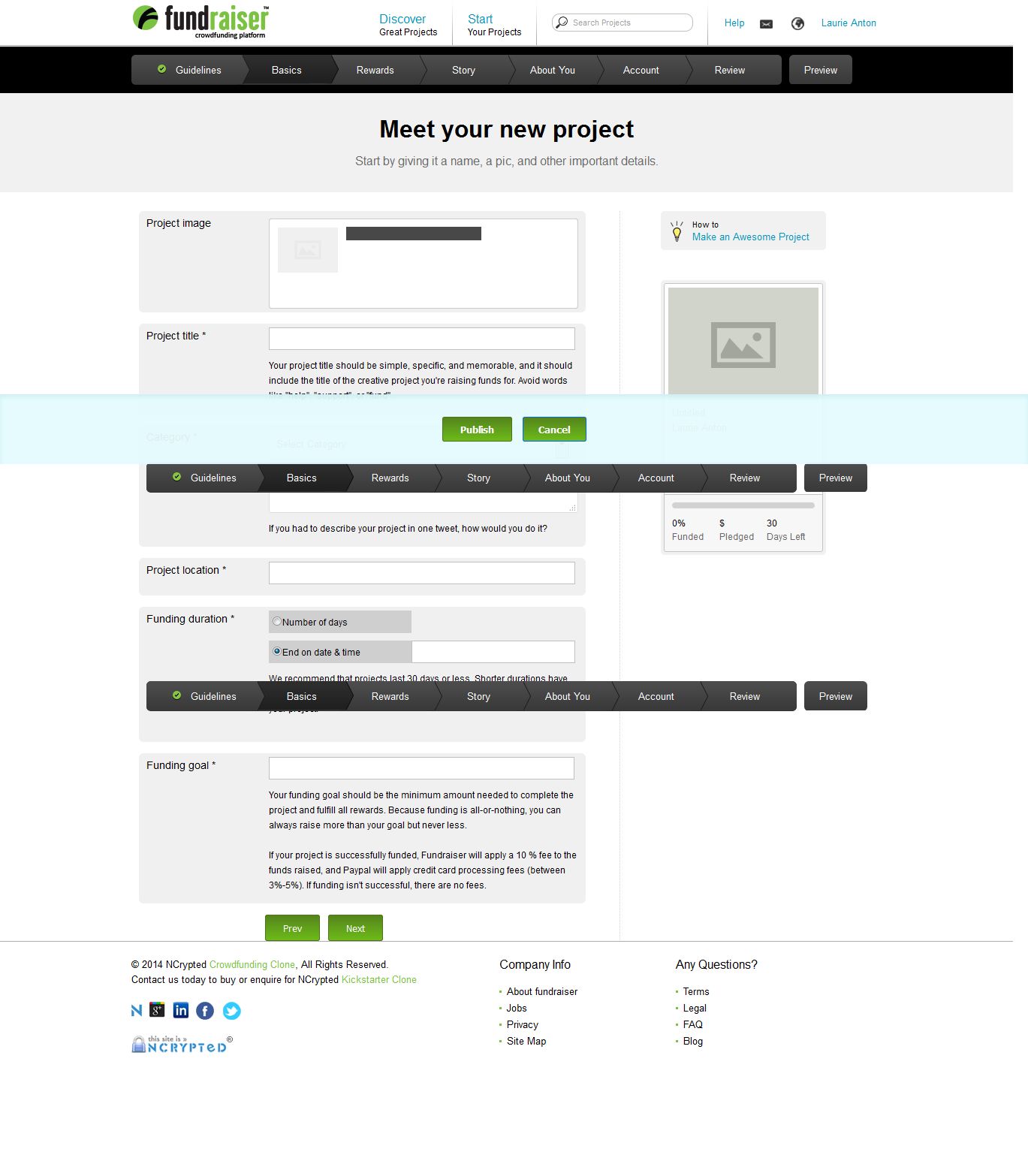 Post Unlimited Projects
The fundraisers can seek unleashed opportunities to raise fund from the crowd through posting unlimited projects on this platform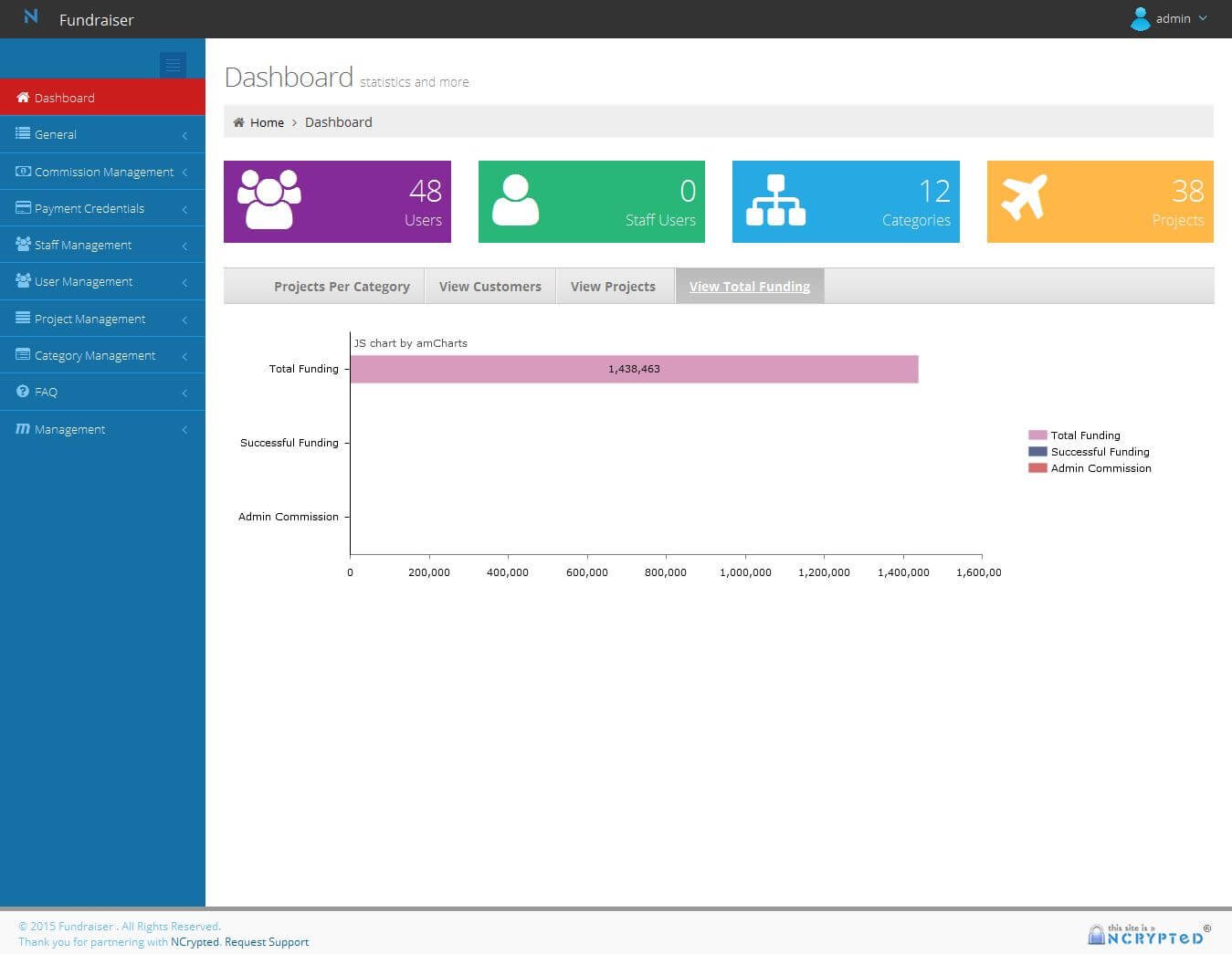 Rewards for Funding Projects
Fundraiser is equipped with feature where the backers are rewarded with regards to what he/she has pledged for project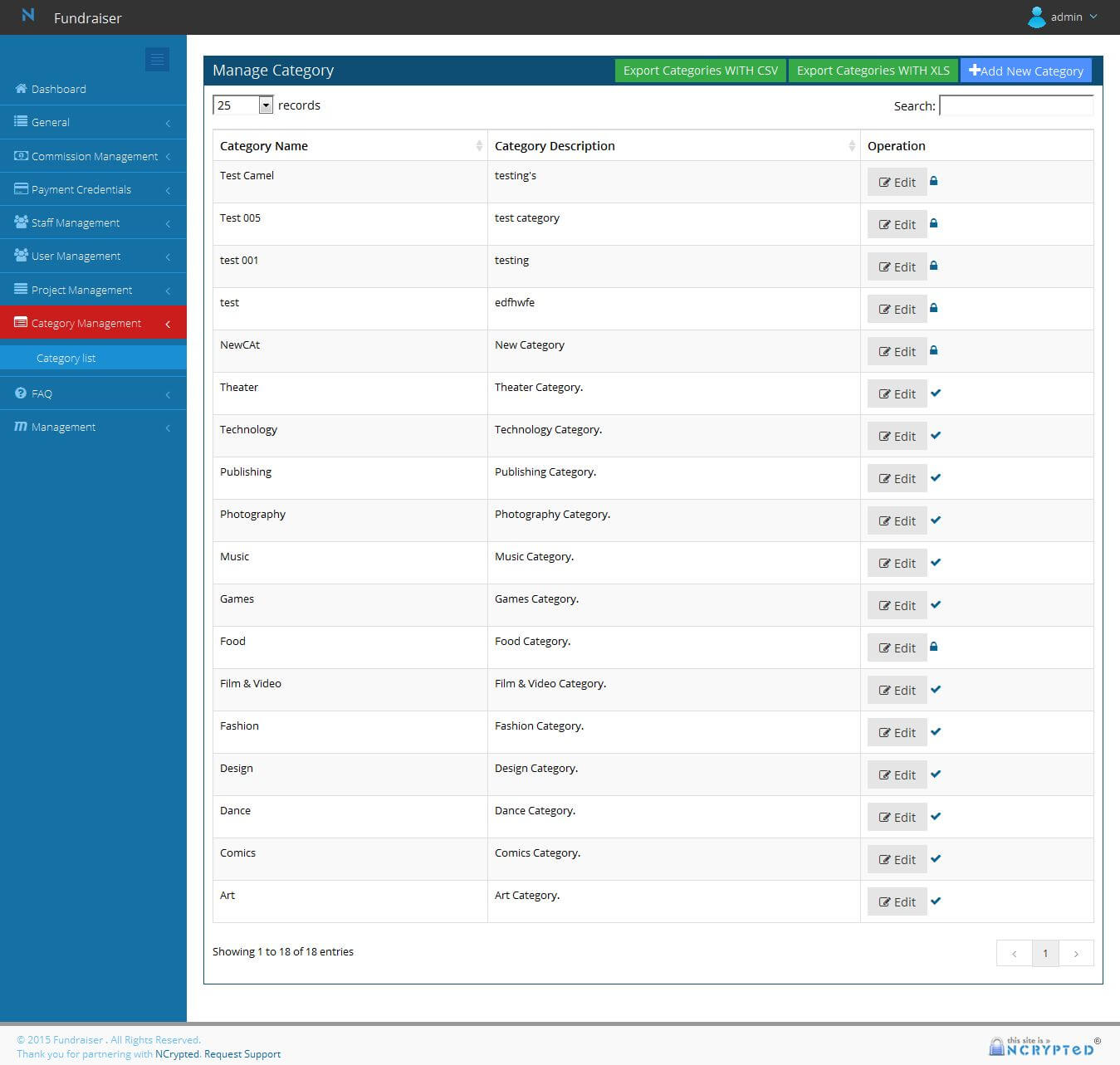 Commission Management
The percentage of commission to be charged for a project, can be managed through the commission management module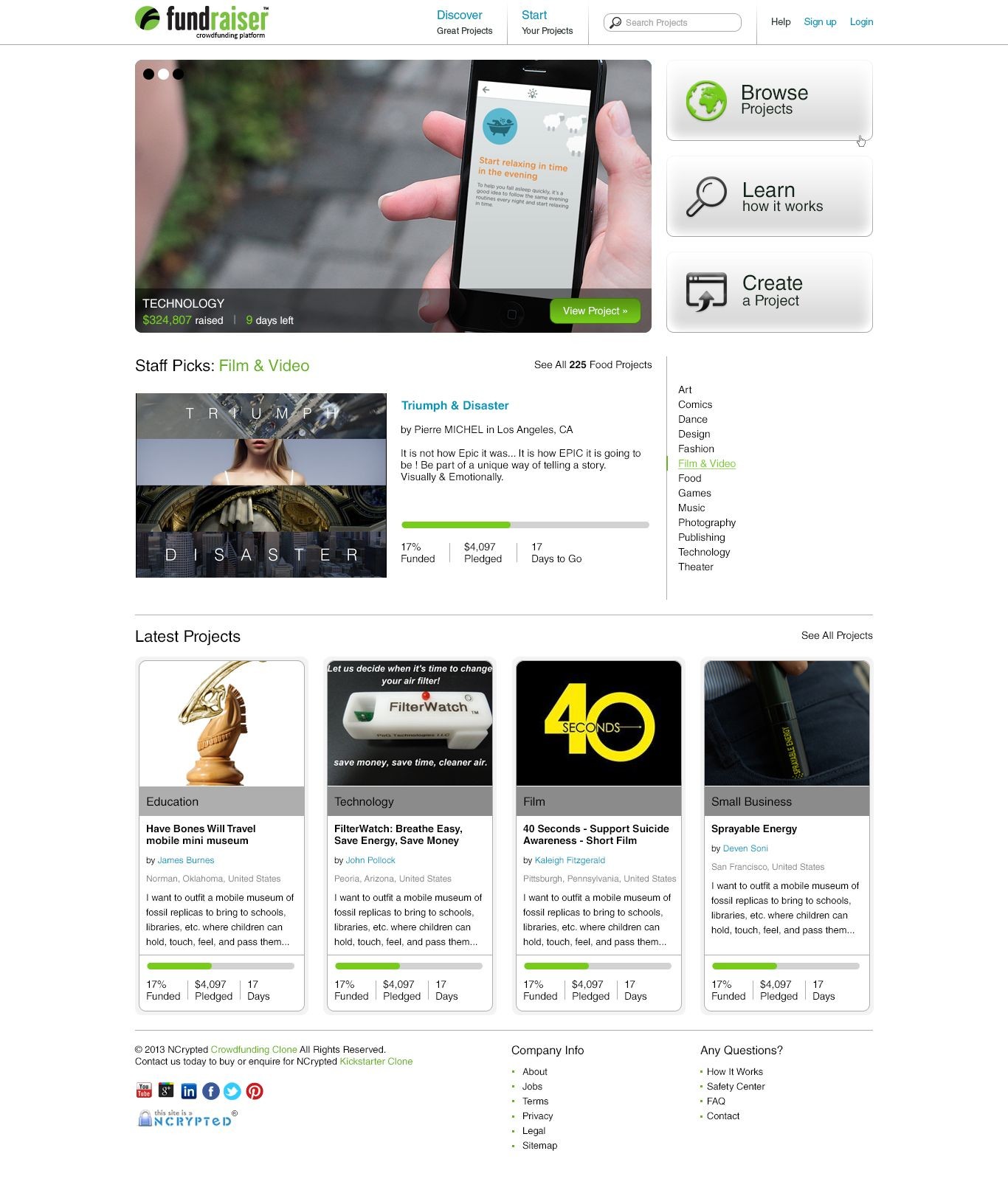 Social Media Integration
Social Media Connectivity is provided in Fundraiser to assure that maximum amount is raised for the project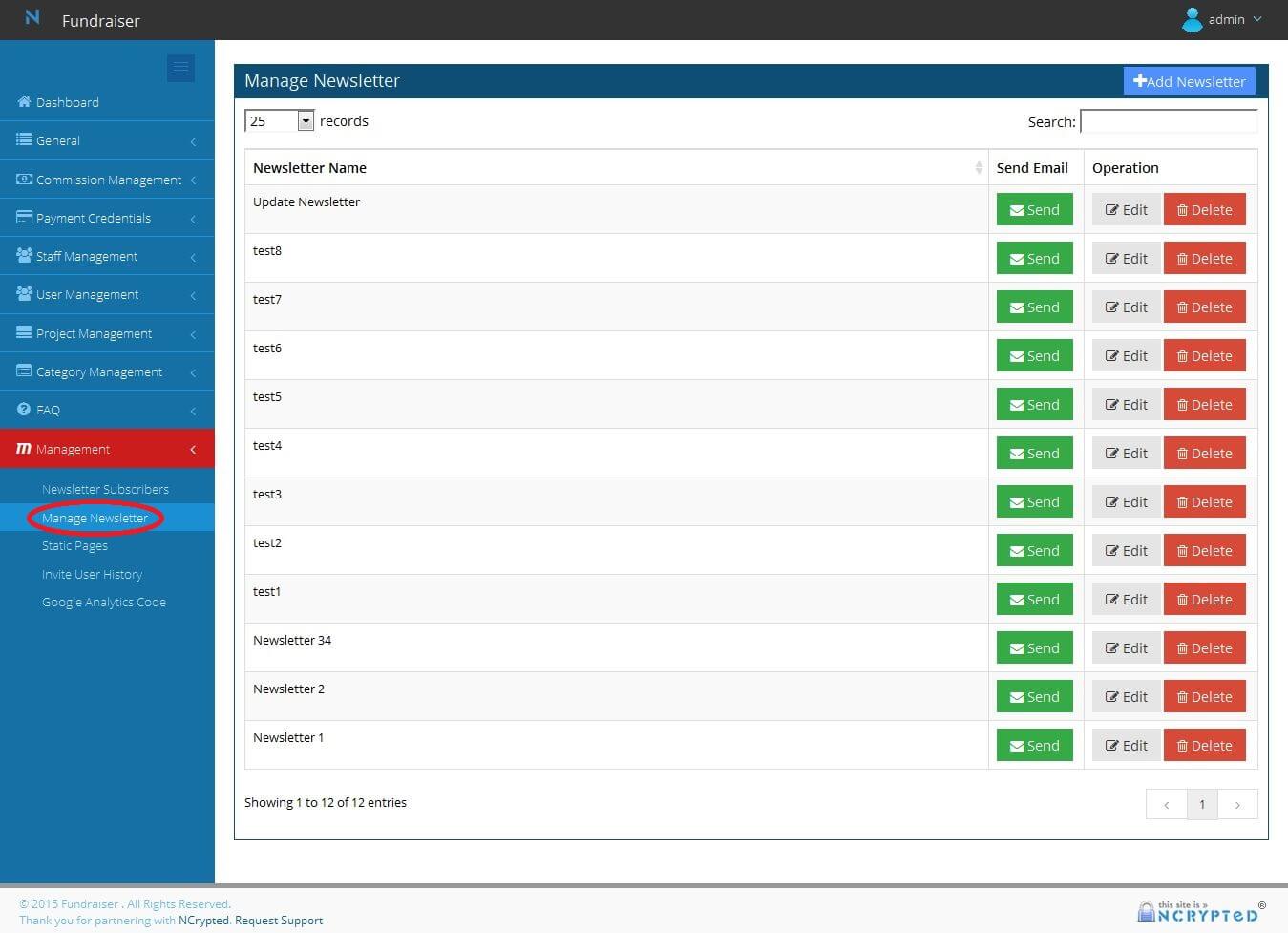 Email Notification
It allows customizing the autoresponder messages that will be sent to the group who have contributed to your cause.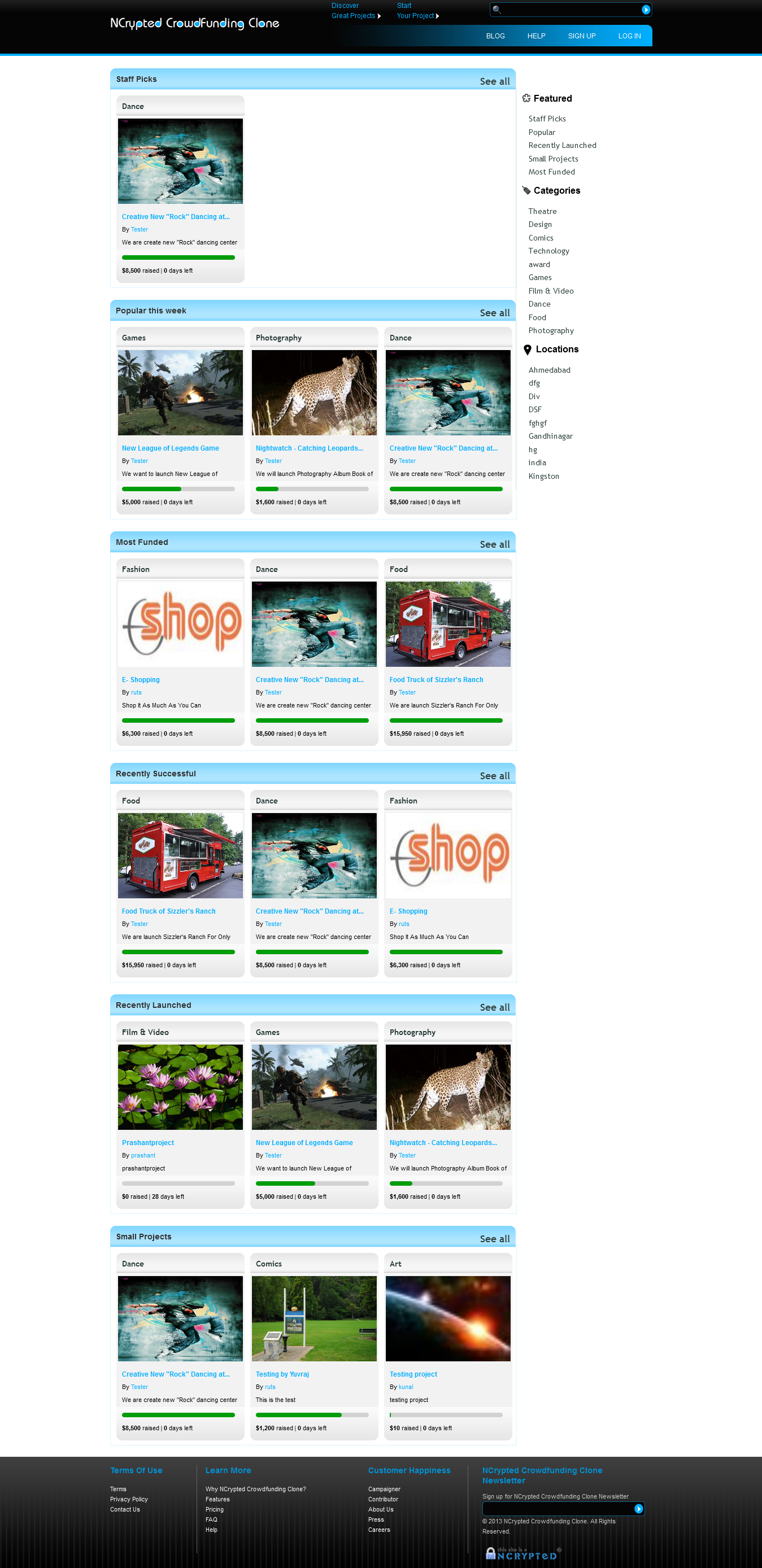 Featured Projects
Fundraiser allows users to feature projects accompanied by static banner images in the slider on page for them.
How can you make money with crowdfunding website?
Crowdfunding Clone website works on the "Commission-based" revenue model, the owner receives a pre-determined percentage of each project that is successfully funded. If the funding goal is $1000 and the owner commission is 3%, if the project is funded successfully, the owner would get $30 and the project creator would make $970 of the fund. With each project funded the owner and the creators can quickly grow.
NCrypted Solutions' Fundraiser is ready-to-launch so you can quickly start your own crowdfunding website.
Trend of crowdfunding websites in today's market
According to data from the Crowdfunding Industry Report 2021, the global crowdfunding market size was valued at USD 10.2 billion and is expected to expand at a compound annual growth rate (CAGR) of 13.2% from 2023 to 2028. Crowdfunding websites will become more social in time – performing a great job of finding funds even if project creators lack social exposure. NCrypted Solutions can customize your Crowdfunding website now with social marketing features.
Scope of online fundraising platform
As new startups take the plunge into the market, the demand for financing will go up, and many of those startups will opt for crowdfunding. Crowdfunding has proved to be the easiest and fastest way for many startups to fund their business. Startups will search out for better crowdfunding platforms that can help them raise funds. The scope for crowdfunding platforms is expanding along with startup businesses. To match the escalating and increasing needs for funding, NCrypted Solutions has designed its peer-to-peer fundraising platform with you in mind, start your own, easily customizable crowdfunding website today.
Products powered by platform for raising money for causes, project, businesses:
Kickstarter Clone - Enables you to get started with your own Crowdfunding platform where people can raise funds for creative projects, as well as for creators of other projects. It is highly advanced, scalable, robust and user-friendly platform, created for big data organizations and its architecture is designed with large traffic in mind.
Indiegogo Clone - With Indiegogo Crowdfunding Clone, the creator can get funded even though the project's monetary goal/target is not achieved. There are no limitations to campaigns; your users can start a project for any cause that you want to list on your website. Admin, however, has to approve each and every project.
GoFundMe Clone - It lets you start a crowdfunding platform that helps people in raising money for their personal projects like educational expenses, medical emergencies, charities or any other non-profit initiatives. This platform lets effective sharing of campaigns over social media with no deadlines or goal requirements.
SecondMarket Clone - It is designed to be the best marketplaces for people to buy and sell liquid assets. Major participants are monetary institutions, equity funds, qualified investors, and many more who are dealing in secondary markets.
All of these website clones are based on our crowdfunding clone platform anyway and hence share the same code and structure.
Different types of crowdfunding business models
Websites operating in the default and most popular rewards based crowdfunding segment include Kickstarter, Indiegogo, GoFundMe etc. Popular websites for equity based crowdfunding model are SecondMarket, Crowdcube, WeFunder, Crowdfunder etc. GoFundMe also has donation based funding model. Other sites popular in the donation based crowdfunding category include Indiegogo, Crowdrise, YouCaring, GiveForward etc. Kiva, LendingClub, FundingCircle, Upstart etc. are popular specifically in the lending based crowdfunding segment.