1920
Views
The music industry has undergone affluent changes over a decade and has always come up with new creative innovations every time. This is because everyday industry witness new talent sprints bounded with new melody and composition. And, there are various platforms backing them and giving a new taste to the world. As a result, healthy competition has emerged amongst the music creators and music distributors. And, to serve the music distributors with a solid base, NCrypted Web & Apps have streamlined a sturdy music providing software over the Internet, Audio Streaming, Uploading and Distribution Software – Soundify.
In addition to the competition, there is large customer base of music lovers that are accustomed to online music website as they are the ultimate consumers of the music industry. Today everyone has an Internet-enabled smartphone in their pocket and requires on-demand music service providing website and app so they can play around with music during their recreational times. To provide them with these services, entrepreneurs and startups can use Soundify as a definitive music platform for them. Let' check out how: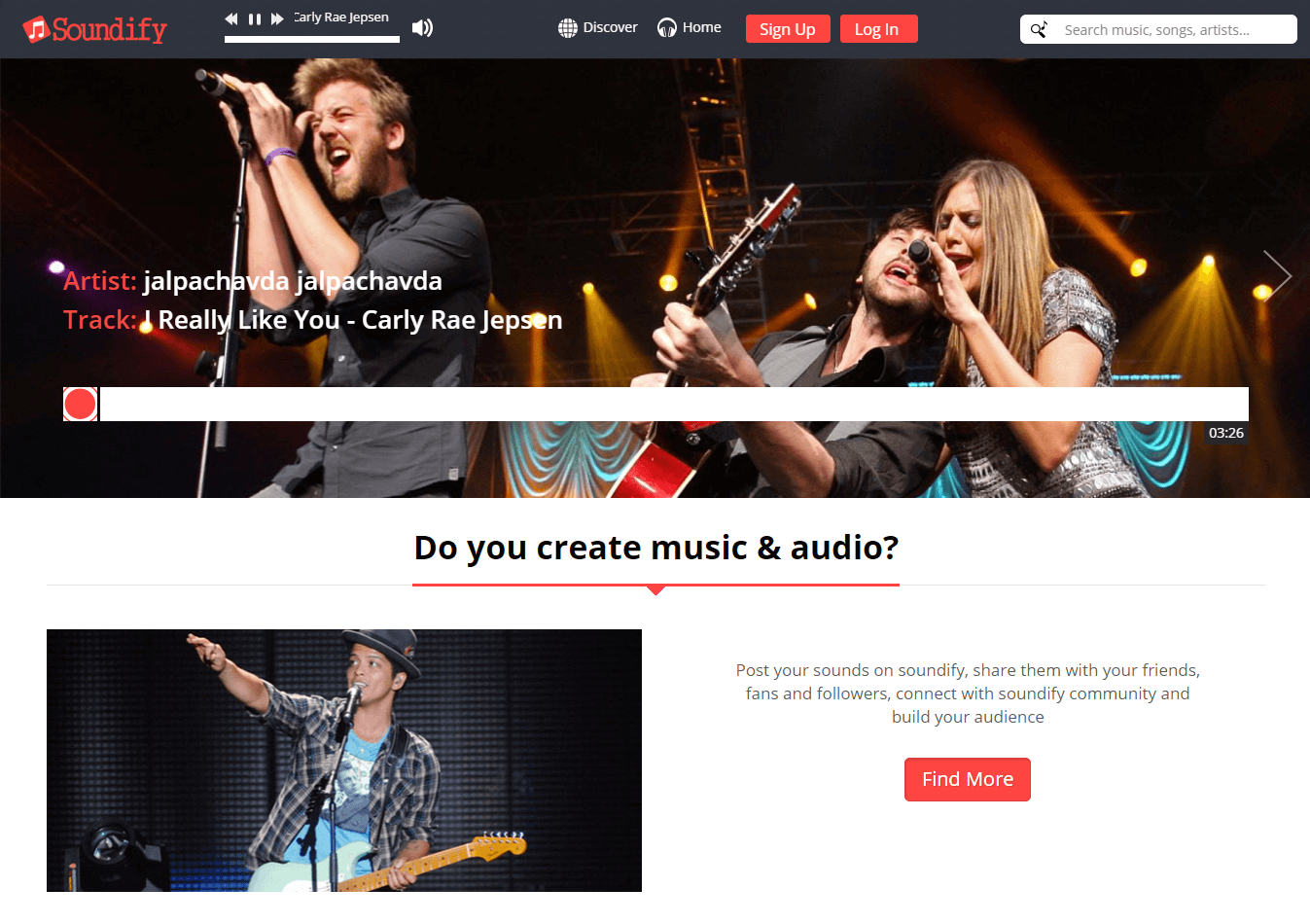 What is Soundify?
Soundify is our next state-of-the-art music platform serving as an Audio Streaming, Uploading and Sharing software for the next-gen entrepreneurs of the entertainment industry. Soundify lets you start your own online music portal website similar to SoundCloud, Spotify, Pandora, Bandcamp, Last.fm and many other popular online music store.
What are the features of Soundify Platform?
Soundify, the SoundCloud Clone, is accustomed with head banging features such as:
Discover large database of music tracks
Play music supported by Sound Manager2 Audio Player
Like/Comment/Share favourite music
Upload Track
Download Track
Create your playlist for daily purpose
Create and Join Groups
Build your profile
Follow other like-minded people in the community
Get your profile connected to social media platforms and much more
The Admin Module of Soundify is supported with resilient features like:
Content Management System (CMS)
Tracks management
Categories management
User management
Groups and comments management
Slider management
The list of the features does not end here, you might want to check out detailed features of Soundify right here.
Why Soundify for your online music portal website?
Soundify is power-packed with the latest technologies like PHP5, JavaScript, CSS, Ajax, jQuery, jSON and backed by ideal database solution MYSQL to support high-volume of data of music tracks over Soundify. It is highly scalable and robust software coded in open source, flexible to be customized with all the features that you wish to implement it as per your business requirements. Besides the UI is very aesthetically built with intuitive navigation and responsiveness to support user-friendliness across different devices.
To check out the first enterprise version demo of Soundify click here.
So, if you are the next musician, artist, a band group, music producing and distribution company or any other music lover and willing to start your own online music stores like SoundCloud, Spotify or Pandora, let's discuss at sales@ncrypted.com for your specific requirements. We would love to serve you with Soundify and transform your dream ideas into reality.
For more information on our other ready-made platforms, visit our online web store for products.
How NCrypted delivers business value?

Our primary focus would be on understanding your requirements and providing you with technology solutions while keeping your target audience and market in mind. We understand that a serious project is an on-going engagement that requires technical, functional, financial and emotional commitment. We want to believe in your idea as much as you do. Get in touch to find out how NCrypted can help bring your idea to life so that you can go to market with confidence.