2841
Views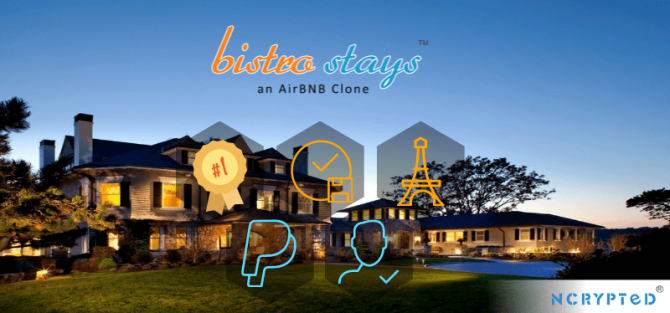 We are proud to announce the new version of BistroStays V3.0, affixed with significant features. NCrypted Websites has managed to invent advanced technology while making allowances for futuristic trends and created some of the finest readymade products to serve industries like Travel & Accommodation, Online Services, Marketplaces and many more.
Millions of globetrotters from across the globe have managed to find a healthier way to spend a quality time staycationing. Vacation rentals are growing in commerciality, particularly amongst friends and family embarking upon a journey of relaxation. Unalike, hotels vacation rentals appears in a huge variety of sizes and outlines to accomplish a mixture of travel needs, with multiple solutions varying from beach house and villas to cabins and condos. A vacation is that anticipated time when you want to shut off from the world and have some relaxing time and enjoy yourself to the fullest. Well, look no further because NCrypted Websites' BistroStays – A Vacation Rental Software is ready to offer a helping hand to fulfill your needs.
BistroStays
BistroStays is an insightful vacation rental script which authorized you to run your own online reservation system to help citizens find various accommodations online. It is a bundled software that helps any businesses to navigate their own online accommodation booking website. It is the most suitable platform for industrialist to instigate a niche marketplace for online booking.
What's new in BistroStays V3.0?
Have exclusive requirements and want to have your own vacation rental booking with an effective responsive design with some supplementary features? This product is highly constructive and apt choice for any entrepreneurs.
One of the premium features that are packaged with our exceptional vacation rental script is that the response time for host can be enumerated as an average of time used by host to send an initial reply to the request of guests. For e.g. a host has got 4 different requests from guests. A host takes 2 hours to reply to first, 3 hours to second, 4 hours to third and 7 hours to fourth, so the response time would be an average of (2+3+4+7) /4 = 4 hours.
Evidently a response rate is an enumeration of response of hosts to the new requests of guests.
Hosts can be given a number of badges based on the standard they are satisfying
– Super host
– Verified ID
(1) Super Host
To have this badge, the host must meet the following standard
– Should have at least hosted 5 trips
– Maintained a response rate of 90% over a period span of 1 year
– Completed every confirmed reservations without cancelling
Super Hosts have been given fruitful advantages such as their listings would be on top other host's listings and it is possible for them to earn up to $100 if the status is maintained for a full year.
(2) Verified ID
Any of the hosts have to take certain measurements to have this badge
– Connect his site account with LinkedIn account
– Connect his site account with Facebook account
– Upload an image of the Govt. issued ID proof like Passport, Driving license, etc.
The host cancellation policy suggests that once the booking is confirmed, host have a choice to cancel the booking within 72 hours prior to the check in date.
Following things would eventuate if the host decides to cancel the booking –
– An automated review will generate on host's listing about the cancellation.
– Host is required to pay host cancellation charges to admin at the time of cancelling the reservation. (Here, the host cancellation fee is a variable and can be fixed as per the owner's requirement)
– In the case of host cancellation, guest can either go for a full refund or can even use the funds as credit for the next booking. For e.g. guest has $250 as a credit and if he/she books a listing for $280 then he/she would be entailed to pay the difference of $30 only.
Payment Receipts and Invoices
Guest is given the facility of viewing the receipts of the payment made in the dashboard. Following information would be available in the receipt
– Name of the guest who made the booking
– No. of total guests for the reservation
– Address of the listing
– Name of the host
– Date of reservation
– Check-in date
Guests are allowed to select a specific listing for which they would want to send a booking request. There are three statuses for listing
– Available
– Booked
– Temporary booked
That would change periodically as per the guest's transactions.
Uncover the essence of the word relaxation with our credible Vacation Rental Script and check out the demo to catch a sight of how your online accommodation website will look like.