10930
Views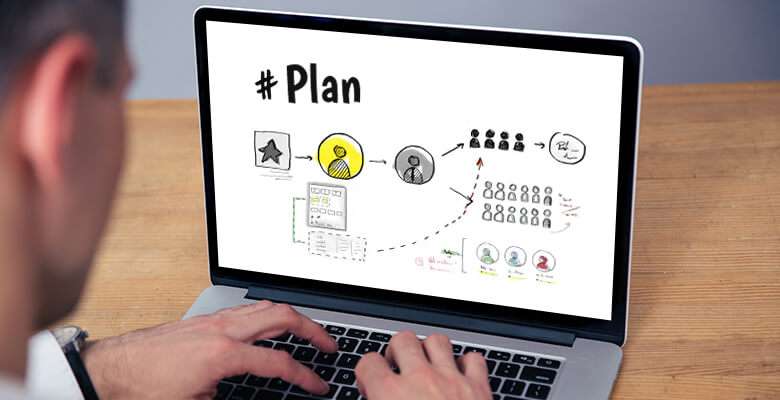 There are innumerable startups taking place in the world today. Some of them turn out to be as successful as some unicorn companies like Airbnb or decacorns like Uber and Dropbox. For an Entrepreneur to be as much successful, one to needs to have an inimitable idea, assorted revenue stream, an innovative and moldable business model and loads of creativity.
Finding an efficient business model that fulfils all your business requirements is a tough situation to be in. Many companies do not follow a specific business model. Some companies base their foundations on a single business model whereas some come up with innovations by an amalgamation of different business models.
If you're in the same situation, you're at the right place. In this blog, there are seven major categories of business models subcategorized into 19 models that worked well for the below mentioned prosperous companies. Check out our list of top business models that can guide you in your journey towards a booming startup!
You may like to read – Unicorn Company: Billion Dollar Startups
Aggregator Business Models
The word "aggregate" means to collect or accumulate. Following this model, a company collects and organizes a service by partnering with different sellers and provides the service to the customers. Talking about aggregator business models where the company hires service/goods providers and sells it to the customers under its own brand name. The company providing the services has to take care of the uniform quality of goods/services provided to the customers and the price for equal customer experience. The aggregators have a team that makes a quality check for all the service providers.
The service providers are not the employees of the aggregator. They could accept or reject any service provided by the company. They provide services and the rest like advertisements, brand building, marketing is taken care of by the aggregators.
All the goods/service providers come from the same industry. These goods/services are provided under a single brand by different sellers and the aggregator works as a medium. The aggregators have two-way customers; the sellers and buyers. Both the parties are attracted to use this model. The revenue model of an aggregator company works on commissions or take-up value.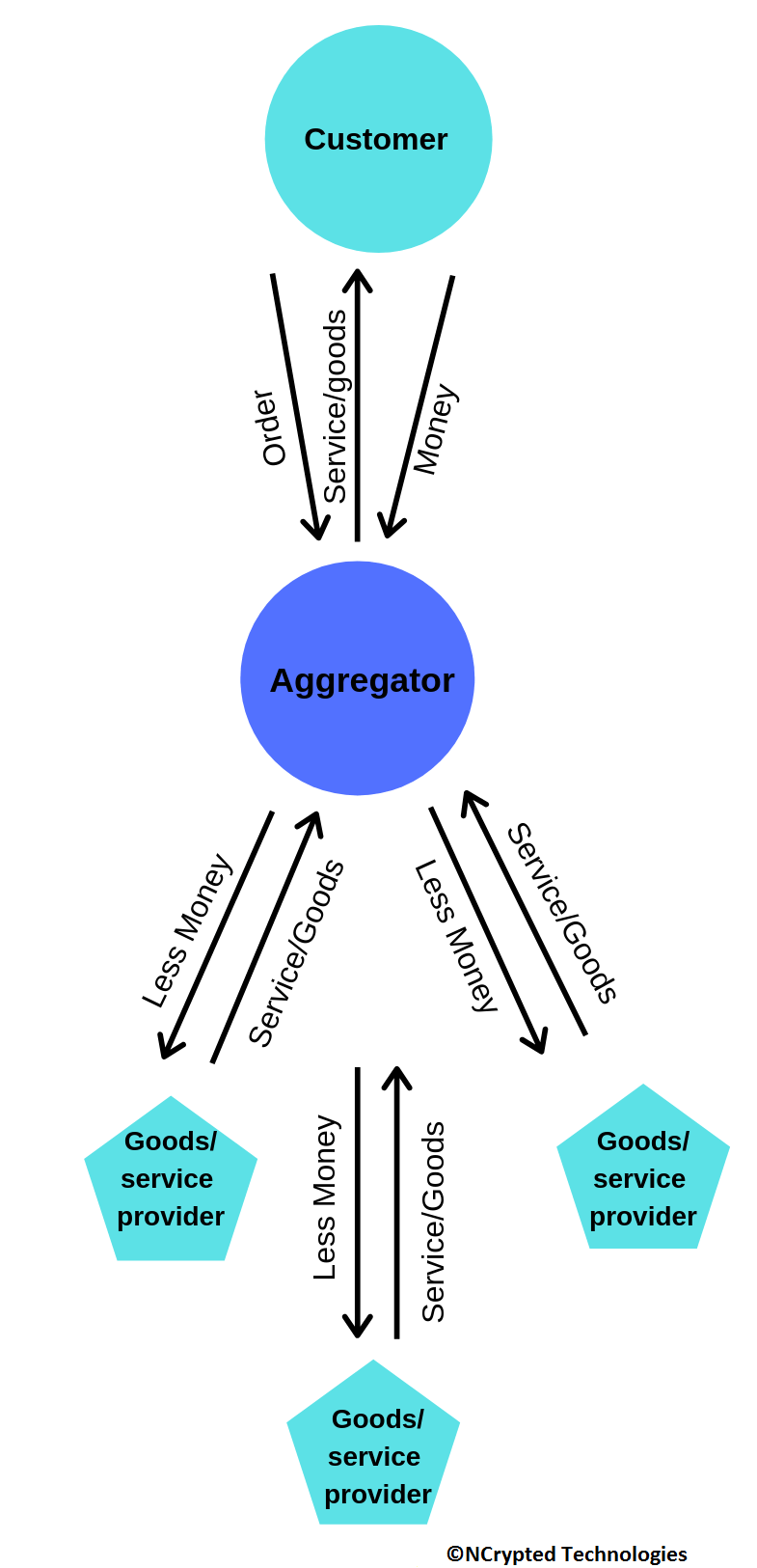 1. Uber
Uber is one of the most successful taxi booking apps that works basically on one of the aggregator business models. Uber is a platform for all ages and social groups. It provides shared as well as private taxis. It hires drivers who come with their own taxis. These drivers are not employees rather just service providers who offer their service on a single platform.
Uber makes money by getting 20-25% commission from the drivers. It also earns money through promotional partnerships. Uber sets the price for a ride per kilometre. There is also price surge on a public holiday and during the night about which the company remains transparent with the riders and the drivers. Thus the Uber business model is a win-win situation for all.
2. Airbnb
Airbnb is an out-of-the-box travel and hospitality firm that has brought a vast change in the industry. Airbnb works as a platform for people who provide their space for rent and the travellers who want to rent private homes at local places. It connects the hosts with the renters. It also allows property owners to rent their flats. People with extra space in their homes can list it as hosts and the renters can get private stays by directly contacting with the hosts on Airbnb.
Airbnb has expanded its business by offering experiences like workshops, concerts, sightseeing events and other tourist activities and restaurants. Airbnb utilizes Aggregator business model, it charges 3% commission from the hosts and service and processing fees from the renters.
You may like to read – Airbnb business model
On Demand Business Models
The On demand businesses are disrupting the traditional economy heavily. Despite the fact that the on demand economy is a recent trait, many companies have gained capital worth millions. The on demand business model is a merger of aggregator and marketplace business models. It has created a huge demand over a few years, as it provides ease in the daily niche requirements of the customers.
The on demand services are spread across several industries like food, transportation, health care, automobiles, and electronic equipment. Before starting an on demand service you must know which niche requirement you want to fulfill for the customer. After working upon that you can focus on developing a model that gives you the access to the things/people required to provide those services. For example, if you want to provide an on demand service for beauty care, you need to get access to the beauty salons or freelancers offering those services. You have to become a mediator between the customers and the service providers.
The On demand business model works on a commission basis or take up rate. The revenue model of all the companies differs from one to another. But the basic model is the platform earns a commission from the service providers and processing fee and service charges from the customers like the aggregator business models. The company has to take care of providing more audience to the sellers by marketing events and better app experience.
The choice of the business model depends on the industry you want to indulge in. There are different types of services you can provide to your end customers and depending upon those the on demand economy is divided into sections like scheduled (grocery) or instant (food) delivery model, choice(hotel) or anonymity(taxi booking), standardized or non-standardized services.
This is how the on demand economy work. Let's take a look at the innovative on demand businesses that exist in the market today.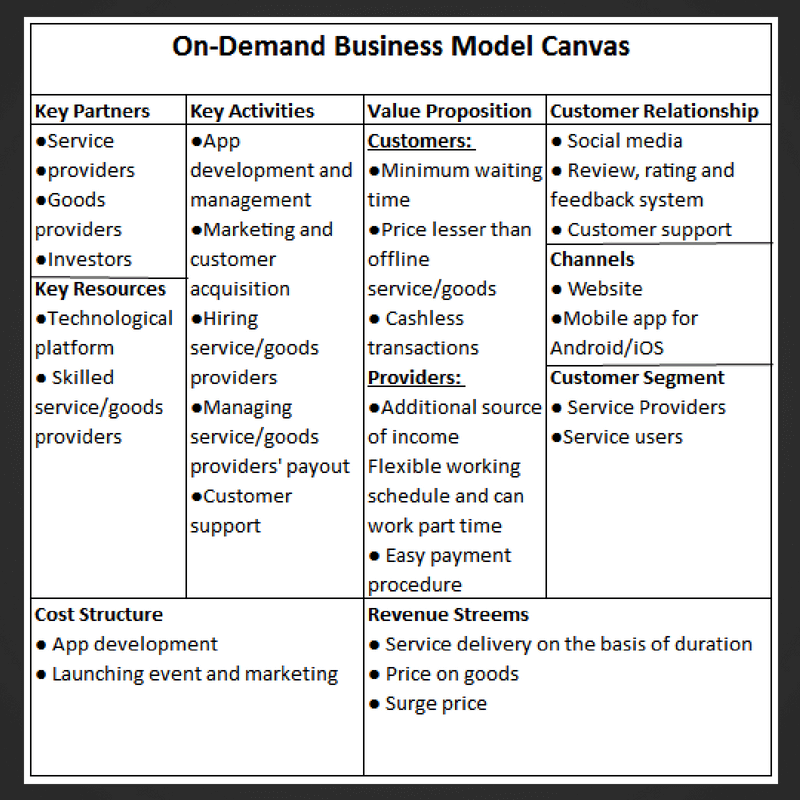 3. Uber For X – Solution For Everything
With the immense success of Uber, we see many startups booming with Uber for X business model, where X stands for the on demand service they are providing like grocery, food delivery, healthcare, beauty and wellness, pet care, house chores, handy workers, or be it anything else. Uber for X is a one-stop application for any routine task that makes it more convenient or automates it completely.
The uber for X follows the same business and revenue model of an aggregator model. To start an uber for X business, you need to do a complete market and end customer research. You should limit your market and services, in the beginning, to set your foot in the market and then expand further with time.
4. Rover
What could be a better solution for the dog owners to be able to go out on urgent notice without worrying about their dogs? What could be a better way to earn while playing with a dog for a dog lover?
Rover is a platform that connects dog parents with dog sitters. It provides on-demand services like dog sitting, doggy daycare, dog walking, drop-in, and house visits. Rover has acquired DogVacay and the company suggests it to be about expansion.
Rover earns money from both the parties, it earns service fees from the dog parents and the fixed percentage of earnings from the dog sitters. This way Rover works on On demand economy.
5. Instacart
Instacart is the most convenient way of grocery shopping, a platform that merges the internet with the grocery shopping experience. The on-demand platform makes the daily chore of grocery shopping into an easy task. It was founded in 2012 and the company's valuation until Jan 2015 was $2 bn. Till Nov 2015, the company was limited to some cities in the USA.
Instacart utilizes a mixture of e-commerce, on-demand, subscription, and aggregator business model. It has a 3-tier strategy. It attracts the users: the buyers who order grocery, the stores: stores that provide groceries under their own name, the shoppers: these are the employees of Instacart. There are two types of job roles, Full-Service shoppers; who work independently, shop and deliver products of the customers from different assigned stores and In-Store shoppers; who are part-time employees take care of the shopping part only.
Instacart does not work commission-based. It earns through mark-up prices and delivery charges. The company is also transparent about the surge pricing. The company charges 5% service charge and 5% mandatory shopper tip. It also offers a subscription plan in which the customer gets free delivery on orders of $35 or above.
You may like to read – Instacart business model
6 GrubHub
GrubHub is an on demand food delivery platform. It runs on application and website as well. It was found in 2004 and earned an IPO status in 2014. It also acquired Allmenus, Seamless, Diningin and Delivered Dash. GrubHub gives the facility of home delivery and pickup too. It works on the basic on-demand model by aggregating restaurant owners (service providers) and providing the food delivery to the customers.
GrubHub earns its revenue through commission on each order. On an average, it charges 12-13% commission on each order. Apart from that, it has sponsored listings. GrubHub provides a vast exposure to the restaurants and the diners get access to all cuisines available on a single online platform.
Online Marketplace Business Models
Everything is running on the internet today and so are several marketplace businesses build upon marketplace business models. The online marketplaces have a simple business model that include the sharing revenue of the sellers/service providers and 0clients. Both share the online platform to reach each other. The online marketplaces are ruling the industries today, to get the most out of such models you should know to invest in the right industry. You should be very well aware of what is in demand and which product or service could bring more customers to you.
Let's talk about the benefits of running an online marketplace. In this model, you don't hold the responsibility of the product hence, there will be no inventory. You can provide a wide range of products and service without actually any money in it. There is less business risk in this platform. Also, the retailers or the service providers who are using your platform as a medium would get a vast exposure and a large number of audience.
There are a few things to take care of while starting with an online platform. Such marketplaces take more than usual time to earn a huge amount of revenue as such platforms generally operate on the commission-based revenue model. Thus it is a long term commitment. Another point to consider is the management of the service providers and the quality check as the customers relate the quality of the product/service under your brand.
You will also have to put huge efforts for customer loyalty as when you provide a platform for sellers, there is a clear possibility that the customers may directly buy from the seller cutting you off (a whole new area of discussion). You will also need to take care of customer support. When you have a large variety of products, there will be a huge amount of data that your customer service team will have to undergo. You need to train the customer support team for answering customer requests and provide a good brand experience to the customers.
The companies generally earn money from the commissions and the service charges and processing fees. The e-commerce marketplaces also generate revenue through ads and sponsored lists.
7. Fiverr
Fiverr is an online freelancing marketplace that enables the freelancers to showcase their services in front of worldwide clients. Fiverr works on the Gig economy, the freelancers provide their services in the form of Gigs starting from $5 (as the name Fiverr suggests). It further gives features like Gig Extras and Gig Multiples for the freelancers. Fiverr gives a platform to thousands of Gigs that are useful for any business. The clients have to choose the right freelancer providing the right offer for their business. The ratings provided by the client work for trust-building for the future clients of the freelancer.
Fiverr charges 20% commission for each Gig from the freelancers and $1 for all purchases up to $20 and above it, it charges 5% of the total from the buyers. Fiverr also charges processing fees and service charges.
Fiverr has also come up with an assorted junction of high rated freelancers with its venture 'FiverrPro' which has filtered list of freelancers who deserve the curated clients and higher earnings with their work.
You may like to read – How does Fiverr Work?
8. TaskRabbit
TaskRabbit is a two-sided marketplace platform similar to Fiverr. It connects the people (TaskPosters) looking for small domestic help that could be fulfilled by the people (Taskers) who give them those services within no time. TaskRabbit has gained its popularity by providing a solution for people's everyday needs. It targets the niche market of people who have more money than time by providing a platform to reach people who could do their tasks by getting paid.
It was founded in 2008 with a different name 'RunMyErrand' and renamed as 'TaskRabbit' in 2010. In 2017, TaskRabbit was acquired by IKEA, a furniture company, to provide furniture building services. TaskRabbit still continues to operate in over 40 cities in the US and in London.
TaskRabbit earns by taking up 15% of the total price that the taskers get and it charges 7.5% for each invoice from the task posters as trust and support fee. With the increase in on demand economy, it has changed its model a bit, it now provides a facility for setting a time limit. The task is posted, accepted, completed and paid for all in 60 to 90 minutes. It has also launched a mobile application. TaskRabbit continues to be a Gig economy platform to date and is growing at its own pace.
9. Alibaba
Alibaba is the world's largest retailer and E-commerce Company, one of the largest Internet and AI companies and one of the biggest venture capital firms. It follows a unique mix of business models that generally follows B2B, B2C and C2C strategy for buyers and sellers and subscription-based model for the sellers and in all is a giant e-commerce marketplace providing a platform to the sellers to sell their products in bulk at a wholesale price to the retailers across the world.
The Alibaba group consists of various segments like Alibaba.com, Taobao, Aliexpress, 1688, Alimama, Alibaba Cloud, Ant Financial, Cainiao Network, and Tmall.
Alibaba.com is a meeting place for buyers and sellers. The website charges commissions from the sellers. It does not revenue from commissions, it also earns through subscriptions. It offers free supplier membership with a limited audience from China, HongKong and Taiwan and a limit of 50 products display. It offers premium gold supplier membership which is mandatory for Chinese sellers and the suppliers are verified. They also have to pay a commission for each sale.
Taobao facilitates small business sellers, it provides B2C and C2C trade. It earns revenue through ads.
Tmall facilitates Chinese customers with a wide range of branded products. It works on a simple e-commerce business model.
Alimama is an open marketing platform that earns revenue from advertisers and affiliate partners.
Aliexpress is a retail market that provides Chinese sellers exposure to customers from other countries. It earns its revenue through commissions.
Alipay is an e-wallet that earns money through escrow service i.e. it earns interest on the stored amount on a predefined rate from the partner bank.
1688.com works as an online wholesale marketplace. It earns revenue through membership plans and online marketing services.
The Alibaba group also includes other services like Alibaba Cloud (a cloud storage platform), Ant Financial (Fintech Company that also operates Alipay) and Cainiao Network (logistics data platform operator).
You may like to read – Alibaba business model
Subscription Business Models
Many people think that the subscription business model is a recent invention, especially Gen Z. But this is just a misconception, Subscriptions are an old sensation. Earlier the newspapers were sold on a subscription basis. Today the subscription businesses are booming if applied to the right products or services.
The basic subscription model works by generating recurring revenue monthly or yearly depending upon the plans provided by the firm. The major objective of these firms is to retain their customers and earn multiple payments from a single customer.
The subscription model allows the firm to diversify the pricing for access to different features. This works as a benefit for users too as they do not need to pay for unwanted features. Another promising factor is recurring revenue. The firm does not need to advertise for continuation much to the satisfied customers, they could retain customers by maintaining their quality. This way users are also saved from too many annoying marketing messages.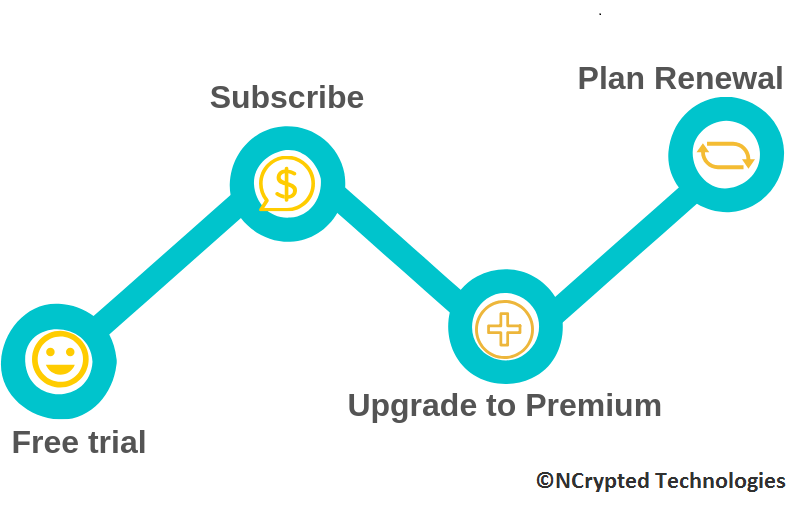 This way subscription models are genuine businesses as you ask the customer to pay for what they are getting. The only way to get the most from this business model is by providing top quality content (media, music, curated box) or service (CRM or anti-virus software) to convert a one-time transaction into a long-term relationship.
10. Netflix
Netflix is a subscription service that has changed the order of television and media production companies. It provides three plans for subscription, Basic ($7.99), Standard ($10.99) and Premium ($13.99) per month. The features are provided respectively.
The essential income of Netflix is through memberships. It has three business tiers. Domestic streaming (revenues from US subscribers), International streaming (revenues from subscribers out of US) and Domestic DVD (revenues from DVD-by-mail).
Taking the example of Netflix, we can observe the changes that technology has brought to the businesses and the success of those that changed with time. Netflix, when started in 1997, was an online DVD rental service. Today with the advances in technology and the availability of high-speed internet, Netflix has become a huge giant in the media industry and one of the leading online video streaming platform.
You may like to read – Netflix business model
11. Zipcar
Zipcar is a membership-based car sharing company that serves over 500+ cities across North America and Europe. The company has its presence in over 230 college campuses. Zipcar provides cars with the included costs of gas, parking, maintenance, and insurance.
The users have to subscribe to Zipcar for renting cars, pay an annual fee to rent cars and they are provided a card also called "Zipcard" which gives access to unlock the doors and the keys are already inside. These cars are parked at convenient areas reserved by the company. The company earns its revenue through the yearly and monthly fees and through the vehicle usage.
12. Dollar Shave Club
Dollar Shave Club is a subscription-based model that curates the grooming products for men. It has positioned itself as a Club rather than a company. It provides the members with shaving equipment as per their requirement and a "Bathroom Minutes" magazine with each delivery consisting of shaving tips. This way the company focuses more on brand experience.
DSC followed a trading cum subscription model, i.e. it buys grooming products in bulk and sells them at a higher rate to the subscribed members. This way the company earns the membership charge, the profit, and the shipping cost. The marketing strategy of the company is what makes it different from the other companies.
Freemium Business Models
Freemium is a blend of words 'free' and 'premium'. The freemium business models provide users with basic service for free and more advanced and additional features are offered at a premium. Many software companies provide their software services under this model. This is a common practice among gaming companies. This allows the user to use the service for free in the beginning and pay some amount to use "upgrades" or "add-ons". This model tends to have difficulty to convert free users to paid users.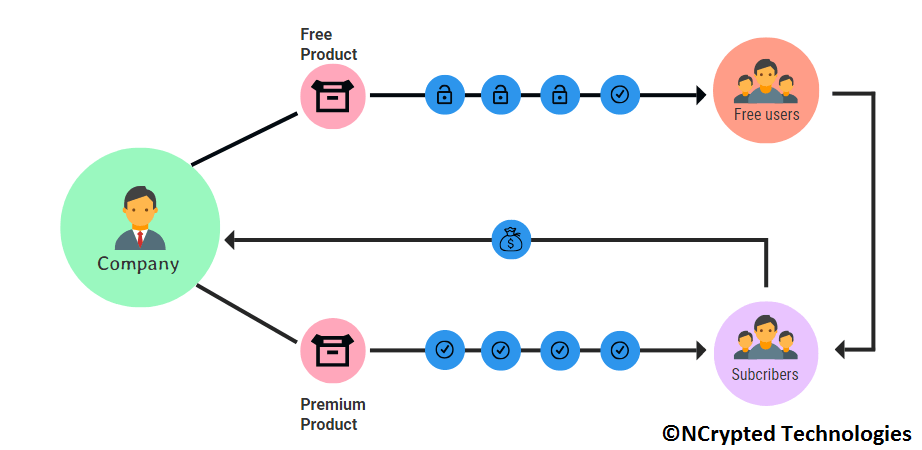 13. YouTube
YouTube is the world's largest video-sharing platform and second largest search engine. YouTube is free to access for everyone. It does not solely work on Freemium business model but is a mix of a few. YouTube makes money through advertisements and sponsored videos.
YouTube Red is another subscription-based Freemium model that is launched by YouTube which gives uninterrupted access to YouTube. This gives users ad-free access to YouTube videos, YouTube Gaming, and YouTube Music.
This way YouTube earns a part of its revenue through the YouTube business model.
14. Dropbox
Dropbox is a cloud storage company that provides its users with a free storage data of 2 GB in its initial free plan. Dropbox is one of those valuable companies that have a direct business strategy. It charges the users directly without involving third parties like advertisers.
Dropbox employs a freemium business model. It gives a basic product to its users free of cost with a handful of features. Dropbox has three more paid editions namely Pro Edition, Business Edition and Enterprise Edition. The features advance with each edition.
Affiliate Business Models
Have you ever wondered what affiliate business is? Or how do websites earn through affiliate marketing? Here's what you need to know about the affiliate business models.
The affiliate business models includes three parties: the affiliate website, the merchant website and the customer (visitor). The affiliate website advertises for the merchant website, provides a curated list to the visitors regarding deals and offers from thousands of merchants, the visitors when making a purchase, they are redirected to the merchant's website. After the completion of a successful conversion, the affiliate website gets a part of the payment as a reward for the purchase. This model is pretty simple to understand but tough to execute.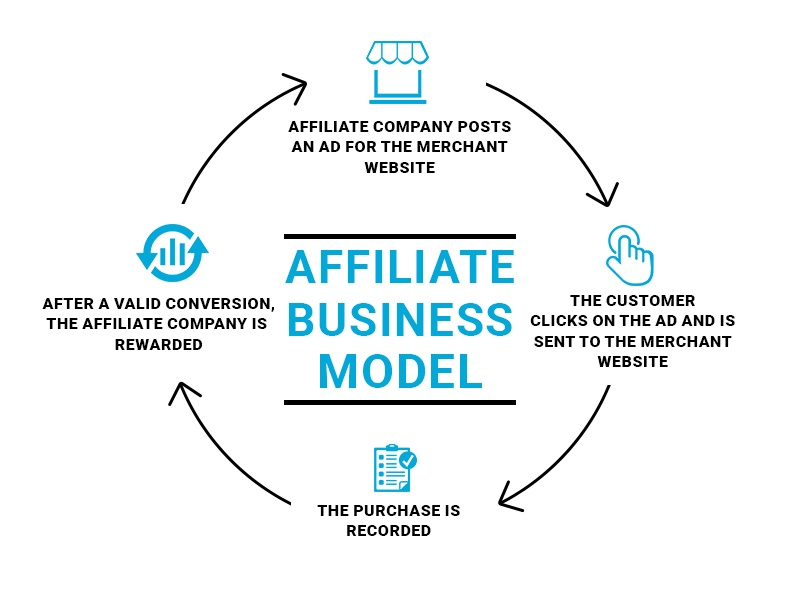 In simpler words, the affiliate company advertises for other company's products and services and when their advertisement generate sales, the affiliate company receives the commission as a reward.
15. Ebates
Ebates is an affiliate business platform that works in a reverse manner. It proposes a curated list of deals and offers from hundreds of merchants on a single platform. It not only provides the merchant website a platform for advertising but also provides customers with a cashback on every purchase. Cashback was the primary element that attracted customers toward the platform. Once the customer completes payout fixed to Ebates by the advertiser, the company provided cashback to the customer via bank transfers; PayPal.
In order to get more customers, many merchants offered double cashback, free Ebates gift cards, free shipping, and other exciting deals. It also gives a referral bonus in form of gift cards or cash back. Ebates earned money in this way by roping more customers and hence more and more merchants. It also offers premium advertisement spots and charges differently depending upon the plan. Ebates invested in different ventures too like Ebates hotels, BfAdsnet, Cartera, Shopular and ShopStyle, each having different objectives and targeting a niche audience.
You may like to read – How does Ebates Work?
E-commerce Business Models
Electronic commerce involves all the online marketplaces that unite the buyers and the sellers on a single platform and the transactions are done over the internet. The e-commerce consists of various types of services like B2B, B2C, C2B, C2C, Auction, and Reverse-Auction.
B2B (Business to Business) model includes sales between two business sectors. These companies work in a closed environment providing products to other firms. They do not sell directly to the customers.
B2C (Business to Customer) model is the traditional retail model, the company sells its products to the individuals in the market. Here, this process is done online.
C2B (Customer to Business) model involves customers selling to business. This strategy is not much worked upon but is becoming famous by emerging two-sided platforms like Upwork and Fiverr. This also includes reverse auction services and affiliate marketing.
C2C (Customer to Customer) model is where the customers buy and sell products paying some amount of transaction as commission to the company providing the platform.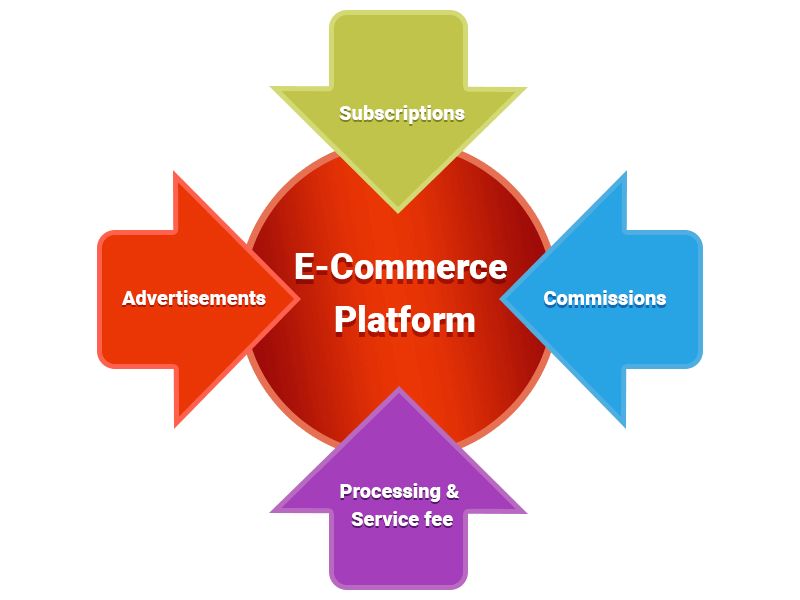 You may like to read – eCommerce business model
16. Amazon
Amazon is one of the largest e-commerce platforms in the US. It started as a bookstore and then an online retail store that sold everything. It has also opened up physical stores which generated a huge amount of revenue. It also has subscription plans for it's another venture – Amazon Prime. It also has an advertising business. So Amazon could be seen as a giant that follows a mixture of business models like e-commerce, subscription and affiliate business model.
Amazon does not charge anything for the listing of products, it retains its revenue by charging commission. As it has millions of active users, it also gives facilities like front ads and other marketing strategies for its sellers and collects a part of revenue through the same. The free shipping offer over some fixed amount lures the customers to buy more goods to reach that amount. It also generates revenue through services like Goodreads, Amazon publishing and Amazon Kindle.
You may like to read – Amazon business model
17. Flipkart
Flipkart is an Indian unicorn company that stood a chance against Amazon. It is an e-commerce website following B2C strategy. It is a platform of the junction for sellers and Indian customers. It acquired companies like Myntra and LetsBuy.com. Flipkart has also launched an e-wallet facility, PhonePe.
The commission rate charged by Flipkart varies as per the type of product and sales. It ranges from 5-10%. It also earns its revenue through listing and convenience fees. It also earns through delivery charges. Another very obvious channel of revenue is through advertising and co-branding. Flipkart also generates revenue through targeted search results, which gives the sellers an opportunity to display their product on top in the search results.
18. eBay
eBay is a well-known multinational e-commerce website that follows a mixture of business models and follows C2C and B2C business strategies. The company was founded on an auction-based model as 'Auction Web'. It later was renamed as 'eBay'. It has acquired many companies like PayPal, Skype, StubHub, Zong, Magento, Expertmaker, Ticketbis and Giosis.
eBay is a platform for buying and selling new and used products. eBay offers two buying options, bidding option and buy it now option. The customers can bid the price they want and the buyer who bids the highest price gets the product.
eBay revenue comes with the listing of products and commission on the sale of each product. Sellers can list 50 products each month for free, later eBay charges for the product listing depending upon the product category. It also provides advance listing options to promote the sales and charges some amount to the seller. It also earns revenue through advertisements.
You may like to read – eBay business model
19. Shopify
Shopify is an out-of-the-box e-commerce platform that provides various solutions to its customers. It follows the joint plan of business models like subscription, e-commerce and online marketplace. Shopify has announced the launch of Shopify Studios, a production house, and television service in January 2019.
It offers three separate plans to the merchants: Basic plan, Professional plan, and Shopify Plus. These plans generate huge revenue for the company. The company also acquires revenues as processing fees from Shopify Payments, transaction fees, referral fees from partners. The merchants are charged 0.5-2% transaction fees if they opt for a different payment gateway.
How To Choose The Perfect Business Model For Your Business?
A business model is a company's plan for a successful business, noting how the firm would generate revenues, who would be the target customers or users, how it would make, price and distribute its products and other financing details.
Always remember, the key to building a successful business model is to know what your customer needs and how you could simplify their lives. All the above-mentioned companies focus on their customers and how they could deliver their products in a better and advanced manner.
Your business model defines the success of your business. Stay open to changes and keep updating your customer experience with the advances in technology and changing business trends.
How To Start Your Own Business?
Do you have an innovative business model in your mind? Are you seeking advice regarding your business model for your startup? We at NCrypted can help you bring your startup idea to life.
If you want to start a business similar to any of these companies, we have a proficient team of tech experts who could help you launch your startup with one of the business models mentioned above. Get in touch to know more.
Share your thoughts with us!
Let us know your insights on our blog: 'Top 19 business models that will hail the startups'. Do you have other inspiring business models in your knowledge that we missed? Jot it down in the comment box below.