5288
Views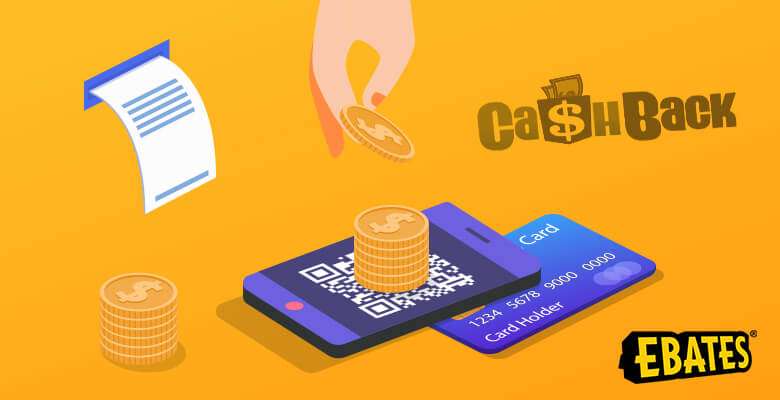 Cashback!! This glorious word pops out the eyes of many who are Shopaholic. Shopping is fun especially for women and the majority of women cannot resist it. Shoppers around the world always look for products with the lowest prices. Great companies who have offered huge discounts have suddenly increased their market base due to the flow of customers. Today we are going to discuss a business model that offers Cashback on purchases made on any of its merchant site, Ebates. Ebates was incorporated in the year 1998 by two former deputy district attorneys, Alessandro Isolani and Paul Wasserman in California, San Francisco, US.
The year 1995 onwards started seeing growth in online shopping as well as offline shopping thanks to digital advertisements and new age media. The offline couponing was not new as the companies used to share discount coupons and leaflets inside the newspapers and as advertisements. Internet got many new technologies and means to offer the best products and big discounts to customers. Internet not only reduced the cost of marketing and advertisements but also gave a variety of customized and personalized options. Ebates which started in the year 1998 became part of Internet boom with its offerings getting recognized over the internet.
How does Ebates Work?
Before we answer the question: How does Ebates Work? – We should have discussion of Affiliate Marketing. Affiliate marketing is a new age marketing that works with customers and advertisers. Under affiliate marketing, the advertiser puts an advertisement or a deal or any offering on Marketers website which is known as its affiliate. The affiliate marketer curates hundreds of offers, deals from various advertisers and offers to customers. The customer visits affiliate marketer's website as they get curated deals and offers from hundreds of advertisers at a single place rather than exploring individual sites. Once the customer visits affiliate's website and selects deal and make a transaction, the advertiser pays fixed commission to the affiliate. Generally, the commission is decided in form of a percentage of the sale made to the customer which starts anywhere between 4% and 25 %. Instead of keeping the entire amount to itself, Ebates did the opposite to create more business opportunity and a perfect way to answer the question : How does Ebates Work?
Offered Cashback
The cashback were major crowd pullers for Ebates which was its primary business model.
Once the customer completes shopping, depending on payout fixed to Ebates by the advertiser, the company refunded certain percent to their customers in form of Bank Transfers via Pay Pal. This model became an instant hit among the customers and allowed Ebates acquire more merchants onboard and which again roped in more customers. It started offering up to 25% Cashback on purchases and started with mere 40 Merchants and it has now expanded over 2500 merchants and provided cashback of over $1 Billion to over 1 million customers and is its numbers are growing rapidly. In this way it connects Tech Savvy Buyers to US's biggest brands and retail outlets to provide hassle free experience of shopping and earn cashback.
Well-known editorials like The Cheatsheet mentioned that Ebates actually Paid users to Shop. The Buzzfeed mentioned that Ebates was a company to make some easy money.
Acquisition of Coupons and Forum Site
Ebates Growth story continued and it started acquiring companies to boost its growth. It acquired FatWallet and Anycoupons.com. FatWallet was primarily a user forum wherein individual users offered deals and discounts from various websites and retail stores on a single forum and grew database as well as user base. Anycoupons.com used to post various Coupons and Deals on their portal. These entities post acquisition by Ebates were merged into another entity named Performance Marketing Brands.
Later on the company acquired OneReceipts which provided free iOS and web application. OneReceipts was an easy way to store bills and receipts and analyze spending habits. It allowed users to take a photo of a paper bill and store it in its database and retrieve in form of monthly spending records. The service acted as post purchase hub for customers. This enabled Ebates to study consumer behaviour, spending habits and average shopping bucket and other important aspects of shopping enabling them to approach advertisers for better and user specific offers. So, How does Ebates Work had to do it with the advertisements.
User Specific Offers
Ebates offered various users personalized and interest based offers in order to gain more customers and convert offers into sales faster. A personalization and consumer interest based cashback, coupons and offers always drive sale due to demand on the consumer end.
Ebates Business Visa Card
Ebates thereby partnered Visa for its own Ebates Business Visa card which benefitted customers in getting more discounts, cashback and deals at Online and offline stores as well as customer base to Visa for revenue partnership. This also gave a boost Ebates revenue.
Expansion to Various Categories
In order to cater a wide range of audience, Ebates opened more and more categories. Some of the categories ventured into Ebates include Clothing and Accessories for Men, Women and Kids, Travel and Vacations, Health and Beauty, Shoes and Handbags, Electronics, Office Supplies, Pets, Automobile Products, Home Products, Toys, Sports, Food and Entertainment, Books, Gifts, Flowers and much more spread over more than 10000 deals from 2500+ Merchants. It also started offering various offers and deals to Military forces for their supplies. It also pivoted into Seasonal pages like Cyber Monday – a day specific across a globe for shopping for Tech Deals, Black Friday – Worldwide biggest shopping with deepest discounts, Green Monday – Day to buy green and environment friendly deals.
How does Ebates Make Money?
Double Cash Back Stores: Many merchants intended to promote more in order to gain more customers and hence enrolled in Double Cashback Stores at Ebates to offer higher payouts to the customers.
Free Gifts, Free Shipping and Other Bigger Offers: In order to lure customers and gain more attention, the advertisers registered with Ebates to offer free gifts, free shipping on orders, Buy 1 Get 1 deals and Ebates Gift Cards. Ebates also helped shoppers for Last minute travel deals and various last minute shipping deals.
Refer and Earn Program: Through this program, Ebates offered either 10$ Ebates Gift Card or 10$ Walmart card or sometimes up to 25$ of Cashback and rewards to people for successful referrals.
Premium Advertisement Spots: Ebates offered premium advertisement spots to advertisers who wanted to gain more customers and thereby promote their brands. Ebates charged them as per plans for the size of advertisements as well as placement of ads over Front, inner pages and so on.
Other Ventures
Ebates Hotels: Ebates ventured into hotels and provided jaw dropping deals on travel and hotels including on food at the hotel. The hotels are exclusive to Ebates which allows it to get better profit margins and revenues. Ebates hotel also gives freedom to the company to price rooms according to off season and peak season and gain better margins as per demand.
BfAdsnet: In order to capture market pertaining to Black Friday Deals and position advertisers in a better way, Ebates opened BfAds.net portal and offered advertisers cheaper advertising option and gave customer Black Friday specific deals. BfAds almost works like a forum that posts deal at every few hours.
Cartera: Cartera was opened with an objective to serve most premium customers and partner most premium brands. As on date almost all Luxury Brands, Airliners, Banks and most premium stores are on Cartera to offer loyalty programs for customers. As claimed by Ebates, Cartera has given more than 26 billion Points and Rewards, Partnered top 5 Airlines and Top 5 Banks and over 900+ Premium stores.
Shopular: Shopular is an app for latest coupons and offerings by retailers and stores near your vicinity. It uses GPS to find your location and share best deals nearby your location. The app also pushes Notifications and Deals once you enter the store using Geo-location technology. This enables advertisers particularly store owners give discounts to customers the moment they enter the store which means a higher probability of closing a sale. This is a great app also useful for the customer to get the best price and offers who has actually entered a store to shop the product. It allows customers redeem deals directly from the phone and also share the deals and interact with other shoppers about saving tricks that can be used.
Com: Shopstyle is more women centric website that allows women to shop the latest fashion from thousands of retailers and ecommerce portals. Under this it partners with top brands – new and established – to provide the best selection of fashion, beauty, and home products available on the web. And their unparalleled search technology helps you find exactly what you're looking for, even if you don't know what that is yet.
At ShopStyle, people can search millions of products, save the favourite products, and get updates. Unlike any other digital shopping experience, shopstyle connects you to a world of style possibilities.
Is Ebates Legit?
Now, you might be wondering: Is Ebates legit? This question has got most of us thinking. There's been a lot of speculations and buzzing around concerning Ebates.
So, what's the deal with Ebates?
When you're signing up, you're only asked to give your email address. During all this signing process, Ebates don't ask for the credit card details, which itself is a good sign. It can be easily inferred that if they don't have your credit card or bank information then they have got no way of charging you money.
So, is Ebates legit or a scam?
It's a bit of a drag that many of the free things online come with direful software or some other third party installations that need to be installed. As luck would have it, Ebates doesn't swirl your head by asking you to install anything. Another good point when understanding the legitimacy is figuring out how does Ebates work?, or how does Ebates make money?
It's an interesting fact to notice that many of the online retailers give a commission or a predefined referral fee to website. Now, here the user doesn't have to do anything. As a matter of fact, the person who publishes the website has to add a code in the links that you are clicking on.
Amazon is one of the most famous examples of this. Amazon is well-known for its Amazon affiliate programming that gives some predefined percentage of amount to website owners. And many of the retailers give a huge amount to those who are sending more number of customers. Ebates business model works exactly like this. Ebates keep the left commission to itself.
Share Your Thoughts With Us
So this was the insight into Ebates Business Model: How does Ebates Work and How does Ebates Make Money. You can share your views here in the comment box. Let's discuss How does Ebates Work. This will help you to understand the MVC structure of Ebates.
Here are some other informative articles articulated by NCrypted Websites: