7116
Views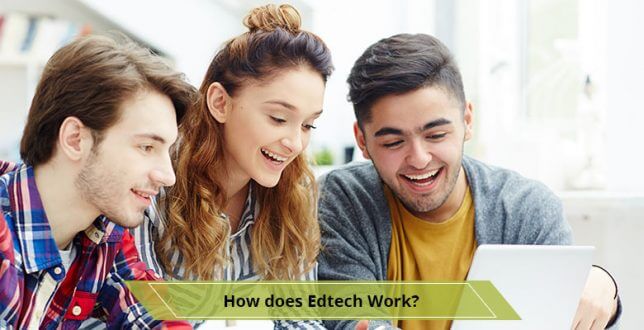 EdTech stands for "education technology". It is a combination of IT tools and educational practices to enable and enhance learning. You can start an EdTech business to facilitate an engaging, inclusive, and individualized learning experience.
EdTech business targets many different niches also, such as formal education platforms for institutions, independent education platforms, language proficiency platforms, professional courses, etc.
A startup or company can make EdTech work using these ways. Address one or more of these options to make money from the EdTech domain.
Distance Learning Programs
Students and teachers can participate in an educational program from different physical locations and yet have seamless classroom experience.
Blended e-learning Programs
They support a combination of in-class learning and virtual learning via technology devices. They support virtual tutoring, discussions, and peer to peer interactions.
Massive Open Online Courses
These are fully online courses that can be accessed by anyone, anytime via the Internet.
Key Functions of an EdTech Solution
Learning Platform – It is an integrated solution for administration, delivery, tracking, and documentation of academic courses and training programs.
Collaboration EdTech tools allow greater collaboration and interaction between teachers and students in an e-learning environment.
Gamification Solutions – Gamification introduces game elements to make learning more interesting. It uses things like point systems, badges, achievement targets, etc. to make learning fun and at the same time achieve the learning goals.
Time Tracking and Performance Measurement – Schools and teachers can track a student's attendance, assignments, and projects. Tests and exams can be conducted and evaluated. Detailed analytics can be measured and analyzed as well.
How Does EdTech Make Money?
There are many Edtech platforms which are targeting the monetary benefits in varied ways such as Udemy business model,
EdTech can be made into a viable business in various ways –
Licensing – The e-learning product can be sold to the customer for certain functionality, users, etc. The business can charge for additional functionality, custom features, and additional users and roles.
Subscription Model – Another option to make money is to offer a product to the client and charge a recurring fee based on sites and users.
Paid courses and certification – EdTech businesses can make money by offering courses for a fee, certifications for a fee. Certifications can be valid for some duration and renewals and upgrades can be offered for fees.
These are some of the ways how EdTech makes money.
Future Of EdTech
In recent times, the usage of technology has considerably increased. Let us look at the future of EdTech –
Increased adoption rates
The overall future EdTech market is projected to reach $350 Billion by 2025. There is a great future in EdTech and skillful entrepreneurs can make money from an EdTech business venture. Students, teachers and school administrators support increased use of EdTech as it enables the following:
Personalized Learning
Broader reach of education
Better performance tracking
Improved engagement levels among students
Performance improvements and cost efficiencies
Usage of Immersive Technologies
Immersive learning is imparting education through technology simulations and artificial intelligence. This allows increased interactivity and access to students and teachers. Animation, 3-D modeling, and virtual visits can be used to enhance the learning experience. Augmented reality and teaching with video, sound, and graphics are the future of EdTech.
Increased involvement of guardians
Technology will increasingly support busy parents to connect to students and teachers and be up to date on what is happening in school.
How to Start EdTech Business?
The EdTech market is growing by leaps and bounds. You can still start an EdTech business by implementing a well-thought business strategy.
Understanding of the Market and User Requirements
Conduct thorough research on the market, the products available, and the pain points of users. Develop a product idea that will satisfy user requirements and also make a mark in the crowded market.
Create an MVP
Create a minimum viable product that will help validate the idea and the business validity of the idea. You can then decide whether to go ahead with the product.
Design, Develop and Test the Product
Define and prioritize requirements for the final product. Choose the right technology and create technical and functional designs. Create user interface diagrams and then build the product. Conduct appropriate quality checks and usability tests to ensure the product satisfies business requirements and performance requirements.
Demos and Pilots
Provide opportunities for educational institutes to assess the product through demos and pilots so that they can make the right decisions, and you can set up a business partnership.
Purchase and Pricing Information
Provide a streamlined procurement process so that educators and students will get maximum value. Customer loyalty can be won by pricing terms that are transparent, flexible, and fair.
Data Security, Privacy and Confidentiality
Student privacy is of utmost importance to governments, schools, and guardians. The privacy policies, data collection methods, and data security features should be clearly visible and explained.
These steps will facilitate a good launch of an EdTech business. Also on top of your unique Idea Udemy clone, Duolingo clone, Skillshare clone, Babbel clone etc also should be checked. [A1]
The competition in the market is intense. Create and execute a clear business plan to start an EdTech business.
How to Launch Your Own Edtech business?
If you're willing to start your own EdTech platform – Get in touch with our Edtech domain expert to have a free consultation and discuss in-depth the Edtech world.