8297
Views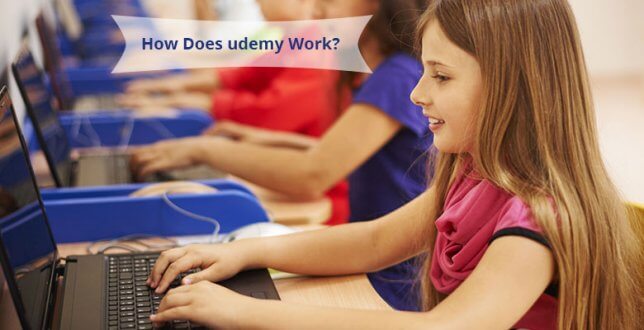 Udemy is an internationally renowned educational platform that offers online courses on a wide array of subjects. It is an American company that aimed at promoting education among students, professionals, and adults similarly. It is an excellent platform for students to take courses that improve their job-related skills. Several of these courses are complementary to the degrees students are pursuing. These complimentary courses help the students to get an in-depth understanding of topics that interest them.
The company was founded by Eren Bali, the founder of Udemy, who built a live virtual classroom while he was living in Turkey. He thought it would be a great idea to offer the software for free to its user and later went on to shift to Silicon Valley, where he launched the software two years later alongside Oktay Caglar and Gagan Biyani in 2007.
In the current situation, where the world is witnessing social and economic crisis, online education is seeing a surge in its use. Platforms like Udemy and its competitors are booming in their business, and having a business similar to this platform will yield significant profits during this time. Building a platform like Udemy is not only crucial for the benefits, but it is a great source to add value to the students all across the world. Here is how does Udemy work and how does Udemy make money to get a deeper understanding of how to establish a business like Udemy.
How Does Udemy Work?
Udemy has only two significant stakeholders other than itself in its business model. It is essential to understand how does Udemy work for both the stakeholders in detail. We will look into several factors influencing the growth and revenue of Udemy in the coming sections.
How Does Udemy Work for Students?

The registration process is summarized above. It is effortless for the students to register themselves on Udemy. They just need to create an account, choose their interests, and browse through the millions of courses available on Udemy. It is easy to use and elaborative, which makes it very user friendly for students from all age groups.
Why Do Students Prefer Udemy?
Students being the primary revenue source for the company, it is essential to understand how to cater to the various needs of the students. Here are some of the pointers which explain why students opt for Udemy among its competitors.
Variety of Skills
Udemy offers a wide range of courses for the students to opt for from its catalog. It has several subjects and streams of study to choose from, and several skill sets once can polish with the help of these online courses. The variety of available classes makes Udemy the go-to website for MOOCs.
Inexpensive Courses
Udemy is very affordable for the students. It offers several coupons at meager prices or has a wide range of discount coupons which the students can apply which purchasing courses from Udemy. The affordability of the courses makes it very student-friendly and is more likely to attract students to the portal.
30-day Money Back Guarantee
Udemy also provides a unique feature where the students can get a 30-day money-back guarantee if they are not satisfied with the courses they have enrolled for. This feature offers the student security to go ahead and try the classes. Money-back guarantee can also motivate students to move out of their comfort zone and try different courses on Udemy.
Flexibility
The courses on Udemy do not have a fixed time frame or assignment deadlines for the same. Udemy provides its students with flexibility, which is one of the most important USPs of the company. This allows the students to complete the course alongside their studies or jobs. This is essential to consider while understanding how Does Udemy work for the students.
Free Courses
Udemy also offers a wide range of free courses on the portal. These courses are available to any students who want to enroll for the same. These courses are usually short and precise but also provide certification for the students. These excellent resources for the students who cannot afford online courses even after the discounts.
Variety in Languages
Courses on Udemy are not limited to English. Since independent instructors offer courses on Udemy, there is no language barrier for the students. There are courses in almost all possible languages, including Chinese, Korean, Japanese, and several others. This feature attracts students from all over the world to opt for online courses on Udemy.
Certification
Certification from the courses learned from Udemy is the best part of the platform since certifications allow the students to flaunt their achievements in their resumes and their academic curriculum. This is an essential feature since it also gives students an added incentive to choose for courses on Udemy and earn certifications in several skills.
This is everything you need to know about how does Udemy work for students. We can conclude this section by underlining the fact that Udemy adds enormous value to the student users and that should be the goal of your business too if you want to follow Udemy's business model.
How Does Udemy Work for Instructors?
The other vital stakeholder to consider while understanding how Does Udemy work is the instructor. It is imperative to know how does Udemy work for the instructors since the quality of the courses are the main factor which attracts students to the platform.
Here is the process for an instructor to upload their courses on Udemy,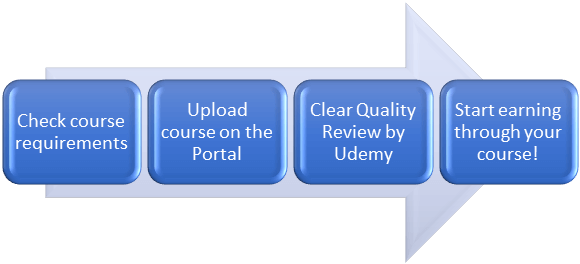 Instructors need to go through a simple method to get through the quality review of the company. Udemy provides a straightforward procedure and minimal restrictions for the instructors to offer courses on the platform. Instructors can provide classes in any language they feel like and any subject they want to pursue. Udemy also provides instructors with marketing insights to give them pointers as to which courses are selling well from the platforms and which gaps need to filled by instructors. This makes it easier for them to decide upon the subject about which they want to provide a course.
Want to learn – how does Domestika Work?
How Does Udemy Make Money?
The revenue model is an essential part of the business when one is trying to understand how does Udemy work? How does Udemy make money is another question one needs to answer while developing the company and the revenue model for their business. Here are some of the standard income streams which determine the revenue model of Udemy.
Commissions from Instructors
Udemy has a structured revenue model that enables the instructors to earn well from the courses offered at the platform. At the same time, Udemy can make from the commissions generated from these courses. There are several commission models for different scenarios in which the courses are being sold. This is one of the significant sources of revenue hence is a big part of how does Udemy make money.
Business Content Subscription
Udemy Business Content Subscription is Udemy's B2B solutions for large corporations that need to address their biggest human resource challenges, such as skill development and training. Udemy provides several customized solutions which can help these corporations to solve their problems and provide their employees with the best practice which will, in turn, increase the productivity of the company.
Marketing Programs
Udemy offers several marketing programs where the instructors can register in these programs to get more reach to their courses. These marketing programs are one of the primary revenue sources for the company. This is a significant point to look into while considering how does Udemy make money. These plans are a part of the instructor's course plan which help both the instructor and the company to grow individually as well as collectively.
These are the primary income streams for the company, which allows the company to earn revenue. These channels help the company to grow and expand in several countries all over the world. These were some of the significant points to understand before building a platform like Udemy. We saw all the possible ways to know how does Udemy work and how does Udemy make money. One of the significant factors to keep in mind is to add value to the users and the instructors and adopt inbound marketing to make sure user loyalty is established. One of the best ways to gain constant revenue is by making the users stick to the platform for an extended period.
Udemy does this by recommending students of similar courses to those which they have taken already. Courses from the same instructor are also advised to the students so that in case of high course satisfaction, students can be hooked up to several other courses. Discounts are also one of the best ways to encourage more users to use the platform and attract them to the website. Festive sales are also an essential part of the revenue model of the company.
Keep these ideas in mind while choosing your technical support team for building the website for a business similar to Udemy. Hire the best developers and make your dream come true!
Udemy Business Model Canvas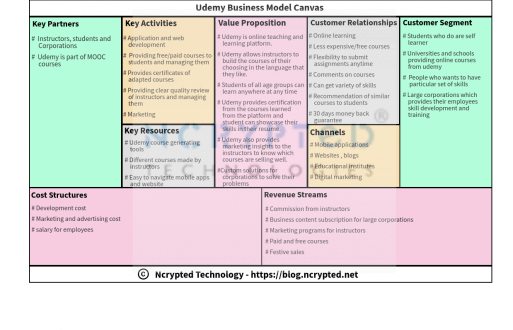 How to Launch Your Own Business Similar to Udemy?
If you're willing to start your own online education platform – you should go with Udemy Clone which has customized features to let you roll with your own online education business.
Here are some other informative articles explained by NCrypted Websites: