8398
Views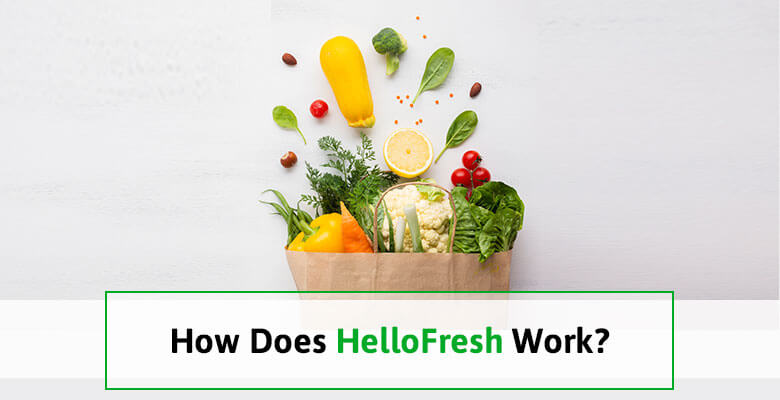 There is no amazement in the fact that online retailing is growing at an astonishing rate. As per the latest reports, online selling accounts for more than one-quarter of the total retail market. With the new technologies coming every day, more and more customers are engaging themselves for online services.
More than 80% of the people these days prefer online service due to busy schedule. Every service right from searching for a plumber to buying foods and veggies is done online. Just think, who don't like if everything they want is available at their doorstep?
Here will go through one such online service that made life easier. We all know that food delivery apps are gaining popularity these days. HelloFresh is a largest meal-kit provider through online services. curious to know 'what is HelloFresh' or 'how does HelloFresh work'? Let us go through it step by step.
What is HelloFresh?
HelloFresh is an online meal delivery service which provides shipping of the ingredients directly at your doorstep. HelloFresh aims at making your everyday meals special. Meal delivery services like HelloFresh is designed to deliver you the healthy ingredients so you can easily cook nutritious and delicious meals, without any hassle of prepping, planning and shopping.
They send you everything you need in your cooler box with the exception of basic cooking tools, therefore, you won't have to skip any ingredients for your meal. It is one of the largest meal providers in the United States.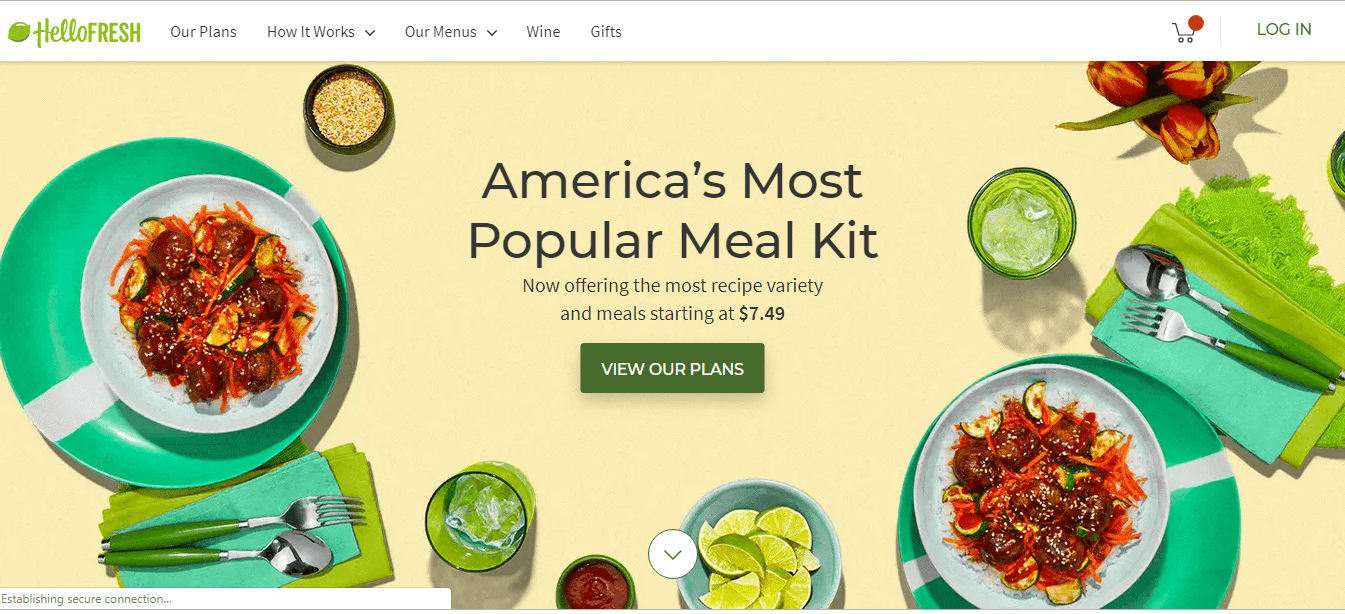 Glimpse On History Of HelloFresh
HelloFresh was co-founded in November 2011 by Thomas Griesel, Dominik Richter, and Jessica Nilsson in Berlin, Germany. In that time, it was one of the earlier companies in the field of meal-kit industry. In early 2012, they started delivering meal kits to paying customers and with the passing time, expanded it to US, UK, Australia, and Netherlands. By 2014, the company claimed to deliver more than 1 million meal kits per month. They have raised approximately $50 million in the 2014 funding rounds. And by now, HelloFresh has a net worth of approximately 3 billion dollars. This was all about what is HelloFresh, now let's throw some light upon the most important thing for any entrepreneur, that is how does HelloFresh work. As per the earning reports for the year 2020 the sales increased by 102% towards $2.5 billion. The company also reported around 2.6 million subcribers.

How Does HelloFresh Work?
To guarantee sustainability and freshness, HelloFresh starts its work by partnering with operated and family farms across the country. To maintain high quality, the company sets some standards for the growers so they can follow it and maintain quality and health. Further, HelloFresh deals with watchdog organizations to ensure that beef, poultry and fish in its recipes are sustainably sourced. HelloFresh is not just about obtaining great ingredients. The extraordinary chefs over here work to craft healthy, delicious, and easy-to-make meals for each box.
How Does HelloFresh Work For Users?
The process of signing up in HelloFresh is easy and fast. Once you have provided the required information, you can select box type as per your choices. You even need to mention the date for the day you want it to be delivered. For HelloFresh, they have made the online payment method available.
Box Options
This is one of the features which attracted more and more people towards HelloFresh. Here you have options if you are just a single person or it's you and one another or a big family, you can choose the meal accordingly. HelloFresh comes in three boxes i.e classic, veggie and family.
Over here, you need to select any one of the given box options for your meal and make an online payment. The only thing a user needs to do here is to sign up and select their appropriate box options, HelloFresh will deliver it as per the given timings.
After getting every inch of information on how does HelloFresh work, the next question coming to your mind will be how does HelloFresh make money, let us go through it.
How Does HelloFresh Make Money?
Subscriptions are the key thing for HelloFresh to make money. There are different subscription plans available for the users, from which they can select their plan accordingly. Let us deep dive in its subscription options for a better understanding.
Subscription Options and Prices of HelloFresh

HelloFresh contains three basic subscription plans( it can change as per time): the Classic Plan, the Family Plan, and the Veggie Plan. These plans make it easy for a user to decide their schedule for the meal and select one of the above plans.
Classic Plan
The classic plan will allow you to select between two to four servings per box and with then 3-4 recipes per week. The charges for this plan will be $9.99 per serving.below is how the match works ours for it.

Family Plan
Out of all three, the family plan is the least expensive at $8.74 per serving. This plan comes with four serging per meal. Here if you are in a plan to take the meal box twice a week, the cost as per the plan will be $69.62 per week. And if you wish to select three, you will need to pay $104.88 per week.

Veggie Plan
Veggie plans start from $9.99 per serving. HelloFresh allows only three serving per week. It allows the user to select boxes for two or four servings.

This shows how does HelloFresh make money, its revenue comes from the different subscription plans available, which include every ingredient needed to cook a meal or a readymade meal available.
HelloFresh Business Model
HelloFresh business model is all about preparing the ingredients that are needed for preparing a meal. As per the business model, ingredients are delivered to the users as per their selected plans. Delivery charges are included in the price of the plans, therefore no extra charges are taken by HelloFresh business model.
HelloFresh generally provides three to four meals per plan as per their policies. With that, it gives a choice of 15 recipes. In the United States, HelloFresh business model offers wine subscriptions. For several markets, the have a service of providing "Rapid Box" meals in less than 20 minutes to prepare.
The US holds more than 60% of the HelloFresh revenue and approximately 44% of the American market. This is all about the HelloFresh business model.
HelloFresh Business Model Canvas
Understanding the concept of Hellofresh Cost structure through its business, model canvas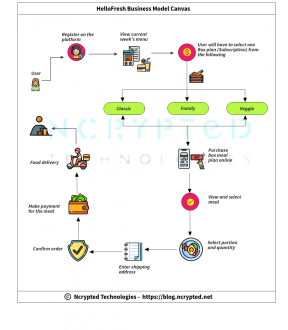 How to start a business like HelloFresh?
After knowing all about how does HelloFresh work and how does HelloFresh make money, if you're inspired to start a similar business, HelloFresh clone or build a custom website, then yes you are at the right place. NCrypted Websites can help you to build a similar clone. We have an Uber for X clone, which can fit in any business as per your demand. With that, we even offer custom solutions as well as easy customization as you need. Confused about clones? Read our blog to know everything about clones and clone websites. Get in touch with us to kickstart your business.
Share Your Thoughts With Us!
Did you find out all the things you wanted to know in our blog "Enlightening The Points On How Does HelloFresh Work And HelloFresh Business Model"? Let us know if we missed out any points in the comment section below.