2350
Views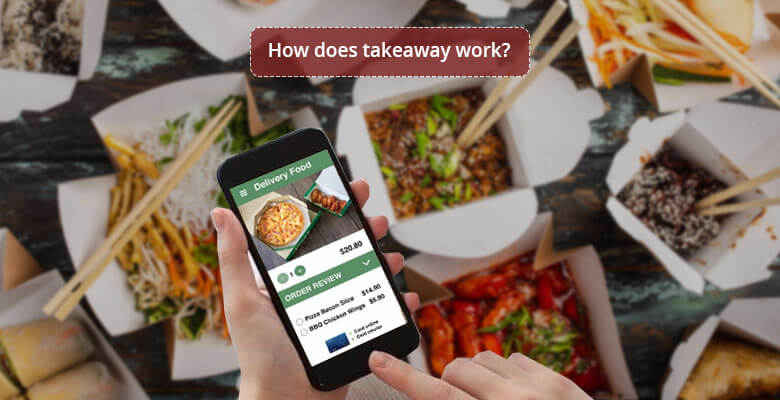 As evidenced by the success of Uber Eats, GrubHub, Eat24, and Postmates, starting an online meal ordering marketplace is a promising idea in today's times. Entrepreneurs interested in investing in the online meal delivery market should have a thorough understanding of the business concept, revenue model, and benefits of an online food ordering marketplace.
This article unveils various detailed points regarding the Takeaway business model that entrepreneurs and investors must understand while planning to be a part of the industry. We will be simultaneously obtaining our answers to "How does Takeaway work?" and "How does Takeaway make money?". So, let's get started.
What exactly does Takeaway deal in?
Takeaway is a website that allows customers to purchase food from a vetted list of restaurants and have it delivered to their homes by the restaurants themselves. Takeaway was founded in 2000 in the Netherlands. Later, in Jan 2020, Just Eat Takeaway.com was created by bringing two firms together: Takeaway.com (founded in 2000 in the Netherlands) and Just Eat (founded in 2001 in Denmark).
Takeaway: The Beginning
Just Eat Takeaway.com is one of the leading global marketplaces, connecting customers with over 580,000 connected restaurants. They provide an online marketplace where food delivery and order supply and demand collide.
Let's roll back to the beginning to deeply understand the business model— how Takeaway was formed and how the company grew later.
Takeaway.com was founded in 2000 by Jitse Groen ("Groen"), a business and engineering graduate. When Groen realized how difficult it was to access restaurant menus online during a family dinner in 1999, he came up with the idea for the company. He registered the domain Thuisbezorgd.nl the next day, through which the company continues to operate in the Netherlands today. That was the beginning of a life-changing journey ahead.
Throughout the 2000s, Groen developed the company's ordering and delivery platform and expanded into new regions across Northern Europe, eventually adopting the Takeaway.com moniker in 2009. In 2012, the company closed its first official round of funding with Prime Ventures, raising €13 million. In 2013, the company raised an additional €73 million in a Series B round, which included Macquarie Capital Funds as an investor.
Takeaway.com has made several acquisitions, the most notable of which was the 2014 acquisition of German food delivery startup Lieferando, which cemented the company's position as Continental Europe's leading online ordering and delivery service. According to recent reports, the company is reportedly planning an initial public offering (IPO) that could value it at over €1 billion.
Takeaway business model canvas
To understand a business model, the easiest and most effective way is to understand the company's business model canvas. So, let us understand it by various key terms like value propositions, customer segments, key partners, key activities, etc.
Segments of customers:
Foodies: Takeaway.com caters to the broad food consumer market, with clients ordering food online when they don't have time to cook for themselves. The company's major target is young professionals and working families who are busy with their schedules and have less time to prepare their meals.
Restaurant partners: Restaurant partners play a significant role in Takeaway's business model because they are the company's main drivers.
Propositions of Value:
For customers: The company's most attractive value proposition to clients is its user-friendly and conveniently accessible food ordering platform. It offers not only a web portal for this purpose but also the company's mobile app through which customers can order food from anywhere and at any time. The platform offers a wide range of cuisine options to customers from local restaurants that otherwise won't be able to provide such online services.
There is a wide range of payment options, too, as the customer can not only go for the cash-on-delivery option but also make online payments such as PayPal, MasterCard, or American Express.
For restaurants: Takeaway's key value lies in its marketing capabilities for the restaurant partners. The platform supports the local restaurants by partnering with them and helping them expand their business in the online arena. It increases its sales by advertising its menus to its user base and improving its visibility on the Google search engine.
Channels of Influence:
Customers can access menus of restaurants near them via Takeaway.com's country-specific portals/websites, which are accessible via desktop and mobile browsers.
These are a few country-specific portals from takeaway.com.
www.takeaway.com- UK portal
https://www.just-eat.ie/takeaway/nearme/vietnamese– Vietnam
https://www.thuisbezorgd.nl/– Dutch
https://www.just-eat.fr/en– France
https://www.lieferando.de/en/order-more-food– Germany
https://www.pyszne.pl/en/order-takeaway– Poland
Customers can order food using Takeaway's food ordering service that can be accessed via iOS, Android, and Windows, make payments, manage their accounts, and share feedback.
Other channels include social media pages and affiliate programs.
Customer Relationships:
Customers: Takeaway.com keeps its customers happy by providing a high-quality food ordering app and prompt delivery.
Restaurants: Takeaway.com allows restaurants to become a part of the network and get a big consumer base, which would otherwise make managing online ordering difficult for local restaurants.
Along with this, the platform offers a wide range of support services to its customers and partner restaurants through customer support, including guides that are available on the website for ordering and payment processes. For any complaints, users can directly contact the company via mail or social media platforms.
Key Activities:
Key activities include developing a user-friendly platform and offering online food ordering and delivery services through that platform. Through the platform, Takeaway provides an intermediary service that allows its customers to browse menus from the partner restaurants and place orders. This order is then passed on to the respective restaurants via Takeaway.com's T-Connect Software.
Key Partners:
Partner restaurants and fast-food companies are among Takeaways' primary partners. Small businesses that operate locally and do not have an internet ordering system are the company's primary clients. Restaurants can become Takeaway.com partners by filling out an online form with information about their business, management, delivery area, and hours of operation, as well as facts about their menu. Another key partner includes payment providers, subsidiary menu loggers like SkipTheDishes, and US venture capitalists.
Takeaway also runs an affiliate marketing program through which the company pays commission to the bloggers and social media marketers that promote its content and generate sales for Takeaway.com.
Key resources:
The key resources of Takeaway include its technical competencies, food ordering portal, social media marketing competencies, and personnel.
Cost structure:
Takeaway.com incurs costs for the development and maintenance of its online ordering platforms, the maintenance of its IT infrastructure, the management of its restaurant relationships, and employee retention. In addition, the company incurs high costs as a result of its advertising and marketing efforts, as well as the operation of its six offices.
Revenue Model:
Takeaway generates revenue by getting food orders from customers on the platform. When an order is generated, the company charges a commission to the partner restaurants and automatically deducts that commission from the payment before depositing profits to their accounts.
How does Takeaway work?
Ever since Just Eat and Takeaway.com merged to form Just Eat Takeaway.com, there has been significant growth in their business process. Currently, the company operates in 20+ countries, with its subsidiaries serving Belgium, Luxembourg, Bulgaria, Portugal, and Romania.
Unlike most other food delivery business models, the Takeaway business model focuses mainly on connecting restaurants to the user base and then letting the restaurants do their deliveries. However, Takeaway also offers logistics services to a few selected restaurants. Takeaway's new hybrid business is on a mission to connect a large user base to nearby restaurants where they can order food.
Steps to showcase the work procedure at Takeaway (for the customer side):
Firstly, the customer places the order via the mobile app or the desktop website.
The payment is made through the platform itself. In a nutshell, the platform attains the order from the customer, accepts the payment too, and then forwards the order to the restaurant chosen by the customer.
The restaurant prepares the meal and completes the delivery process, or in case this service is not available with the restaurant, Takeaway facilitates the delivery part too.
Customers can also choose the pickup option while ordering.
Steps to showcase how to be a part of Takeaway as a restaurant:
Visit the official site of Takeaway to register your business on the platform.
Select "Sign up a restaurant" from the drop-down menu on the webpage.
Fill out the form that pops up after following step 2. The form asks for some basic details about you and your business, such as name, address, restaurant name, contact information, etc.
With the contact info entered, Takeaway will get in touch with you soon and will help you upload your menu and get your restaurant online.
Once your restaurant is listed on the platform, you will start receiving orders.
Extra services offered to partner restaurants:
Along with providing a large user base to the partner restaurants, Takeaway.com also offers them the opportunity to rank higher on the platform to gain more customers. This can be achieved through-
Firstly, the ranking depends on the restaurant's distance from the customer.
Now, if your restaurant's score is higher, you'll be ranked higher.
The ranking also depends on the number of orders processed by a restaurant.
The newly joined restaurants are temporarily given preference in the ranking in the beginning.
How does Takeaway make money?
Takeaway operates on a marketplace business model where the platform connects consumers with local restaurants and fulfills the available demand.
By placing food orders on the platform, customers are directly providing an income source to the company as well as the partner restaurant. On all orders, the company charges a commission to its restaurant partners, which is deducted automatically before profits are deposited into their accounts.
Takeaway.com does not publish information about its compensation structure on its website, so restaurant partners must inquire about rates directly with Takeaway.com sales staff. Food delivery companies typically charge between 10% and 15%; according to reports from 2012, the cost was as low as 8%. Restaurant partners who choose to leave the service are not charged transaction fees or cancellation fees by the company.
In a nutshell, it makes money through restaurant commissions, delivery and service fees, sponsored advertisements, merchandise and packing sales, and interchange fees.
In the past few years, the food delivery marketplace has grown to include millions of customers ordering food regularly. This allowed the company to open its branches in different countries. Apart from attaining commissions, it also charges a delivery fee as well as a service fee.
Who are Takeaway's investors?
According to Crunchbase, Takeaway (or Just Eat) has successfully raised a total funding amount of $104.9 million in over 4 funding rounds. It is funded by a total of five investors, namely:
83North
Index Ventures
Redpoint
Vitruvian Partners
Venrex
83North is the company's most recent investor that has invested twice here in the Series D as well as the Series C rounds. 83North and Redpoint is the company's leading investors.
When the two companies, Just Eat and Takeaway, merged and formed Just Eat Takeaway, its valuation came to around $10 billion. According to Productmint, currently, the company is valued at close to $17 billion.
Just Eat Takeaway announced revenue of $2.85 billion in the fiscal year 2020, up 54% from the prior year. It operates in the United States, the United Kingdom, Germany, Canada, Switzerland, Austria, Belgium, Bulgaria, France, Ireland, Netherlands, Italy, New Zealand, Poland, Roma­nia, Luxemburg, Slo­va­kia, Israel, Spain, Denmark, and Australia as well as through partnerships in Brazil and Colombia.
Investments: Takeaway (also called Just Eat) has made 8 investments, and its most recent investment was on March 13, 2019, when Mox raised € 1.7 M. These eight investments were made in the following companies:
Mox
myBaker
Nutrifix Ltd
Flypay
iFood (invested 3 times)
GenieBelt
Takeaway has made significant investments in Flypay and iFood. The company's IPO is also registered under the ticket LSE: JE.
Acquisitions: Takeaway has acquired 29 organizations to date, and the most recent one was Just Eat Takeaway on August 5, 2019. It was acquired for $6M.
Who are Takeaway's competitors?
The data was published on popular websites like takeaway.com, owler.com, and craft. co, and many more. We have curated a list of Takeaway competitors and alternatives:
deliveroo. be
glovoapp.com
KFC.bg
dominos.bg
just-eat.co.uk
McDonald's.be
ubereats.com
pizza hut.be
quick.be
○ lieferando.de
○ food mandu
○ ClusterTruck
○ The Moment Group
○ Foodee
Big fast-food platforms such as Deliveroo, JustEast, and UberEats have witnessed significant growth in the number of people using their services. The graphs below indicate the number of Google searches for each platform.
As shown in the table and graphs above, there is a clear link between the epidemic and the growth of the fast-food industry. It doesn't seem like it'll be slowing down anytime soon.
Conclusion
The hunger for food has always been insatiable. Food is one of those industries that will continue to operate regardless of the circumstances. It worked with food delivery service companies during the pandemic as well. Technologically engaged consumers aged 30 to 49 make up the main demographic for online meal ordering services such as Takeaway.com is said to be technologically engaged consumers aged 30 to 49.
As per the data published on by granviewresearch,
In 2018, the global market for online food delivery services was worth $23,539.40 million. It is projected to grow at a CAGR of 15.4% from 2019 to 2025. The increasing use of digital media and the internet, as well as the growing number of smartphone users, is expected to drive market growth.
From 2019 to 2025, the CAGR for a platform-to-consumer type is expected to be over 15.0%.
Over the forecast period, the mobile applications segment is expected to grow at a CAGR of more than 14%. The increasing smartphone penetration, combined with technological advancements such as 3G and 4G networks, has fueled the segment's growth.
Source: www.grandviewresearch.com
Food delivery apps have a high growth rate and a broad business scope, as evidenced by the facts and studies mentioned above. To run a successful food delivery business, one must come up with new ideas to meet the changing needs of customers. If you have an idea and want to turn your idea into reality, NCrypted Technologies has the right solutions developed by a capable and innovative workforce.
If you are willing to launch a similar food delivery service, you have landed at the right place with NCrupted's Just Eat Clone. We, at NCrypted Technologies, offer customized and innovative solutions as per your requirements to let you launch a successful food delivery service providing platform.