4360
Views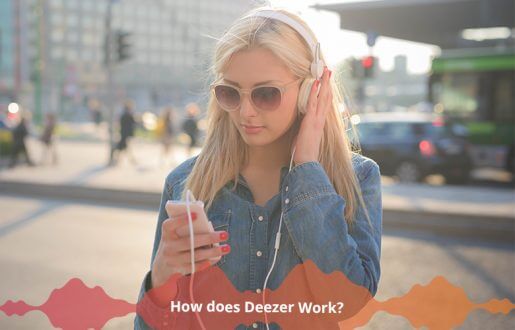 If you love listening to music, you are not alone. Today, more and more people are switching from physical formats to Audio streaming services and the reason is simply the easy access and fast access to millions of old or new music tracks. One can easily discover new music albums and hunt for old favorites at a tap on the touchscreen. There is a wide range of streaming services available on the web offering a huge catalog of music that can be streamed over the internet or downloaded to listen offline. One such streaming service provider is "Deezer". Let's explore the Deezer Business Model in detail and get our answers to "How does Deezer work?" and "How does Deezer make money?".
Deezer is a French online music streaming service with over 56 million licensed tracks in its library that allows its users to listen to music content from record labs. These record labs include Universal Music Group, Sony Music, Warner Music Group, and podcasts. Deezer's service is available on the Web, Android, iOS, BlackBerry OS, Windows, Windows Mobile, and macOS. It can be downloaded as a free app or can be subscribed to for free.
Deezer was founded by Daniel Marhely and Jonathan Benassaya in the year 2007. In 2006, Daniel Marhely developed the first version of Deezer which was then named Blogmusik. His main aim was to provide unlimited access to music lovers through streaming technology.
Deezer Business Model
Deezer has always been focused on fast-growing local music genres which are often in the non-English language. While targeting local listeners, it is also looking to protrude itself in the online music streaming market. As a part of its new business strategy, Deezer started to send its local teams of editors to identify talent in niche styles to create original content. It is following this strategy since 2017 intending to be unique and reduce the dependency on record labels.
The company's CEO, Hans-Holger Albrecht strongly believes in the localization of content. On the other hand, its biggest competitor, Spotify, is mainly focused on improvising its music playlist.
Deezer- The History
In 2017 (the year when Deezer was launched), Deezer had not made any contracts with the major music labels and that was the reason behind its limited tracklist or playlist. It took more than two years to come up with an agreement to be signed with the four largest labels and some other smaller ones. Since its launch, the website saw heavy traffic which was continuously increasing, and then finally in December 2009, Deezer had more than 7 million users. An amazing record! Isn't it? This achievement of Deezer attracted some of the prominent investors who were wondering "How does Deezer work?" and "How does Deezer make money?". As soon as they got their answer, some investors were highly impressed with the Deezer Business Model including AGF Private Equity and CM-CIC Capital Prive. They were then ready to invest in this startup and from this investment, Deezer secured $8.4 million in funding.
On 5 November 2009, Deezer came up with a three-tier business model that allowed users to continue with basic free web streaming and two other subscription services. In those subscription services, users had to pay €4.99 monthly to listen to higher-quality music without ads and the other subscription offered monthly access to downloadable applications for computers, Android, BlackBerry, and iOS by paying €9.99.
Deezer- The Global Expansion
In 2007, Deezer was launched in France. As per the reports of 2017, Deezer turned out to be the market leader in France. From 15 March 2012, it started expanding across the whole of Europe while services were launched in Australia, Canada, and New Zealand on 25 April and then in thirty-five Latin American countries.
Later on 15 August 2012, Deezer announced its availability in Indonesia, Malaysia, Pakistan, Philippines, Thailand, Singapore, and Thailand.
Within the next 2 to 3 months, the company announces its expansion in 76 new markets after receiving $130 million funding from Warner Music owner Access Industries and Idinvest. Therefore, the worldwide total came out to be 160 countries. During this period of global expansion, On 21 December, Deezer announced its new branding service offering two hours of free, ad-supported music streaming for a month that was available for users worldwide. This was the company's first initiative of providing free music streaming services outside France.
This was the time when Deezer gained two million users with paid subscriptions in addition to the 7 million monthly active user base and 20 million songs in its library. As per Deezer's CEO, the company has been profitable since the end of 2010.
Further in January 2013, Deezer announced its expansion in 22 new countries including Africa, Asia, Brazil, Middle East, and the United States. Currently, Deezer is available in more than 180 countries across the world with 16 million users, 56 million tracks, and 100 million music playlists.
Who are Deezer's investors?
As per the reports, until now, Deezer has successfully raised total funding of $531.8 million in funding over 6 rounds. Currently, it is being funded by 8 investors with Orange and Kingdom Holding Company as the most recent investors. The company has acquired two organizations in total and their most recent acquisition was Leap Wireless on Jan 9, 2015.
Also, their latest funding was raised on August 2, 2018, from a Series F round.
| | | | | |
| --- | --- | --- | --- | --- |
| Announced Date | Transaction Name | No. of Investors | Money Raised | Lead Investors |
| 2/8/18 | Series F-Deezer | 2 | €160M | Kingdom Holding Company, Orange |
| 20/1/16 | Series E-Deezer | 2 | €110M | Access Industries |
| 9/10/12 | Venture Round-Deezer | 1 | €100M | Idinvest Partners |
| 1/6/12 | Series D-Deezer | 1 | €70M | Access Industries |
| 2/7/09 | Venture Round-Deezer | 1 | – | Idinvest Partners |
| 10/10/07 | Series B-Deezer | 5 | €14.7M | – |
[Ref: https://www.crunchbase.com/organization/deezer/company_financials]
How does Deezer work?
Many eager readers are willing to know "How does Deezer work?" So, here we are going to discuss its working process. Keep reading to further understand "How does Deezer work?" and "How does Deezer make money?".
Deezer works similar to any other music streaming website/app. The user has to first create an account and login through any of the available devices. It has two types of users' i.e., "premium" and "elite". The company offers the best experience to its Premium users in the app as they can stream ad-free music with the web players on either major smartphone platforms, iOS or Android. Talking about the elite users, Deezer provides them special access to their Sonos systems where the users can check their favorite tracks in ultra-crisp HD sound.
Who is Deezer's biggest competition?
Presently, one of Deezer's biggest competitors is Spotify. However, there are not many differences existing between the two. The difference can be seen only in their respective popularity and audio quality. As per expert reviews, Spotify offers a better interface as compared to that of Deezer's.
When the sound comparison is done between the two, Deezer turns out to be the winner. Deezer has a HiFi setting that plays lossless FLAC files at 16-bit/ 44.1 kHz as long as the user pays for the HiFi settings. Deezer's free audio quality reaches the highest point at 128 kbps via MP3 files. However, this highest point for premium users is 320 kbps.
On the other hand, Spotify offers only lossy file options, AAC and Ogg Vorbis. Spotify's audio quality reaches the highest point at160 kbps and for Premium users, this quality reaches 320 kbps (same as that of Deezer's).
Talking about the popularity, Spotify is a way more popular streaming service as compared to Deezer. Mostly, Spotify is preferred over Deezer because of its social features as it allows its users to connect with their friends, follow them, and view their saved playlists. This is an additional feature that is not available on Deezer.
How does Deezer make Money?
As already mentioned above, Deezer operates in more than 180 countries worldwide. For the readers, longing to know "How does Deezer make money?" down below are a few insights into its revenue model.
Deezer has two prime revenue streams:
Revenue through subscription: Deezer offers elite and premium subscription plans through which its revenue is generated. In the Elite subscription plan, the company offers unlimited streaming of CD-sound quality on any audio equipment. Whereas, the Premium service provides personalized access to a range of audio services without any ads.
Revenue through advertisements: Deezer generates revenue from the fees charged to advertisers in return for promoting their services to non-paid users on its platform. It allows free web streaming to non-paid users with ads displayed.
How to Launch Your Own Business Similar to Deezer?
If a business model has a great value-business model, there are higher chances of achieving better results. Deezer Business Model set an amazing example for all the budding entrepreneurs and business-minded people to set a bespoke business in the global market. The music streaming market is continuously increasing with the prevalence of the internet and webcasts.
If you're willing to start your music streaming service similar to Deezer – you should go with Deezer Clone which has customized features to let you roll with your own online music streaming service business.
Here are some other informative articles explained by NCrypted Websites: