8585
Views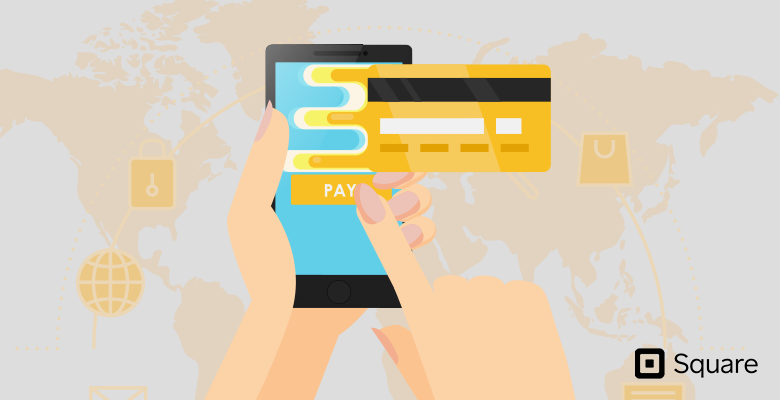 Have you ever used any kind of card to make a payment like a visa card? Obviously, you are not alone in this game. Cash is so outdated. Consumers are addicted to plastic. In 2012, American buyers used cash to pay for only 27 percent of day-to-day retail transactions. Now, the scenario is credit cards are also getting the talk to the 20th century. People are becoming smart now they are leaving their wallet at home and enjoy shopping.
You may like to read – How does PayPal Work?
Square is a very well known service that allows you to buy, sell and send money through the smartphone. Do you want a wallet-less revolution? Square is a financial product, merchant service aggregator and a mobile payment company focusing on digital payments and related solutions. Square not only offers just a software solution but also Hardware device that can be used to collect payments from the end user using their cards. Here you go on How does Square Work and How does Square Make Money?
How does Square Work?
You must be wondering: How does Square work? Let's find out. According to Gartner- The research firm, more than 200 people worldwide made payments with their smartphones in 2012, and this number has been drastically increased in the last few years.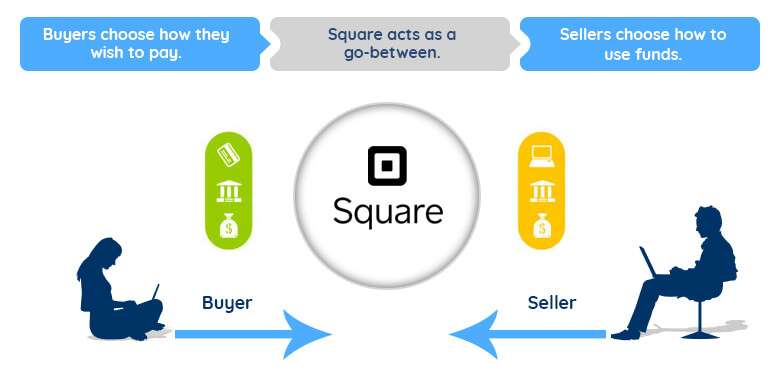 How does Square Work for Sellers?
With the Square, even small business can accept the payments with the credit or debit cards. With the use of Square vendors can turn their smartphones into a fully functioning cash register that accepts payments by credit or debit card and deposits the fund directly to their bank account.
Square offers various solutions of accepting payment in form of a Hardware attachment plugged in tablet or phone of the merchant and the customer can pay the merchant by swiping their card on a hardware device and signing on the connected phone or tablet. The hardware is nothing but a magnetic stripe reader which acts like a Credit card or debit card swiping machine.
You may like to read – eBay Business Model
How does Square Work for Buyers?
So, how does Square work for buyers? Square is much more than just a mobile cash register. It provides paying service with smartphones and emailing money. After downloading the Square Wallet, the person is asked to enter his/her credit card information and upload a photo of him/her self.
Using a smartphone's built-in GPS, the Square Wallet app provides the buyer to browse or search for local stores that accept Square Wallet payments. When a buyer enters a store, he/she click on the store's name in the Square Wallet app. That's called "checking in" to the store. When it's time to pay for the product or service, the buyer doesn't even need to take out the phone. Just tell the salesperson his/her name and they will see the picture on their screen. With a click of the picture, the item or service is charged.
Money can be sent through the mail also, this process is also pretty simple. One wish to gift $25 to someone, then one has to compose a mail to that person and has to type the e-mail address cash@Square.com to the "CC" field. Here one more point to keep in mind that the subject line should be the amount (in this example, it should be $25). Compose body message and then just press send button. The money will be transferred to receipt in one or two days.
You may like to read – Uber business model
Products and Services Offered by Square
There are numerous solutions offered by Square. We shall now see each of them in detail below. The products offered by Square are enlisted first and services later. Below are the products in form of hardware devices offered by Square.
SquareReader
This was the first product by the company way back in 2010 when a hardware device was available as an attachment to the phone and could be connected to any phone by an audio jack and allowed merchants to collect payment from the customers. The Square reader became much popular across the US and thousands of merchants began using the same for their customers.
The Square reader initially faced a bit of criticism for the fact that it lacked encryption and security features but the company quickly offered various security and encryption features so as to make payment secure and hack-proof. The company began adopting more secure practices and no card detail or card number or any critical information was stored on devices or server and became compliant with the latest standards in the credit card industry. The company's product Square reader initially offered magnetic strip reader but with the introduction of EMV chip-based cards, the company's reader was successfully offered new solution wherein it started accepting payments from secured EMV chip-based cards. The company thereafter modified Square reader to be used via Lightning ports in iPhones after the later discontinued Audio Jack in their newer models of iPhones. Apple partnered with Square for their solutions to Apple pay.
SquareStand
Later in 2013, the company began offering Square Stand allowing merchants to collect payments via Ipad and the stand made sure that the device became more like a standing POS terminal which could be rotated for signature and authentication of the customer.
SquareContactless and Chip Reader
The company introduced a card reader that worked on Bluetooth technology to accept chip and contactless NFC based credit and debit card payments on their platform. The NFC contactless payment had started to kick off in 2015 and Square had introduced the system so as to stay ahead in the segment.
SquareRegister
The company introduced Square Register for Small and medium-sized businesses that provided a kit of merchant tablet, customer tablet and built-in card reader that accepted payments by Swipe, EMV chip, and Contactless Tap reading facility. This was a more sophisticated POS terminal with multiple screens for customer and merchant.
Squareterminal
The company in 2018 introduced Square terminal which was a more advanced version of the Square register and allowed additional features of display, printing of receipts and accept payments from a chip, swipe, and NFC based contactless payments.
So these are the products offered by Square. Let us now look at the services offered by the company. The services offered by the company were more industry-specific and tailored as per the requirement of the merchant. Below we enlist the list of services.
Square Point of Sale
The point of sale software by the company is advance software that combines Point of sale as well as inventory management feature along with the option to manage multiple inventories at various stores. It also allows integration with platforms like Weebly, Bigcommerce, and Shopventory. This terminal added various other features and offered customized solutions for merchants and added a feature of Customer Ordering which acts as a kiosk for customers to place an order.
Gift Cards
The company offered gift cards which initially in 2012 were QR code based cards and were initially just a virtual copy of the cards. Later in 2014, the company began offering physical hard copies of Gift cards.
SquareAppointment
The company introduced an appointment app which allowed the customer to request and place an appointment with a service provider based on their availability.
SquareCapital
The company with its knowledge in the segment felt the need that some of their merchants needed loan and capital for their business. Square launched Square Capital which offered finance to merchants. This was different from the traditional loan as there was no time limit for the merchant to pay back the loan but offered a solution wherein merchant could paying a percentage on each transaction of a customer.
Caviar
The company acquired Caviar, a startup in 2014 that delivered meals from high-end restaurants. Caviar thereby replaced service named Square Order which allowed users to make purchases in advance and pick up the order at a predetermined time as per the convenience of the customer. Caviar expanded and acquired Zesty to step into corporate catering.
Cash App
The Cash App which was formerly known as Square Cash allowed person to person money transfer via app and website. It allowed businesses, individuals, organizations and business owners to create an online username and send money or receive money on the username. It expanded to support bitcoin trading.
Customer Engagement
A CRM or customer relationship management tool is an essential tool that each business should have. Owing to the need of merchants, it launched a suite of CRM tools which also included email marketing and various promotion customizations based on customer interest.
Square Payroll
Each business needs to keep a record to pay its employees and hence Square rolled out Payroll too for business for payroll payments, taxation, and other withholding related work.
Square for Retail
In 2017, the company launched tools for retail that included advanced inventory management, bar code printing, a new point of sale and combined employee management tools.
Square for Restaurants
Recently Square launched subscription service for restaurants enabling them for organising tables and track tables, work on menu and ordering, online ordering for its service Caviar, billing, and tip and splitting of bills and tips and various other services that are essential for the restaurant industry.
Service for e-commerce
Square launched an online API interface to process card payments online and it was integrated with Weebly. The APIs can also be integrated into the web portal that the merchant might be using other than Weebly. The APIs can be integrated along with CRM and other customer-centric tools that the merchant might be using.
You may like to read – Spotify business model
How does Square Make Money?
After answering the question: How does Square work? Let's understand how Square makes money! Square offers numerous products and services and has multiple revenue sources. The biggest source of revenue is the commission of 2.75% on each transaction which it levies on merchants. The company has built multiple services and products which have been in lieu with its original business model and have given additional revenue to the company. It charges $29 for chip-based card terminal and $99 for Square stand. Other options are charged as per customization.
Square makes money from other services also. For example for each Payroll software, it charges $20 from the company a $5 per employee. Its other solutions are offered and charged as per customization. As of 2017, the revenue of the company was $2.1 billion.
You may like to read – How does Netflix make money?
Share Your Thoughts With Us
So this was the business model of Square or you can say insights on How does Square Work and How does Square Make Money. For more business models and interesting blogs visit NCrypted blogs.
This research case study is part of the startup business models series.