6233
Views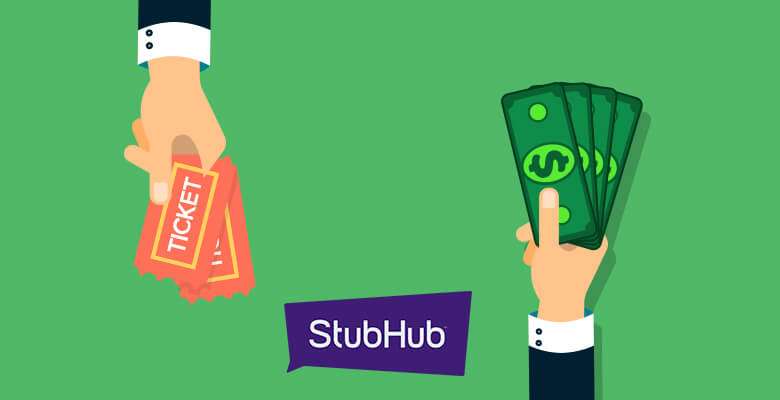 Imagine the situation when someone goes to a movie or an event or a sports event being an ardent fan and does not get the ticket to the event. When such a scenario occurs, the fan or supporter not only get disappointed but also tends to lose interest in a longer run. Similarly what would happen when an event takes place in a certain town and audience is not aware and the seats remain vacant. This will be a demotivating moment for organizers and participants.
To all these problems, StubHub comes to rescue. StubHub is an online marketplace or a ticket exchange platform which provides service to buyers and sellers of events. An event organizer's one of the main objective is to get to the masses. It is essential for proper planning of ticket sale so that tickets get sold as well as each viewer gets a chance to view the event.
How does StubHub Work for Buyers and Sellers?
So, how does StubHub work for buyers and sellers? Let's find out. StubHub was founded in the year 2000 by Erik Baker and Jeff Fluhr who were former students of Standard Business School and also were investment bankers. Both the founders planned and thereby started the venture based out of San Francisco. Within one year, the company sealed a deal with Seattle Mariners for the sale of tickets. The company began showing a profit only in the year 2003, which was three years post launch of operations and sold about tickets worth $60 million of baseball tickets and other events. In 2005, the company began to expand, secured funding and sold tickets worth $200 million.
You may like to read – How does PayPal Work?
The company under its mission offers "The StubHub Promise" with the following features to buyers and sellers.
For buyers, it includes FanProtect feature with enhanced features and 100 percent guaranteed order. It offers the following features
Valid ticket to every event or full refund
Replacement tickets in case of any issue with the order of the customer
Full refund if the event is canceled and not rescheduled.
For ticket sellers, event organizers, venues and other management, they offer following
Free to list tickets, charges only when a customer orders the ticket
Easy to set prices, easy modifications, and adjustments at any time while selling the tickets
All communications with the buyer are done by StubHub customer care executives
Hassle free and fast ticket delivery followed by payment
Easy Marketing options, easy pricing features, and options to promote the event.
The main categories in which StubHub offers tickets are Sports, Concerts, Theatres, and Comedy. All the major sports like football, baseball, cricket, and other tournament tickets are available under the sports section. The Universities too can list their sports events under this category. Under Concerts, all music and related concerts are listed under this category while all theatres, plays, movie screenings, acts, comedies are listed under Theatre and Comedy category.
You may like to read – eBay Business Model
The year 2006 was important for StubHub as it was listed as the eighth fastest growing private company in the United States. Owing to its vast popularity and growth, a lot of businesses in the US wanted to acquire the same but was finally acquired by well-known marketplace Ebay in 2007 for $310 million. In the year 2007 itself, the company started handling five million transactions which were more than the total tickets it had sold since inception. StubHub signed an exclusive agreement with a baseball league named Major League Baseball with a contract to get the commission of flat 25 percent on the sale of each ticket. The company also began hiring spree and the workforce increased to 350.
The company noticed that the music-related events had seen tremendous growth in the year 2008 onwards and their events had become a craze. The young and new generation had music events to their priority and people had begun looking for music-specific events across the country. Music specific events enabled StubHub to generate over $100 million in revenues and the site began clocking more than 2.1 million visitors per month which was much higher than ever. The year 2009 too was a great year for StubHub for the fact that it reported a 65 percent growth in transactions and revenue had increased by 40 percent. In the year 2010, it had seen a little slack season but soon the market recovered.
StubHub wanted to reach its customers using technology and through all mediums and therefore it initially launched a new ticketing application for Windows Phone followed by an application on iPhone, Ipad, BlackBerry and eventually on Android phones so as to cater wider audience and make ticket sale easier on just a click of a button. The mobile application also allowed users to select location and place to sit in the auditorium or a sports complex. The interactive venue map launched by StubHub not only gave seat options to users but also gave them better information on restaurants and food joints, bars, parking spaces nearby the event location and also related user-centric features that a user might need post arrival at the venue. The company also integrated its application with Apple Passbook which was an app by Apple to store Tickets and passes of various places and transit.
You may like to read – Uber business model
In the same year Adele, an English Song Writer, and a singer had an event which saw enormous growth on StubHub platform and how does StubHub work actually with the sales went shooting to $35.18 million only for that particular show for her performance and merchandise.
In 2013, StubHub launched an application in Texas for South By Southwest, a film festival with a wide range of films and events and enable users to buy a range of tickets to all of the different shows by the fest with location options and timing options of various shows of movies and plays. The company also sponsored an event of three days which was a band lineup by South by Southwest. The company started accumulating more and more events organizers, partners and venues to offer an efficient exchange of tickets. The organizers began listing their events and sell tickets to the users on StubHub.
The year 2013 saw remarkable things at StubHub. In the start of the year, StubHub launched Social Service platform to support social cause under its charity drive. The company gives back to society using various means. The company launched StubHub Foundation, which was a fund set up by the company and was the corporate advised fund from the Silicon Valley Community Foundation to provide grants to organizations involved in music and art industry and the ones that shared a mission of StubHub. Under this mission, it launched "The Rising Stars" program which supported at-risk youth and locals and grassroots organizations for the growth of youth in Sports, performing arts, music, and technology education programs across the world. The grants offered by StubHub range between $25000 to $100000 and are given to most deserving candidates. The company also supported charity and major benefit events like 121212, a concert for people affected by Hurrican Sandy. It also supported a donation of $1million to Robin Hood Relief Fund who worked for the same cause. Another mission to give back to society was fulfilled by the Hiring of people and thereby creating employment. Generation of employment not only helped StubHub but also supported candidates and poor families in terms of jobs and career options. Since 2012 the StubHub Foundation and StubHub's charitable offerings have given back $4million as a pure donation and supported more than 50 benefitting partners.
Yet another charity program was conducted by StubHub under its flagship social good program called " Next Stage" wherein the company donated musical instruments to schools and other beneficiaries. The program has till date $2.1 worth of instruments in over 50 schools which eventually would benefit over 100000 students over the lifetime of the musical instrument. The company has again pledged more $3 million for the same cause to donate musical instruments for students who can play for the concerts and for their practice as well.
eBay which had acquired StubHub was also involved in selling tickets but in the year 2013, it merged those categories to StubHub and entirely StubHub link appeared on eBay as a listing in the search. The company also changed to a new pricing structure and ticket fees and prices were displayed upfront without any auction of bids. In the same year, Spice Girls canceled their future music shows due to which online ticket demand spurred on StubHub for people who wanted to buy tickets for the remaining shows. This demand grew online searches by 220 percent. The company also integrated ESPN a popular sports event partner on its platform to present more personalized content to the users. The site thereby saw over 16 million monthly unique visitors. In 2015, the company switched to detailed pricing option wherein the ticket prices were displayed without any fees or charges and fees were mentioned on the page. This fees got added only at the time of checkout and purchase.
This specifically answers the questions – how does StubHub work and how does StubHub work for buyers and sellers.
You may like to read – Spotify business model
How does StubHub Work for Other Services?
Last Minute Ticket service
Under Last minute ticket service, a user can buy and print tickets at StubHub LMS center which is generally located near the event venue or its vicinity.
Gift Cards
Many people gift their loved ones with gift cards. The company introduced E-gift cards and plastic gift cards for users.
You may like to read – How does Netflix make money?
StubHub Revenues
The company has reported strong growth in revenues and it has always kept secret on revenues it earns. Generally, it charges a 10 percent fee on each transaction or a minimum $5. Leaked figures estimate StubHub's revenues at $1.24 billion for 2018. StubHub started on expanding spree and started venturing into various other markets and countries. As on date, it serves more than 50 countries and books millions of tickets monthly and its growth story continues.
Share Your Thoughts With Us!
So, we saw how does StubHub work and its revenues. Visit Ncrypted blogs for more blogs and do share your views in the comment section below.