6161
Views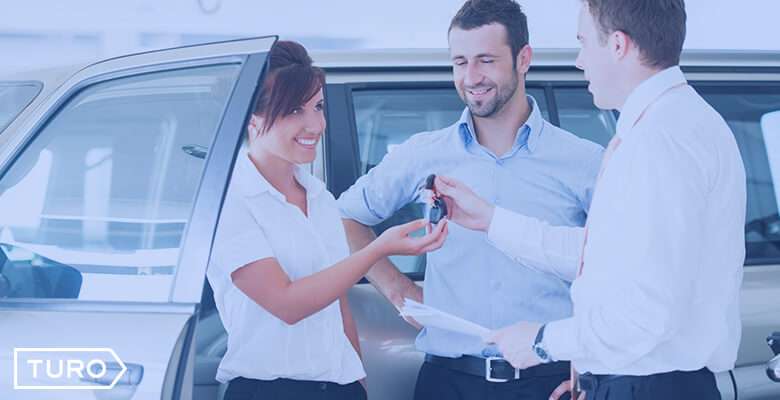 It's no wonder that technology is already shaping the future. While technology has given users more control, it even drives an opportunity and change within the industry. So when things come to the car rental sector, we can say that technology is promising to leave no stone unturned. It is said that the car rental market is facing tech turn in the tide of two waves;
Firstly, rental companies themselves are on the phase of changing the value prop facing a customer. Here just by making a single change in the way bookings are done.
Second off, units of cars are being technologically transformed with the digital features that are important to deliver within the driving and on-road experience.
And this is how Turo came into the picture. Here a lot of questions will be running in your mind such as 'what is Turo?', 'how does Turo work?' and many more. Don't fret! All your questions will be answered right here.
What is Turo?
Firstly, let us start with 'what is Turo?'
Founded in 2010, Turo (previously known as RelayRides) is a car rental company based in San Francisco. It is an online marketplace that mainly works on the principle of sharing economy. Turo can be termed as a peer-to-peer car-sharing company, which was formerly known as RelayRides. Here, Turo allows the car owners to rent out their vehicles and make some extra cash out of it. This is a quick and convenient way to rent a car for all those who are in need of transportation.
Contrasting Uber or Lyft, Turo is not a ride-hailing app, rather this service is more equivalent to renting of a traditional car. Henceforth, it becomes ideal for longer journeys which can be planned in advances such as exploring new cities at your own step, going for the upcoming interview and much more.
Best of all, it can be said that Turo offers something or other for every taste and budget- whether you need a luxury car to style your vacation or just a reliable vehicle on a budget, Turo has covered it.
In a nutshell, we can even say that Turo is an Airbnb for the cars. Something that we are asked often here is 'how does Turo work?' To make a note more clear on it, breaking down this amazing car-sharing platform for you.
How does Turo work?
When things come to how does Turo work, it starts with the initial registration that is an easy-going process. Once you've signed up, you can browse every single detail about the car rentals available near you, just by entering the city or airport, as well as your travel dates.
Here the user can choose transportation from over 800 models and unique makes. They have an advanced feature for the multiple filters which allows you to just find an appropriate vehicle, whether it's an SUV, car, a truck or minivan. So you, not a fan of manual? Here you even have a choice of cars that has automatic transmission. Another thing is the user can sort the number of seats, price and even the colour.
One feature to definitely draw attention to, the total distance or miles are included over here. Hosts can set up some limits on how many kilometres or miles per day can be driven by their car. Hence, whenever you are in plan for a road trip, all you need to calculate is the distance you are going to travel. The additional mile will incur the charges unless and until an extension is requested by you from the app itself.
Turo especially has three additional classes as mentioned,
Business class, as the name suggests, with the help of this phase, you will be able to have a list of the cars available specifically for business travel.
Deluxe class, it provides some exclusive cars for the guests of the age more than 25. In deluxe class, you can rent a car despite being under the age of 25 but that will come at the cost of a $1500 deposit which is refundable after the ride.
Super Deluxe class, here the one with 30+ age can rent a car. This is the most extraordinary care provided for rent.
To have a piece of in-depth knowledge of 'how does Turo work?' Let us go through some of the important parts of Turo. Talking further on it, let us first have a quick glance on 'how does Turo work for car owners?'
How does Turo work for Car Owners?
As we know that car owner are the important aspects of Turo business. As a car owner to make your car available for the rent, you will be asked to fulfil the basic requirements, just to be listed for rent on Turo. Few points to be noted to register are vehicles can be hybrid, electric, diesel, or gas. Maximum age of a vehicle is 12 years old and it must have less than 130,000 miles. The value of your vehicle must be up to $150,000. Turo even accepts some classic or speciality vehicles but there are some conditions like must be in excellent condition, should be 1990 or older and it is even subjected to the additional review before acceptance.
In Turo, probably your vehicle would not require any vehicle inspection in the initial phase. But if any complaints are being registered from the renter's side, then you will be asked to undergo an inspection. Turo will provide you with an inspection form which can be brought to any of the state-certified mechanics.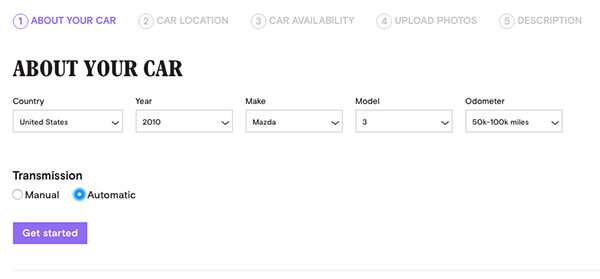 Some major steps to be followed are,
Listing of cars
Responding to the inquiries
Giving out or delivering your car
Pick up the car
How does Turo work for Renters?
Similarly, it is important to know 'how does Turo work for renters?'
After the easy registration, the renter can choose the delivery location or pick up as per the niches. Depending on the host, here you can purchase various extras whose charge will be included in the final cost. Before you rent a car some of your personal details will be noted for the safety measures.
As a renter, you can choose your Turo Sheild Protection. Turo enables you to choose your insurance from Premium, Basic or Minimum Coverage – each of them has different physical protection. For the payment thing, Turo accepts the online payment through one of the well-known apps available. You will be provided with three option to select your rented car pickup,
Local Pickup
Airport Delivery
City Delivery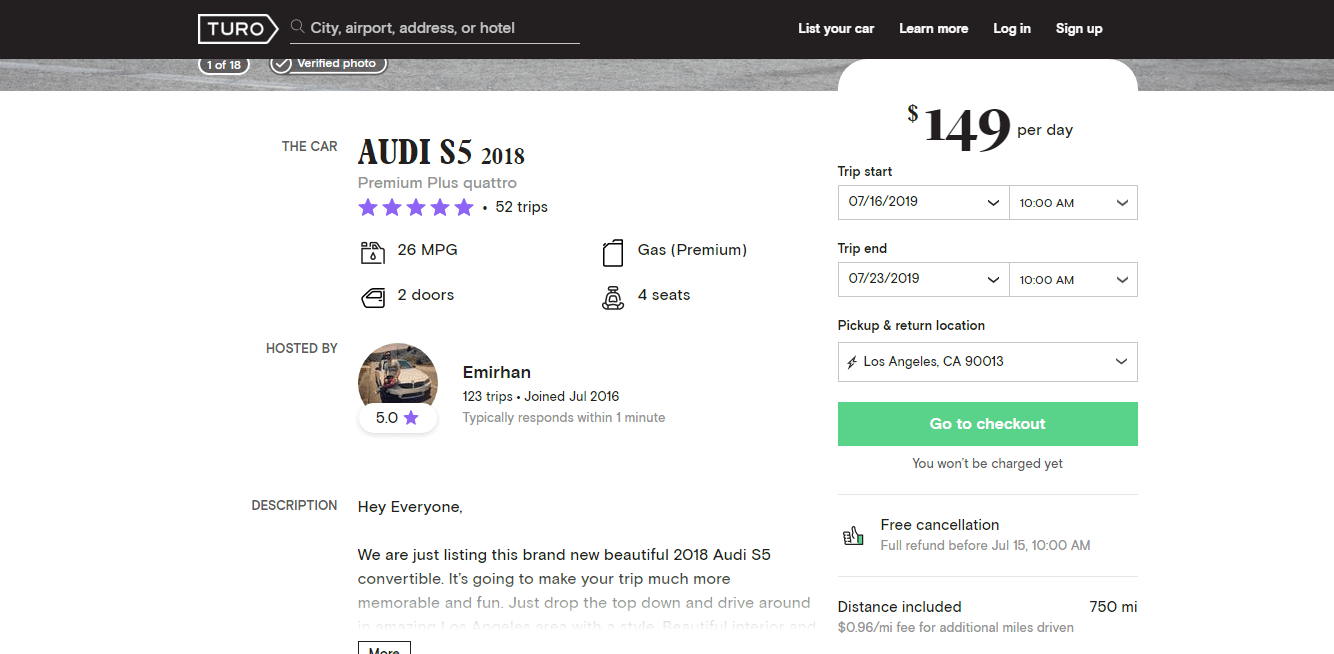 Here as a renter, just like Airbnb, you will require a short message to the car owner, where you need to give basic information about your trip. This is one of the important steps to be followed. Once you are done with the booking and is approved, if you haven't requested to deliver, you will be in need to pick up your car. Take the details of the car from the host.
How does Turo work with Insurances?
As we all know that auto insurance always comes into play when driving a vehicle. Turo over here provides some insurance coverage options when you're driving a car. To make things more clear, let us see how does Turo work with insurance?
Here you don't need to have your own auto insurance policy to rent a car on Turo. It has own liability policy which pays for damage you do to the drivers and other cars. But it is never for the loss or damage happened to the car you rented. Their liability policy will never cover any of your medical expenses.
Turo protection policies will cover the damage that is collision you do to the rented car. Your personal insurance will cover you as a driver, but the point to be noted over here is, your personal collision will cover only one car. That, in turn, means you can't expect that your personal insurance policy would cover collision damage when you are a Turo driver.
How does Turo make Money?
The most tempting question coming to your mind will be 'how does Turo make money?' or 'how you can make money with the help of your Turo platform?'
So, when a user lists his car on your Turo platform, your website will dynamically set the vehicle's rental cost based on some factors. This will include the vehicle's market value, location, time of the year and other things you may like to include. As an alternative, also the user can set the price manually.
For instance, let's say that the market value for a user's car is approximately $20,000 and he has decided to rent out for at least 10 days a month.
Hence, as per the Turo calculator, he will be earning around $4500 in a year. Here the user will earn 65-85% of the trip price and the left percentage will be covered by your Turo platform. The commission percentage over here will depend on rental insurance by the user. If they go with commercial rental insurance, you will be having 10% of the trip price.
This way with the help of the different percentage of commissions you can make money from your Turo platform. Another factor of revenue generation is the processing fee charged for each transaction.
And that's everything you need to know on 'how does Turo work?'
The concept of car rentals is not new but it's true that it will never see an end considering today's lifestyle and technology. Nowadays people just want to ease out their ways in every possible way through the internet.
So, Are you in planning to start with your own website like Turo with some advanced features? We at NCrypted provide you with unique technological solutions with Turo Clone. that can kick-start your website as per your niche. With that, we have our own product named 'Sharecaar', a car-sharing platform, that can hail your startup. We even provide you with customizations that can give a personal touch to your website. Get in touch and have detailed information.
Share your thought with us!
What are your thoughts on our blog "How Does Turo Work?" Did we miss out any point? Let us know in the comment section below.