13042
Views
The internet is turning out to be a constitutive part of our daily life. Bearing this in mind, business organizations are leaning towards exhibiting their presence on the web. This corroborates the magnitude of online stores in this technology-driven world. This validates the fact that online businesses are bound to go into overdrive to be ahead of the game. It comes as no surprise that online business industries underwent a transformation over the years as eCommerce entrepreneurs are comprehending that's why funding in multi-vendor eCommerce store is a sagacious deal for their benefit.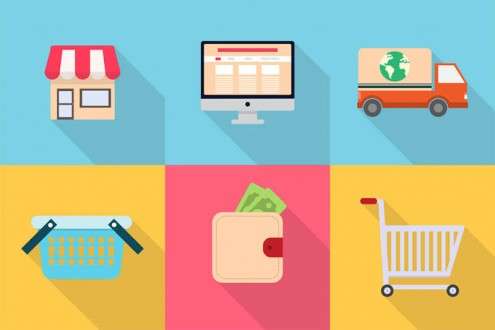 The running eCommerce trends are denoting that online buyers are canny a lot and generally inclined towards the online marketplace that presents them numerous options of products, shipping, auctions, advertising, sellers etc. Now, it is intuitively obvious to the most casual observer that any online store offering multiple solutions is a clear choice because it gives a gratifying feel to the customers. eCommerce has revolutionized in past few years and the compositional, dynamical and structural changes of online shopping have managed to reformulate e-shopping unprecedentedly.
Let's first understand the concept of multi-vendor eCommerce store and why it is a practical solution for starting you own online marketplace.
What is a Multi-vendor eCommerce Store?
A multi-vendor eCommerce Store is like a natural world plaza which has multiple shops under a ceiling, promoting various products and brands. The major objective is to provide a common marketplace for different vendors and strapping systems to online sales and sustain selling structures while steer clear of sales divergence.
How does it Work?
In a multi-vendor structure, the vendors register their products on the marketplace without having to put up with the expenditure of development. The trademark mileage of the marketplace helps small vendors by mucking in, in order to get healthier exposure for the products.
The multi-vendor is a keyed up solution for business organizations because it manages to keep the online sales structure and incorporate the sales prospective in the working distribution channels without any hassle.
Let's see how effectual it is for a business.
It is recognizable that the products that are being sold on a multi-vendor store are empowered by various vendors. An online store that provides wide range of products can unavoidably generate traffic and sales.
It is one of the key elements for your business. Each and every seller will be supervising shops on their own, that leaves your business with more time that you can center on doing marketing. It's very much profitable for any of the online marketplaces.
The merchants on multi-vendor eCommerce platforms are allowed to manage prices, product details, make updates as per their handiness. Online businesses are more focused in establishing marketplaces because of the extra operational competencies and improved boundaries. This would rationalize the growth of online marketplace.
Inventories, pricing, products addition, logistics and other aspects that approaches with running an online store calls for big team and hard work. Multi-vendor store budges over this task to the marketplaces sellers, making it easily accessible.
Repository and labor related charges can easily have one's nose to the grindstone of any eCommerce entrepreneur. Opting a multi-vendor store will crack this crisis as sellers will be accountable for inventory related barriers.
Commence your Multi-vendor marketplace with NCrypted Websites
Fashmark is a creative multi-vendor eCommerce script powered by NCrypted Websites, endows with remarkable solution for buying and selling of the products for your eCommerce business. It can be used for your precise niche market requirements without any supplementary development or effort. It is an SEO friendly product which will help you enthrall your business from the marketing point of view. A wide range of categories makes it more user-friendly.
Additionally, content management, product management, category management, user management and order management modules in the admin panel will provide complete automation over your eCommerce business management. Besides, you can also customize it with newsletter management, testimonials and social sharing widgets modules that will help you in more marketing attempts.
Check out the demo and have a glimpse at how your favorable multi-vendor store will appear like.