15403
Views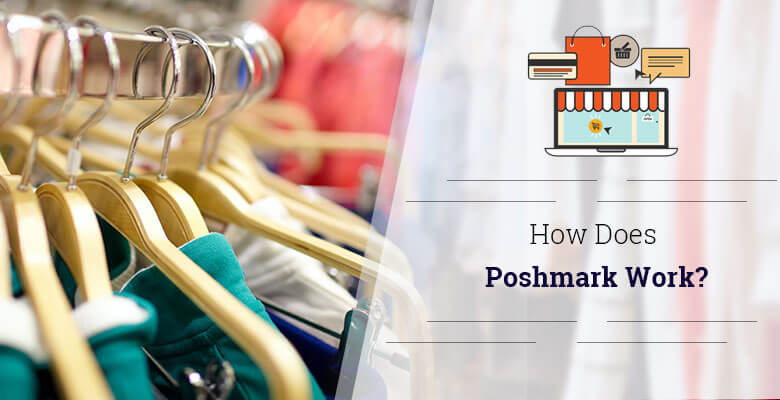 As we all are aware of the fact that technological developments have made a great impact on the e-commerce world just by reshaping how users are connected to the brands. With that, even empowering the users for identifying the lowest prices. The trend of online shopping is booming these days, most of the customers prefer online shopping, as they can get everything on their doorsteps.
With an increase in the demand for online purchases, more and more businesses are now moving to e-store from the brick and mortar stores. From the reports and analysis, it has been observed that more than 65% of people prefer to purchase the goods online and this figure is constantly increasing day by day.
It is even said that technology is the backbone of e-commerce. It helps to connect sellers and buyers on the web and mobile platforms, and with that enables the effective management of everything related. Taking inspiration from this, Poshmark came into the picture. Poshmark is an ecommerce platform that deals with the fashion industry. You might be thinking of getting in-depth details on 'what is Poshmark' or 'how does Poshmark work' or 'how does Poshmark make money', right? To make a better understanding of it, let us get started with 'what is Poshmark'
What is Poshmark?
Poshmark can be termed as a fashion ecommerce platform that drives online buyers. The process over here is like browse offline and then buy online. Hence, the buyers and sellers over here can leverage this well-known tool to like and share the items they like. As a buyer, you can even follow the sellers whose inventory is interesting to you.
Poshmark business model is really easy to use and can benefit both sides that are, buyers and sellers. It will never be surprising for you to know that the platform has attracted more than 1.5 million sellers and millions of buyers who are engaged so thoroughly that approximately 3 million dollars of inventory are added to the site on a daily basis.
The Poshmark platform has taken the shop-and-buy for fashion to a whole new level, specifically on the social level. This ecommerce marketplace focuses more on being a bridge between the buyers and sellers who are looking to either purchase or sell fashion accessories, fashion items and such luxury goods. Poshmark even allows users to sell their unworn or unwanted clothes and has a secure payment method.
This was all a glimpse on 'what is Poshmark', now let us throw some light upon how does Poshmark work.
How Does Poshmark Work?
To have a better and clear understanding of 'how does Poshmark work?' We will divide it into two parts that are buyers and sellers.
How Does Poshmark work for Sellers?
It has been observed that for sellers, this platform seems to create values in a couple of manners. Poshmark has an intuitive app-based interface that makes it simpler for the sellers for uploading any inventory.
First and foremost thing required by you as a seller is to sign up and create an account. Further, you need to upload pictures of whatever things you would like to sell. The important thing to be mentioned over here is the description, retail price and proposed price. With all this, you can select the tags which seem relevant to your item.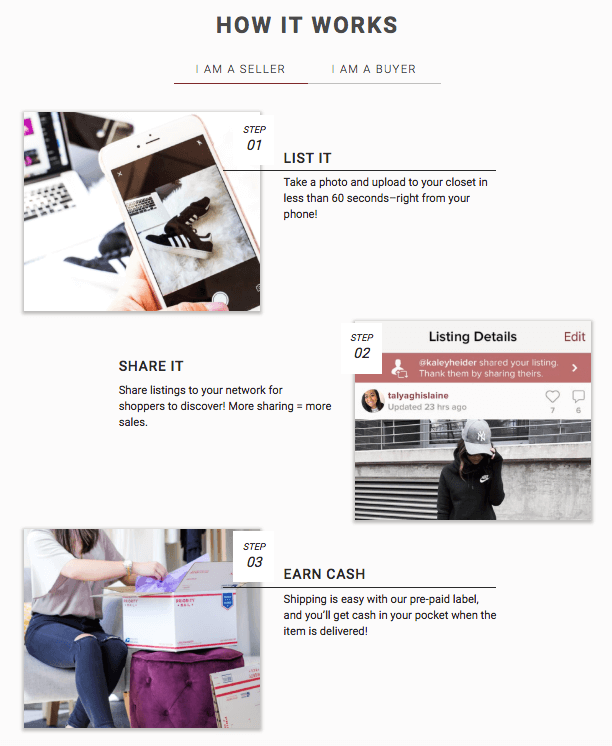 Accordingly, the sellers can have much control of the process. Poshmark even provides prepaid postage labels to sellers, so that the shipping process can run smoothly. The funds will be deposited into the sellers account once the buyer has "accepted" the order or else after 4 days of successful delivery of the package.
For generating interest in their products, sellers are provided with various "Posh Parties" notification on the platform. The seller will get a notification whenever certain theme parties are taking place such as "Best in outwear party" or "Everything kids party". Henceforth, sellers can join the parties and can share their relevant merchandise.
How Does Poshmark Work For Buyers?
For buyers, this platform creates value by making it more convenient to find the items and even to stay updated on every new change being made.
For instance, a seller leverages a category named "parties", thus, a buyer can search easier with the help of tags as per the niches. Additionally, by commenting and liking on merchandise, the buyer will have a chance to learn more about a product and will be notified if there's a change in the price of an item they "liked". Buyers over here can privately negotiate on the price of an item with the seller.
Merchandise can be sold at "advertised price", a new price that a buyer has countered with or a price proposed by the seller. Offers will expire within 24 hours it is made, although the process of negotiation lasts longer. Once the buyer and seller agree on a price, the buyer needs to accept the item in 3 days once it is received. If the product is not up to the mark, the buyer can open a "case", hence when the case is pursued Poshmark look into the item, compares it. If Poshmark agrees with the issue raised, the refund will be provided to the buyer.
How Does Poshmark Make Money?
As per the latest reports, the company value reaches $ 625 million. It has even partnered with Amazon to link its app to Alexa. So, how does Poshmark make money, in such a difficult space?
There are several ways through which business platforms can generate revenue. Poshmark makes money in different ways, right starting from taking a fee from every sale made by its users. It's free to list on the platform, here Poshmart will directly deduct a fee from the listed price once a product has been sold. The deduction goes like, for the sales under $15, the fee deducted will be a single flat rate of $2.95. And for the sales of $15 or more, the deduction will be 20 percent of the listed prices.
With that Poshmark provides sellers with free credit card processing, free prepaid shipping label, free customer support, and Posh Protect buyer protection for the buyer. There is a flat rate of $6.49 for expedited shipping for every order which is to be paid by the buyers,
Most of the revenue generated by the Poshmark is through commissions or fees received from the users. This might have solved your question on how does Poshmark make money? Therefore let's now deep dive on Poshmark business model.
Poshmark Business Model
So, what you think, why the company is doing so well? It is just because of the Poshmark business model – unlike many others, it has no such inventory. Without needing to buy the clothes itself, Poshmark has less overhead, than its competitors. Just as some folks are becoming major influencers on social media and hence can make money by promoting products to the followers, over here the seller's stylists are at the core.
The unique Poshmark business model will allow these influencers to have a captive audience and therefore help the people to build style. With having a good hold, Poshmark grows followers on the marketplace.
Concerning the Poshmark business model, their success is much more reliant on the social-media process by building a network and further selling products to the followers. Another advantage of Poshmark is that it has an app available which helps the company acquire mobile user audience as well.
How to start a business like Poshmark?
After knowing all about what is Poshmark and how does Poshmark work, if you are interested to start a similar business, then yes, you are at the right place. NCrypted Websites will help you to build your Poshmark Clone as per your niches.
With that, we also have our own product named 'Fashmark', a multi vendor script ecommerce script. It is especially for buying and selling the goods for any industry or market segment. If you are looking for ecommerce startup and in a plan to build a custom website, our team will even help you with that. Get in touch with us, to build your Startup.
Share Your Thoughts With Us!
How well did you like our blog on "How does Poshmark Work? A Complete Walkthrough Explaining This Unique e-Commerce Platform" Did we miss out any point? Do share it in the comment section below.