9496
Views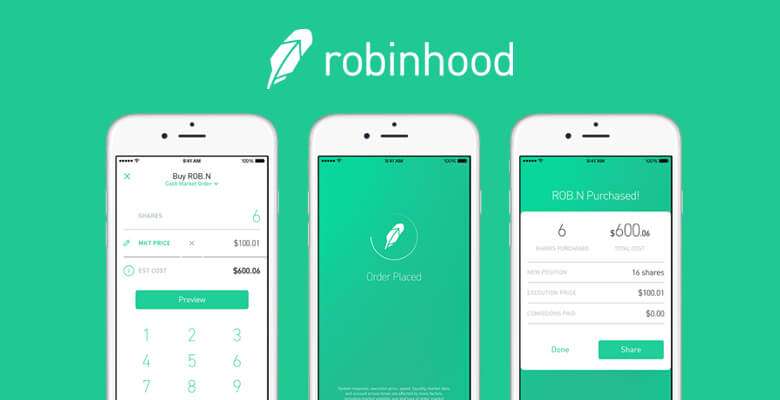 Robinhood is a stock trading application that made its name by offering commission-free trades. Yes, it is a fintech company that let you trade stocks for free. So for this reason, Robinhood has been very attractive to young investors. As it's easier in use and one can buy and sell stocks for free. You have to provide some personal information with the way you would with any other brokerage, but after that, buying and selling become as easy as posting a photo on Instagram or sharing on facebook!
Robinhood has an engrossing business model and it is earning well enough for big firms to jump up and invest a whopping amount of money in them. It is amazing that even existed!! Vladimir Tenev and Baiju Bhatt, the co-founder and CEO of Robinhood, discovered that people wanted to use their product even before it came in the market.
How does Robinhood Make Money?
Robinhood is actually not the first company to try offering commission-free trading, but also the first to do it successfully. (after Robinhood, some other companies also tried to offer the same but could not compete Robinhood), It has already a very strong user base and it surpassed e-trade in terms of actual users, with 4 million compared to 3.7 million e-trades. Moreover, they've already processed $150 billion in a transaction and saved $1 billion in transaction fees!! That is the way How does Robinhood Make Money.
But one is naturally wondered, how can a company earn money despite of offering free trades? Robinhood makes money logical, ethical and not by selling your data! Yes, like other companies, who earn money by selling their customer's data, Robinhood is ethical in this way. They are able to manage costs by having far less overhead than traditional brokerages. They have only 200 employees. So the labour charge has been decreased. Although, they don't spend much on marketing, offices, account managers and customer support. And the cost of stock transactions has been driven down by modern technology in electronic trading.
Robinhood earns money by routing As of their 4Q16 report, they give roughly 30% of their total non-directed orders to KCG, 29% to Citadel, 25% to Two Sigma and 16% to Apex. These companies also have high-frequency trading arms in the market. This is how Robinhood makes money.
Robinhood Revenue Model
Robinhood makes money through brilliant revenue idea. The two main components of the revenue for the Robinhood are trading fees (yes, even one doesn't pay for it, they get fees per trading) and interest payments on our assets. And the most interesting thing is the trading fees component. Interest payments are straightforward. Robinhood states that it is surviving on their gold membership by charging $6 a month for access to after-hours trading. This clearly answers the question How does Robinhood Make Money with an explanation.
For example, if you have $200 in your Robinhood account and interest rates are 2%. They would make $4 off having your money sitting in their account per year. This might not sound much, but multiply that by 4 million accounts they have and it results in such big numbers. So, you can get the idea how Robinhood makes money. Moreover, interest rates are now going up. Also, these numbers are for just examples. If this example made your eyes rolled, you can imagine the actual number of their profit.
Robinhood makes the majority of their revenue by routing orders through Apex clearing, Citadel, KCG and Two Sigma. These are all high-frequency trading firms. This is the main source of controversy for the company itself to talk about between distracters. Robinhood explains the way they are earning revenue by basically rolling up interest on the money and securities in Robinhood accounts.
History of Robinhood: Founders, Funding and Facts
Robinhood, a commission-free stock brokerage, got inspired by high-frequency traders and electronic trading firms which pay effectively nothing but only to execute trades. In 2013 Robinhood invented by two high frequency trades Vladimir Tenev and Baiju Bhatt. As of March 2018, it had nearly 4 million customers and it is no longer a stock trading platform, it's a fully functional cryptocurrency trading platform as well.
Robinhood has raised around $600 million in venture capital funding. Robinhood got seed capital from their investors including Google Ventures, Andreessen Horowitz, Index Ventures, IT ventures, Social Leverage; Aaron Levie, founder of Box; Dave Morin, founder of Path and well-known celebrities like Snoop Dogg and Jared Leto. Existing investors Index Ventures, Ribbit Capital and Social Leverage joined the round, along with new investors Vaizra Investments. $1.3 billion valuations led by Yuri Milnet fromDST Global made the company jump to Unicorn status. The sources have confirmed that as of May 2018, Robinhood is valued at $5.6 Billion.
How does Robinhood Business Model Work?
Robinhood app of Robinhood Business Model is very simple. Robinhood Makes Money of ancillary income instead of brokerage or commission that other brokerage firms charge when you trade. The Robinhood Business Model works exactly the same way that of Airbnb Business Model, Uber Business Model, Venmo Business Model etc. Their platform acts as a common platform for a buyer and seller of securities. They can do so with ease and for free! This is the core pillar answer of how does Robinhood make money.
Robinhood's business model depends on supplying information and trade execution orders to market makers who execute the trade in such high volume that they nearly execute the trade for zero fees. This is also used in knowing the buying flavour of the market and you can also do some trend spotting while shopping multi-baggers in your portfolio to get more profit.
Different Ways Robinhood Makes Money
How does Robinhood make money is an interesting topic as it let you trade for free. Interest rates are one of the major pillars to earn money, but there are many other brilliant ways one should know. Which are listed briefly as below:
Robinhood Gold Subscription
At a look at how does Robinhood make money through Gold subscription. For example, if you have $2000 in your bank account and you want to trade for $4000, you can get the balance of $2000 as retail credit to your account, for availing this offer, you need to subscribe to the Robinhood Gold plan.
Robinhood Investment of Trade Funds of Customers
Normal users other than Gold, have a delayed deposit window into a trading account as well as a delayed settlement above $1000. So, Robinhood invests that money in the duration of these two days and earns the profit by investing that money for short term. But the figure of the amount being invested is high in numbers. So the short term profit also makes a big difference. This is how Robinhood makes money.
Investment of Trade Funds of Crypto Customers
Robinhood offers a fully functional crypto trading platform. The deposit and settlement time lag is used as a window of opportunity to invest in money market instruments that earns a bit of interest income to Robinhood. This is one of the strategic plans of Robinhood of earning money.
Margin Lending to Retail Users via Banks
Another way Robinhood makes money is directly from retail users by lending. But going by FINRA, it is established as a brokerage firm, so it can't directly lend money to users, so it keeps time deposit with banks that in turns use their money to lend out to retail customers. This is how Robinhood makes money.
Executing Orders Through Market Makers
It is said that, if you're not paying for it, you are the product. Background of a market maker is, any large institutional investor is known to make or break the price of a stock by buying in bulk or selling in bulk. In every case, this institutional investor is normally doing high value and high volume trades, so a small arbitrage in price while selling and buying will lead to huge gains for the company.
How Robinhood makes money from these market maker is, they execute their trade through these players so that they have a beforehand idea of your trades(of 4 million users) so that they can easily pre-purchase or tag-along with this users. This is How does Robinhood Make Money.
Read more about Fintech Script.
Robinhood Working Model
Since the launch in 2013, Robinhood has grown rapidly to be featured in just about every major finance or tech publication such as TechCrunch, Bloomberg, Forbes, a Fast company as well as CNBC. They've also raised about $540 million at a $5.6 billion evaluation, so, there's a lot of support behind them.
Robinhood is also a member of SIPC, which means securities in your account are protected up to $500,000. So, Robinhood is likely to be safe to use. Robinhood business model is indeed a great example that how one can earn money smartly and ethically.
Read more about Robinhood Clone to start your own business like Robinhood in Fintech.
Share Your Thoughts with Us!
What is your opinion regarding the article How does Robinhood Make Money? Tell us in the comment section below.