5316
Views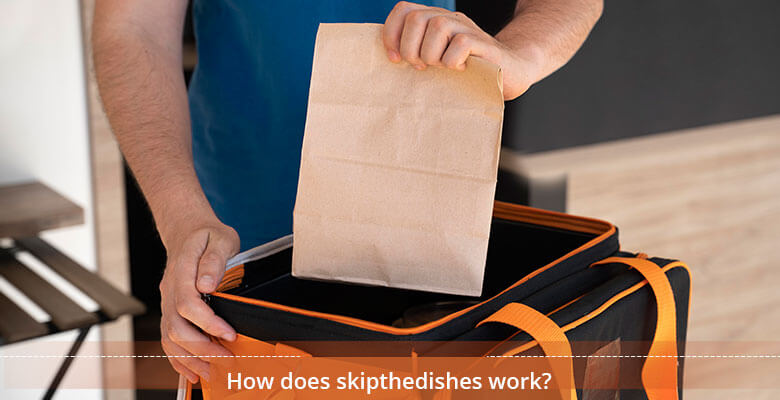 The food delivery sector has rapidly become a highly competitive sector these days. With the inclination of customers towards comfort and safety, the demand is increasing day by day. Considering the COVID-19 after effects, people have become more cautious of health and hygiene. The key drivers of this huge food delivery market are the busy and fast life of people globally. During the severe spread of COVID-19, when nations were facing lockdowns, food delivery apps were the only savior for all the foodies out there. These apps took great care to fulfill people's desires during the pandemic which has made them (people) more reliant on online meal ordering. A plethora of food delivering apps has come up in the market such as Swiggy, Uber Eats, Zomato, etc. Today, we'll be discussing the business model of one such app i.e., Skip the Dishes.
In this article, we'll be doing an in-depth analysis of the skipthedishes business model, and alongside we will be covering the major points such as How does SkipTheDishes work? And How do SkipTheDishes make money?
SkipTheDishes- The Beginning
SkipTheDishes was founded in 2012 with the aim to connect hungry people with restaurants and local food couriers through the company's exclusive algorithm-based dispatch system. The company's co-founders are Andrew Chau, Chris Simair, Jeff Adamson, Daniel Simair, and Joshua Simair. The two brothers, Chris and Joshua launched the network of SkipTheDishes in their home city, Saskatoon, and later moved on to Winnipeg, Manitoba, to set up their head office. During the first few years of the company's operations, the two co-founders grew a small round of seed capital and angel investors. In the early beginning of the startup launch itself, the company grew to over 130 markets in Saskatoon and created a network of over 4 million Canadians and 25,000 restaurant partners. Soon after that, they started raising fundings from private investors which eventually led to a surge in its business operations. Between 2012 and 2014, the other co-founders also joined the company.
SkipTheDishes- The Expansion
From 2013 to 2016, the company kept scaling as it was continuously being launched by its co-founders in several Canadian cities. However, in December 2016, Just Eat acquired SkipTheDishes for around $200 million. Even after that, SkipTheDishes remained a separate brand under Just Eat. As the years passed, SkipTheDishes proved its competence on various occasions. Then in 2017, the company expanded its business model by including new offerings i.e., alcohol delivery in selected markets. In 2019, SkipTheDishes ceased its operations in the USA and signed an agreement with a rival company, GrubHub.
Soon, SkipTheDishes was acquired by Takeaway.com. Since then, SkipTheDishes adopted the logo and orange color scheme of Takeaway.com though keeping the brand name the same.
In 2021, SkipTheDishes started to test its new offering Skip Express Lane, to offer a service to customers that deliver household goods and groceries directly to them. At present, this service is located in Winnipeg and in London, Ontario.
SkipTheDishes Business Model
As people are more and more choosing comfort over anything, the online food delivering apps are rapidly increasing. Be it breakfast, lunch, dinner, or some other dessert or snack, food delivering apps are ready to deliver them right at your doorstep anytime and anywhere, on your demand. SkipTheDishes is one such service provider. According to reports of researchers, the on-demand food delivering app business is continuously growing and its market share will be increased by 11% in 2022 as compared to the 6% shares at present.
Here, we will be talking about the SkipTheDishes business model in detail to understand the work operations and marketing strategies of the company.
SkipTheDishes, an online restaurant service, is a Canadian Technology company whose aim is to connect consumers/ people to local restaurants and food couriers. Through SkipTheDishes people can easily place their on-demand food orders right from their local restaurants. SkipTheDishes can be accessed through its website or mobile app (Android and iOS). After placing the order, it is up to the customer how he/she wants to make the payment as there are various options such as credit cards, debit cards, or cash on delivery to choose from. The company tries its best to keep the work proceedings as transparent as possible. Customers can easily view the status of their orders on the app and also track the assigned food courier through the GPS tracking facility available on the app itself.
SkipTheDishes is committed to delivering quality food to consumers at their doorstep. People no longer need to stand in long queues for their turn in restaurants. They can now easily place food orders and get them delivered on time.
Customer Segment
The customer segment at SkipTheDishes is similar to any other food delivering app offering the same services. However, everyone loves food and there cannot be any segmentation in the customers when it comes to food as anyone can place their order online when they wish to. Still, the customer segment at SkipTheDishes can be described as:
Users
People who love food
People who want to eat restaurant food.
People who want food to be delivered to their doorstep.
Restaurants
Restaurants that do not offer delivery services on their own.
Restaurants that do not take online orders
Restaurants who want to make the best use of online resources and get orders from customers online.
Delivery Providers
Key Partners
The key partners at SkipTheDishes include Customers, Restaurants, and Delivery providers. They are the major role players in the business.
Key Resources
Talking about the key resources, here are the major assets that SkipTheDishes has considered extremely important to make its business model work:
Managing tech platforms
Managing customers and restaurants
Handling delivery providers associated with the company
Value Propositions
Here are the various value promotions that SkipTheDishes offers to its customers, restaurants, and delivery providers:
Customers:
Customers can order online anytime
24/7 customer care service available
The app allows the customers to scroll through various menus of various partner restaurants
With SkipTheDishes's app, customers can track their orders online
Restaurants:
Restaurants can easily extend their customer base by partnering with SkipTheDishes as they get online customers through it
They get an online platform to serve their customers
They are not required to make any arrangement for delivery
Delivery partners:
The delivery partners at SkipTheDishes are able to make a good earning
They are given flexible time slots
They receive tips from customers.
Key Activities
The key activities of the company are:
Taking online orders from customers
Managing delivery partner's payouts
Hiring delivery guys
Managing logistics to process orders
Creating and managing tech infrastructure
Processing smooth transactions
Channels
At present, SkipTheDishes runs its official website and is available on mobile apps (Android and iOS both). Also, to raise brand awareness among customers, it runs various campaigns on many social media platforms.
How does SkipTheDishes work?
In the beginning of the article, we have already discussed the journey of SkipTheDishes from its launch date till now. The Canadian people have been the eye witness of its rapid growth since then. Ever since the launch, the company has been growing at a growth rate of 20% per month. It quickly grew in the Canadian market and then in 2016, it was purchased by a rival company, JustEat (Already discussed above in detail).
Let's now move on to answer the question- "How does SkipTheDishes work?".
Below are the few steps to understand the company's work process:
Download the SkipTheDishes app from play store or app store.
Create your account
Enable your location so that the app can show your the restaurants within your area
Choose the cruising that you would like to order from multiple options of menus present in the app
Select the desired food from the desired restaurant that you would like to order
After selecting, confirm the order through the app or website
Both the user and the respective restaurant will be notified about the order
It is upto the user if he/she wants to pay the bill online or pay the delivery man when the food arrives at the desired location
When the meal is prepared in the restaurant, the delivery provider collects the meal and delivers it to the customer at desired address
Like any other food delivering app, SkipTheDishes provides an option of tracking the food which helps the customer to know the status of their order and how much time it will take to reach the destination
After receiving the meal, user/ customer can either pay him through cash or if the payment is done, he/she can share reviews based on the quality of food
SkipTheDishes also has the pickup option for customers if they are not willing to pay the delivery charges or they want the food on-the-go. This is how SkipTheDishes works and serves the large Canadian customer base.
What does SkipTheDishes offer to its customers?
SkipTheDishes' working model is almost similar to any other food delivering app but it is successful because of the key offerings that it has for its customers. Some are listed below:
Cuisines from restaurants right at your doorstep:
When a customer searches for a dish on the platform, various restaurant names come up who are ready to deliver that dish to you. Customers can easily filter out through thousands of restaurants by name, cuisine, or even delivery fees.
On-the-go ordering:
SkipTheDishes allows its customers to order on-demand or schedule any food delivery up to 4 days in advance.
Application saves your details:
Once you place an order on SkipTheDishes' app, it saves your address details for the next time. This saves your time to fill in the details again and again.
Payments:
Paying through the app is very easy. You are just required to enter the debit or credit card details and pay directly through the app. Otherwise, if you want to make cash on delivery payment, then that option is always open for you.
GPS Tracking:
ShipTheDishes allows the customers to track their order directly from the app. They receive real time updates through GPS tracking.
How does SkipTheDishes make money?
Till now we have discussed the company and its business model in detail so let's move on to discussing SkipTheDishes's revenue generation model or more precisely saying, How does SkipTheDishes make money?
SkipTheDishes has made its name as a food delivery company in Canada with a large customer base. It has not yet owned any restaurant as such (in fact owning restaurants is never in its business model) but still makes huge profit by serving thousands of customers through its two key partners, restaurants and delivery partners. The company makes its earnings through commissions received from its two key partners.
Commissions
Customers can place their order online through SkipTheDishes's website or app from their favorite restaurant. On receiving an order, the company charges a fixed percentage of commission out of that order from the restaurant. Although the rates vary, it usually charges 11% on every order.
Restaurant advertisements
The food industry has gone through major changes in recent years. There was a time when the restaurants used pamphlets and boards for advertisements but now this focus has moved to online platforms. Startups with food delivery services have shifted their sole attention from marketing to digital advertisements.
Similarly, SkipTheDishes realized the importance of digital advertisements and considered it as the best way out to attract buyers. In fact with this move, they have successfully increased online visibility to gain new orders from customers.
If we come back to the revenue generation point of view then, Skip charges every restaurant for advertising on its platform. It is an effective way out for the partner restaurants to reach the top of the search list through advertising. When a customer searches for a dish and your restaurant comes up as the top supplier of that particular dish then there are higher chances that the customer is going to choose you over anyone else.
Other sources
SkipTheDishes charges its partners for marketing and branding programs on the platform. They host events and programs for restaurant promotions. By doing this, they earn revenue from their partner restaurants.
Who are SkipTheDishes's investors?
According to Crunchbase, SkipTheDishes has successfully raised a total funding amount of $6.4 million in 6 financial rounds. The company has 8 investors in total namely, Founder Collective, Golden Ventures, Felicis Ventures, FJ Labs, Marco Valta, Government of Saskatchewan, Scott Belsky, and Two Small Fish Ventures. Out of these, Golden Ventures is the leading investor of SkipTheDishes. The company raised its recent funding on Dec 14, 2016, from a Seed round. Its most recent investors are Founder Collective and Golden Ventures.
The Winnipeg- based app, SkipTheDishes, is one of the largest firms present in Canada. It operates in multiple Canadian cities such as Calgary, Burnaby, East Vancouver, Edmonton, Red Deer, etc, and some American cities such as Columbus, Cleveland, Buffalo. etc. SkipTheDishes's parent company is Just Eat. In 2016, Just Eat acquired the company for $200 million and soon after that, JustEat has shown a significant growth in its business.
Who are SkipTheDishes's Competetitors?
On-demand food delivery industry is experiencing explosive growth with the changing mindset of people and the market. In Fact the contactless food ordering has skyrocketed in the past year because of the spread of COVID19. Along with SkipTheDishes, there are many other strong players in the market that are giving strong competition to each other. Some of them are:
UberEats
Zomato
ClickDishes
Swiggy
Deliverlogic
Slice Technologies
Deliveroo
Delivery Hero
Grubhub
Just Eat Takeaway
Postmates
Conclusion
There has always been a never-ending demand for food. The food industry is one of those industries that will continue to run in any situation. During the pandemic too, it continued to work with the assistance of food delivery service providers.
As per the data published by Excellent Web World,
60% of the total US consumers order their food online at least twice a week.
57% of millennials order food online through food delivery apps so that they can watch their favorite TV shows and movies at home.
During the COVID-19 crisis, the food delivery market reached great heights.
60% of restaurants believe that online orders result in an increment in sales.
Considering the above facts, the growth rate and the business scope of food delivering apps is quite high. One has to come up with new ideas to cope up with the trending requirements of customers to run a successful food delivery business. If you have an idea and want to turn your idea into reality, Ncrypted Technologies has the right solutions developed by a capable and innovative workforce. If you are willing to launch a food delivering service providing-platform similar to SkipTheDishes, you have landed at the right place. We, at Ncrypted Technologies, offer customized and innovative solutions as per your requirement to let you launch a successful food delivering service providing platform.