4677
Views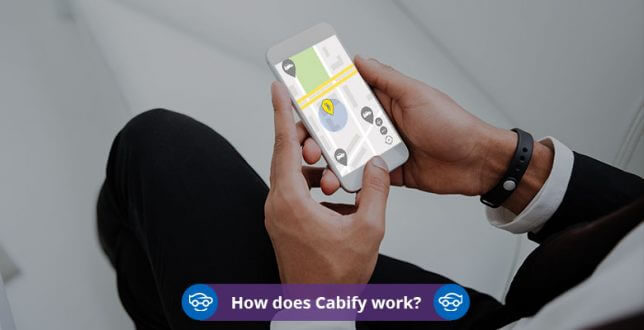 We, humans, are a bunch of creativity. As we all are aware that technology plays an ever-increasing role in every aspect. Each Year there are countless inventions on the market, and innovations have now begun to show their impact on the Ride-Sharing industry too. These changes have made every public transport more awsome and easier. With considering all the technical aspects, Cabify came into the market to offer the decorous result to people all around the world.
Cabify bridges the gap between comfort and affordable public transport. It is a ridesharing company that allows you to book cabs with the help of their mobile app. These cabs are owned by self-employed drivers who work as per their schedule. It is one of the biggest ridesharing companies in the Spanish and Portuguese-speaking countries.
Cabify was founded by Juan de Antonio in May 2011. He's a Spanish telecommunications engineer and a graduate of Stanford University. The idea for a vehicle for hire company came from the negative feedback on the market research done for the introduction of electric vehicles in European cities. Most of the negative feedback was based on high upfront costs which motivated Antonio to think of a startup which catered to the transportation needs of the general public while reducing costs and maintenance requirements.
Cabify operates internationally and has several offices all over the world. Most of the operating centers of the company are in Mexico, Chile, Peru, Brazil, Columbia, Panama, Ecuador, Argentina, Uruguay, and the Dominican Republic.
In the past few years, the company has made some significant growth and has achieved several milestones one of which is gaining over one million installations globally. Majorly the installations were in Latin America and the second country to have the most installations was Spain.
What is Cabify?
Cabify is a mobile application that allows you to either book cabs in real-time or makes reservations in advance. It is one of the best ride-sharing companies in the market because they provide their customers with an experience rather than just a ride. The customers can choose the size of the car they need for their ride, all their drivers are well trained and polite, for the customer's comfort water is always available and the customer also gets to play their own choice of music. The bookings can be made either from their mobile app or from their website, both of which are very user friendly and easily navigable.
How does Cabify work?
Cabify has a very simple process which is standard and is followed by all drivers irrespective of the country or the cars booked. Here is how does Cabify work for the customers:
Step 1: Create an Account
Once the customer has downloaded the Cabify app which is available on both Play Store and Apple Store, they are asked to register using their phone number and a verification code which is sent to the registered number.
Step 2: Browse
Once the registration is done, one can browse through the cabs available and put in the location they want to go to. The app shows all the options available and the individual can now select their ride.
Step 3: Time it
Once the location is selected the customer can also choose to either book the cab in real-time or make a reservation for later.
Step 4: Check out
The biggest advantage of using cabify over taxis is that the app shows you a fixed amount for a particular ride. This amount is not affected by the traffic faced during the ride which saves money for the customer. The individual also has options of either paying via their account on Cabify or pay cash upfront.
This easy to use process and the convenient options make it necessary to understand how does Cabify work in order to serve their customers the best.
How Does Cabify Work for Drivers?
In order to understand Cabify business model or how does Cabify make money it is important to consider all the stakeholders involved in the business. Drivers are a very important entity of the business and it is essential to understand how does Cabify work for the drivers.
Step 1: Register
Drivers need to register with Cabify with their phone numbers similar to the customers. This is a mandatory process for the drivers since it is required to verify their details.
Step 2: Submit Documents
To register as a verified driver with Cabify, an individual needs to submit the following documents to the company:
Driving License
Photo ID
Vehicle model
Year of vehicle
These documents are not only needed for verification but are also required to display the details of the driver and the car on the applications
Step 3: Accept Requests
Once the account is set up and live, the next step for the drivers is to accept ride requests and start earning from their rides.
Just like the company provides options to the customers to have an account on Cabify to pay for their rides. Drivers get their own accounts as well where the money is transferred to them for the rides they have catered to in a stipulated time period.
The mobile application also shows the drivers locations with the highest demand during any time of the day which helps them earn more at any point of time.
Good income, organized sources, and safe journeys are how we can summarize how does cabify work for drivers.
Cabify Business Model
Business models are the pinhole view of an entire business. It explains what makes the business briefly and helps an individual to get an eagle's eye view of the workings of any business. When we try and understand a business, especially to replicate something like it, business models are the best way to do so.
Here is Cabify business model to give us a wholesome understanding of how does Cabify work, how does Cabify make money, and how we can build something similar for ourselves.
Cabify has several factors which makes its business model very robust. While all the factors are very important while understanding and building a business, some of these are of great importance. Here are some of the most important parts of Cabify business model:
Customer Segment
Customer segment refers to the spectrum of customers a business can cater to in an area. There are several customer bases that a business can touch with their services. The customer segment for Cabify is described below:
Citizen: As majorly discussed in this article, the citizen of any country where Cabify operates are the primary customers for the company
Businesses: Cabify can and does collaborate with companies to provide them with mobility solutions for their managers and employees. These corporate deals are an essential part of the Cabify business model
Drivers as Collaborators: Since drivers pay a small commission to the company for every ride they complete, they also consist of a major part of the customer segment for the same.
While catering to all these segments, Cabify not only earns well but it also helps the business to expand and build credibility in the market.
Customer Relationships
Customer relationships are very important because they give rise to customer loyalty. Customer loyalty not only gives the business a consistent customer but also an opportunity of customer multiplication based on the personal reviews given by these happy customers. Cabify has always tried to maintain the best relationships with their customers to build loyalty and a wide customer base.
The company aims at giving all its customers an optimal digital experience to book their premium ride through Cabify.
Control is established for the customer because of the various choice points that a customer comes across while using Cabify.
Transparency and security have been the primary focus of the company from the beginning.
Efficiency is achieved by all the employees of the company and the verified drivers to provide the customers with the best services in the market
These are some of the major concerns that the company constantly looks into to maintain a positive relationship with their customers.
Key Activities
Maximum attention is required for this section which discusses the key activities that the company runs on a regular basis because these are the activities you as a potential business person might need to look into your company as well.
Fundraising – money is what runs the business and it is very important to get investments for a business to pay salaries, and for infrastructure and resources
Engineering – engineering is required in any business and it can be digital or otherwise. In this case, the app and the website are the backbones of the business
Sales – One cannot earn profits until they sell the products they have made. Sales is a very essential part of any business because it directly deals with consumers.
Marketing – The more people know about your product and your business the more products sell. Marketing if done right can catalyze the sales enormously
Customer Service – Attending customer grievances is an important part of any transaction to make that customer come back to your business.
Driver Selection process – For Cabify, driver selection is an important process because they represent your business to the customers.
These are some of the most essential activities your business will have to look into if you plan to establish and grow a business like Cabify.
How does Cabify make money?
While thinking of creating a business similar to Taxi Booking App like Cabify knowing how does Cabify make money is an essential part of your research. We got you covered! Here are some of the major revenue sources of Cabify which simplifies how does Cabify make money:
Commissions
Cabify has brought an amazing platform for drivers to market themselves and get good business. Leveraging the opportunity, Cabify charges a commission of about 20% on every ride from the driver. This is one of the primary sources of revenue established by the company. This is a convenient source since drivers only have to pay commissions for the rides they have completed and there is no fixed investment for them.
Fixed Pricing
One of the biggest advantages for the customers for using Cabify is the fixed pricing where Cabify charges a fixed pricing that does not change based on the traffic on the route. This one of the options for all the customers and this serves as a separate revenue source for the company since it comes directly from the consumers. Fixed pricing works very well for the company because customers use this often and it makes Cabify unique among other ride-sharing companies
Optimal Pricing
Cabify also offers the customers optimal pricing which means customers can pay per kilometer for their rides. This is a good option for customers when they want to stop at multiple locations and booking different rides will be difficult and time-consuming. This helps customers to book their rides as per their requirements and also gives them different options to choose from. It is always a good idea to offer customers a few options so they don't feel compelled to pay what the company asks them to. Optimal pricing works exactly on that principle.
Corporate Collaborations
Cabify collaborates with several companies like Google, Viza, Allianz, Securitas Direct and more to provide them with mobility solutions. These deals are an important part of the Cabify revenue model because these are mass deals that are completely paid for by the corporate collaborator for all the services required by them. This brings in a good amount of money in the business and also helps the company build credibility for themselves in the market.
These are the major revenue sources of the company and it explains how does Cabify make money. Understanding the Cabify revenue model is an important part of building a business similar to Cabify.
Key Takeaways
To conclude it can be said that Cabify a Ride Sharing App has a robust business model and revenue model to start with. They have taken several measures to satisfy customer requirements and promote customer loyalty. Their revenue streams are also well aligned with their customer segment. With a wide customer segment, Cabify has made sure that they cater to more customers and generate more revenue. Over the years Cabify has been able to raise significant capital and have implemented them skillfully to expand and grow their business. Similar strategies can be followed to promote your own business. The digital experience in a business-like Cabify plays a major role in the user experience. Hire developers to make the most user friendly and effective mobile application and website for your next ridesharing business!
How to Launch Your Own Business Similar to Cabify?
If you're willing to start your own Taxi Booking platform – you should go with Cabify Clone which has customized features to let you roll with your own Taxi Booking Apps business.
Here are some other informative articles explained by NCrypted Websites: