3898
Views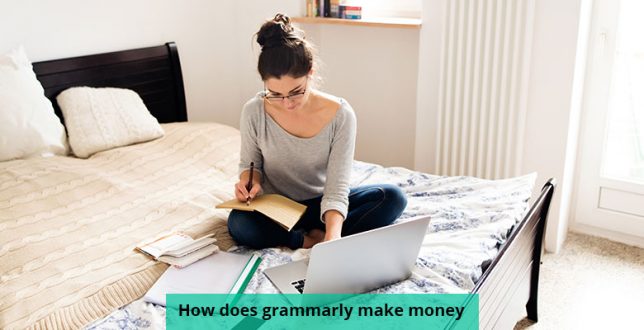 Technology and innovation are the two pillars of support in building a foundation for success. The advent of new internet-based applications has automated the simple, yet time-consuming routine tasks improving our efficiency and performance greatly. Grammarly is one such application that has revolutionized formal writing of documents and literature and assisted everyone ranging from students to employees in creating grammatically correct content. Here are a few insights for the two commonly associated queries when it comes to Grammarly, "How does Grammarly work?" and "How does Grammarly make money?",
Evolution of the Grammarly Business Model
Grammarly was founded in 2008 by Alex Shevchenko and Max Lytvyn, starting as a Grammar Checker evolving out to be a platform serving all writing requirements with its arsenal of tools and techniques. Grammarly works by assisting in all kinds of writing for both formal and informal purposes such as messages, posts, and documents. Starting from spreading the software in universities catering to the writing needs of students, the company expanded to wider territories attracting professionals of all sectors with writing requirements such as lawyers, journalists, etc.
Strong Marketing Strategy and Stable Growth
The founders of Grammarly took careful measures to expand their company safely preventing an early burnout of their business. They distributed their services to universities and students accumulating a wide customer base and money. This paved their way to offering a freemium ship to widen their client base and attract new users to their application. They designed the Grammarly business model to grow viral by offering exciting correction tools for free encouraging them to upgrade their membership to premium use of the application. The application provided highly useful service in its free version leaving the users wanting for more sophistication with every use of the application.
How Does Grammarly Make Money?
Their pricing strategy is set to provide freedom to the users allowing them to pay for services based on the amount of work and time they'll need to spend using the application. The premium use of the application can be bought on a monthly, quarterly, or annual basis with the prices getting cheaper with increasing duration of use of services. This motivated users to purchase quarterly and long-term packages over monthly packages increasing their revenue and user base greatly.
How Does Grammarly Work?
Grammarly focused more on reaching out to the writers than attracting the writers towards them. They wanted to be present at every writing portal and niche assisting the writers produce a better quality of work within short periods. This progressive and innovative thinking led them to expand to all modalities and famous applications as their add-ons, providing easy access to the writers. Users found easy access and reach to the application in different portals, attracting them to the software with their vast multitude of features, leaving them pondering " How does Grammarly make money?". Commonly used applications, online email systems and operating systems such as Microsoft Office, Mac, Gmail, etc. allowed users to install Grammarly add-ons simplifying the process for writers. The ubiquitous presence of Grammarly in various portals established their dominance in the field, evolving to be a one-stop solution to all writing needs.
The Grammarly business model also offers human proofreading services priced based on the required turnaround time. This gave users another interesting facility to utilize, especially when they were faced with huge loads of work and documents to evaluate. The level of simplification offered by Grammarly intrigued the users and led to their conversion to premium membership.
Culture and Values
Grammarly has developed to become a significant part of the writing community assisting users all over the world. Their vision is to develop into a comprehensive communication assistant to simplify communication for their users. The Grammarly business model is built around the core values abbreviated as EAGER,
E – Ethical
A – Adaptable
G – Gritty
E – Empathetic
R – Remarkable
Their vision and developmental strategies are focused around their core values with a user-centric approach towards growth. People trying to figure out " How does Grammarly work?" and "How does Grammarly make money" soon realized that it was their emphasis on technological driven growth that has led to their progress in this sector. The incorporation of artificial intelligence in their framework allowed them to integrate the processes of cleaning up their work and develop a better environment for learning and communication.
Grammarly is a great example of how a smart idea revolving around simple tasks can transform into a revolution when backed with the right values, ideology, and strategy. The level of success they have achieved has set a benchmark for future enterprises to learn and grow as they try to figure out the answers to "How does Grammarly make money?" and "How does Grammarly work?". The slow, yet steady expansion of the Grammarly business model allowed their continuous and gradual growth. Their conversion to freemium ship despite gaining profits from premiership to attract a wide customer base led to their exponential growth in the industry. Grammarly works by appropriate utilization of AI and their easy-to-use interface are also a significant reason for their achievements.
We live in a highly competitive world with various applications and software developed to simplify work processes and make life easy and comfortable. The growth of an idea into a success banks upon the core values around which it is developed and proper technological support. Grammarly is one of the many successful companies to reach unprecedented levels of success. Reflect upon "How does Grammarly work?" and "How does Grammarly make money?" and nurture your ideas with innovation and dedication on your path to break and revolutionize the industry with quality like never before.
How to Launch Your Own Business Similar to Grammarly?
If you're willing to start your own Grammarly platform – you should go with Grammarly Clone which has customized features to let you roll with your own Grammarly Apps business.
Here are some other informative articles explained by NCrypted Websites: