6282
Views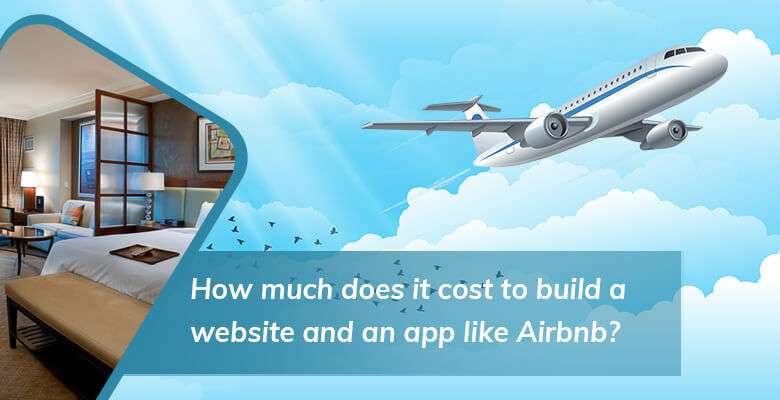 A ready-made vacation rental script from NCrypted costs only $749 for the Enterprise Edition. And it has all the standard features along with an advanced admin panel console to let you get started with your own Airbnb clone website. The product is called BistroStays – a vacation rental software – and comes bundled with features that help automate your B&B business.
Got surprised as to why is it so much cheaper?
There is no hidden secret. It is a bundled software, 100% open source, fully customizable and comes with a domain license. A no brainer deal for startups and entrepreneurs who want to get started quickly.
However, in case you are planning to customize or build a completely bespoke website and apps with your own set of unique functionalities and USP features, you should go for a custom development solution approach. A custom development project to build a website and apps like Airbnb with integrated CMS (content management system) back-end, analytics, and a custom responsive front-end user interface would depend upon the approach.
Customizing the base product would cost upwards of $1,000 to up to $8,000 or higher.
A bespoke custom development solution would cost somewhere in the range of $4,000 to $20,000 each or higher.
Do you know? Airbnb business model
Also read: Cost to develop an app like Uber
Get in touch with us with your requirements for a precise quotation for the development of your online accommodation booking and rental project.
What is the difference?
The differentiation is in the set of core modules, features, and UI which you want to select for your product. There is no single answer as to what set of features should you get started with since it completely depends upon your business strategy.
If you are planning for a prototype or want to test the market, get started with BistroStays Professional or Enterprise Editions which is pre-built with the standard features that you will need. You might consider changing the design UI though as you wouldn't want to get started with a me-too look similar to other startups competing with you.
However in you are planning to enter into the market with a serious business plan, go for a custom development approach or at least prefer customizing the base product to your needs rather than going for 'as is' script. Your USP (Unique Selling Proposition) is very important which sets you apart from the competition. The development time and cost are highly dependent upon many factors, such as:
Proposed Set of Core Modules & Features for the Development
Planned Design UI/UX (User Interface and User Experience Design Factors)
Database Architecture
Admin Panel Console (What sort of control is available and what is not available?)
The proposed Framework
The proposed Technology Stack
Proposed Software Development Architecture (Agile, Waterfall, Iterative, Hybrid, etc.)
Software Development Methodology (Modular, SOA – Service Oriented Architecture, etc.)
API Integration and/or Development, if any
So, if an agency is quoting you less than $1,000 for a custom development project to build you a site similar to Airbnb, now you know that either they are mistaken and don't understand the work required, or they are fooling you around.
Understanding what is Airbnb?
Airbnb is a very popular vacation rental marketplace that lets hosts to list their properties on rent on their website and apps and allows guests to find relevant places to stay worldwide. Their revenue model is commission based wherein they charge fees to both the hosts and guests.
What are the core features of Airbnb?
Airbnb, although is the best, is not the only player in this segment. VRBO, HomeAway, Wimdu, Travelmob, 9Flats, etc. are some of the best alternatives to Airbnb.
Property Listing & Management
User Dashboards for Hosts & Guests
Admin Panel with statistics & analytics reports
Automated Booking Module
Pricing/Book Now/Contact Host
Communication Module (Internal Messaging)
Calendar Import/Export
GPS Coordinates/Geo IP Location
Property Details Page with ListView, Photo Grid View, Street View (3D with Google Maps)
Social Sharing & Connect
And many others
Features would also vary from website to the Android, iOS (iPhone, iPad), Blackberry and Windows mobile apps.
What is the technology stack behind Airbnb?
Back-end Programming – PHP, Ruby on Rails
Front-end – HTML, Shockwave Flash, Lightbox JS, jQuery, Backbone.js, Moment JS, Amplify JS, Handlebars, React
Web Server – nginx
Digital Certificates – DigiCert SSL
Website Hosted with – AWS
Email Hosting Cloud Services – SendGrid, Google Mail for Business (Apps), ZenDesk
CDN – Akamai
How did Airbnb look in the past?
Like all the other successful websites, Airbnb also learned from the user experience and kept on adding and removing features based upon user feedback which eventually lead to the current design UI and UX of what we know as today's Airbnb. A glimpse at how the website looked in past reveals that all is not well when you are starting up.
You will be surprised to know that when Airbnb was first launched in somewhere in early 2008, the domain name was airbedandbreakfast.com. The domain name airbnb.com wasn't acquired until late 2009.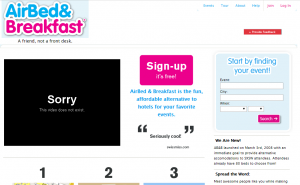 A screenshot of Airbedandbreakfast.com taken on March 10, 2008. Below is the screenshot of the site as on August 5, 2008.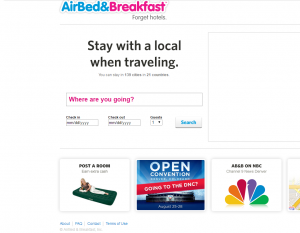 Are you planning to create your own website and app like Airbnb?
Airbnb just confirmed a massive $1.5 billion funding round and is now valued at a whopping US$25.5 billion. Ever since Airbnb has taken the accommodation booking industry by storm, dozens of home rental startups have entered this unexplored market and created their own niches. Recent players like HomeAway, VRBO (Vacation Rentals By Owners), FlipKey, TurnKey Vacation Rentals (Turnkeyvr.com) among others are all well-funded startups. Even veteran industry players like Hyatt Hotels are also stepping in the game with its recent investment in Onefinestay.
The vacation rental trend is worldwide. Our client OyoRooms.com, India's Airbnb clone cum Uber for Hotels (branded chain of hotels), has recently secured over $125 million. Tujia.com, China's Airbnb clone, recently raised $100 million. Startups from the US, Europe, China, India, South-East Asia, Singapore are all bullish on vacation rental segment and so are the investors.
You may like reading: OYO Business Model
It is high time you should get started with your vacation rental venture. Remember the key is in differentiating yourself from the others. The market is huge for B&B and apartment rentals and possibilities are endless. Let's connect to find out how we can help.