16993
Views
Wolt is a Finland based startup company that works as a network of restaurants, retailers, and couriers online. It is a food-delivery platform that was founded in 2014 by Slush Miki Kuusi.
It was launched a year later in 2015 in Helsinki, Finland. At that time the company had partnered with 10 restaurants only. As per Bloomberg's reports, within the next four years, the company had successfully raised $30 million in funding (January 2018).
In 2020 (Five years after the launch), Wolt has expanded itself to 23 countries and more than 100 cities. A company that started with just 10 partner restaurants has now partnered with 27000 restaurants and retailers. Sounds impressive, right? So, let's explore its business model to understand the tips and tricks that Wolt followed to become the company that it is today. Down below are a few insights for the readers craving to know "How does Wolt work" and "How does Wolt make money".
Wolt Business Model
Wolt follows a great and effective business model of the Sharing Economy. When the term Sharing Economy is used it simply refers to the peer to peer exchange process of services, products, or assets between private individuals, either paid or free by means of the internet. This model usually comes into existence when the price of any asset is high or is insufficiently utilized.
Today, many dominating companies like Wolt, Airbnb, Uber, etc are using this concept to enhance trade with crowdsourcing. Slowly and gradually, monopolies are coming to an end because businesses are moving towards connecting with people using Crowdsourcing. Even the crowdfunding companies like Ketto are using the sharing economy in their work process. Companies that were reserved to monopolies started thinking "How does Wolt work?" and "How does Wolt make money?" and then in the coming years, they soon realized the power of Sharing Economy
As per Finland 2018 statistics, there were 35000 more employed men and 32000 more employed women as compared to the data of 2017. The number of self-employed persons grew by 9000 in a year. [Ref:https://www.stat.fi/til/tyti/2018/13/tyti_2018_13_2019-04-11_tie_001_en.html.]
According to mid-2019 statistics in Finland, around 180,000 people are self-employed Finland.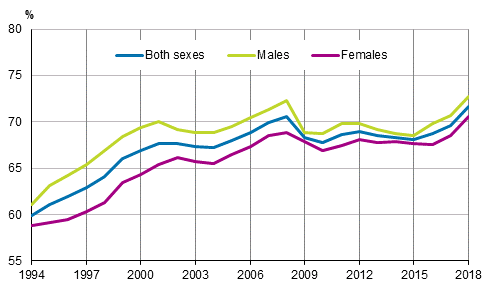 Experts say that the sharing economy played a very important role in increasing the number of self-employed people in Finland. Companies that use the sharing economy as their business model are preferred mostly these days because they provide an extra earning platform to people.
How does Wolt make money?
The company offers a Wolt courier partnership job opportunity which is its main source of making a profit. According to the information given by the company itself, below are the types of earning that a Wolt's courier partner can make after partnering with Wolt courier:
Task/Base Fee
It is the fee or earnings that the Courier partner receives on completing delivery tasks while including the Straight Line delivery system from the restaurant to the delivery address.
It is the earning that Courier partners receive if the straight line delivery distance is coming up more than the one already included in the above-mentioned Task/ Base fee.
Straightline delivery system
Wolt calculated the courier partners' fees based on a straight line delivery system in which distance is calculated from the Restaurant to the Delivery address in a straight line and not according to the road distance.
Available Guarantee payment
This is the payment guarantee scheme provided to all Courier partners for their availability during scheduled hours that they have pre-booked. The fees are then calculated based on Scheduled hours.
Wolt's Business Strategy
Wolt, a Finnish startup company, focuses on developing mobile payment software to ease out the payment procedure between consumers and restaurants. Its application connects hungry customers with restaurants for food and drinks.
Wolt's business strategy's success resides in the fact that the company focuses on the countries where there is less competition. For example, the basic launch of the application was carried out in no other country but in Finland, because there was not much competition in the market. Until now, it has not expanded itself to the United States and Asia but is expanding thoroughly across Europe.
Who are Wolt's Investors
As per the report by Thesus, the launch of the Wolt application became a potential point for investors. Investors often pondered over the Wolt's business model to know "How does Wolt work?" which finally convinced them and they consequently began investing in the company.
Few months after the launch of the application in 2014, Wolt successfully raised 400,000 euros. Crunchbase's latest report mentions that at present, the company has a total of 10 investors and out of the 5 are lead investors.
Who is Wolt's biggest Competition
The expert report 2016 says that Foodora is the biggest competition of Wolt at this present time. Foodora is also a food delivery platform running online. Customers can place their orders via the android/ iOS version of the app or through Foodora's official website. The biggest difference between the both is that Foodora doesn't provide food pick up service as s provided by the Wolt.
The company is originally based in Berlin, Germany and by 2020, it is being operated in the following countries:
Finland
Norway
Sweden
How does Wolt work?
Wolt is a tech company that provides the facility of food takeaways and delivery. The company works by building an infrastructure of connected networks between restaurants and retailers. It connects the hungry customers to nearby restaurants using smart technology.
People can place their orders online through the Wolt app available on iOS/ Android both or they can simply go to https://wolt.com/en and place their orders. When the customer enters the website after sign up, there is a list of various nearby restaurants that are willing to prepare the order. The placed order is delivered by the couriers working with Wolt to the desired customer's location.
At present (Jan 2021), Wolt has expanded itself in 23 countries worldwide.
Wolt also offers freelancing opportunities just like Uber. It has become a popular platform for students, immigrants, and unemployed people who are looking for job opportunities. Even the employed ones are going for it just to earn extra outside their 9-5 traditional jobs. Since it is a Freelancing job, it allows the employees to choose their own favorable working time without any time limit restrictions.
How does Wolt work for marketing?
Vehicle branding is a cost-effective marketing tool that helps your business in getting noticed by the local public. As compared to any other marketing channel or tool, vehicle branding is considered the most effective one. Wolt and Foodora both recognized this valuable opportunity and picked it up as the most effective tool to raise their brands' awareness among the customers.
Wolt uses a distinctive blue delivery car as a source of their vehicle advertisement to create brand awareness. Below is the blue delivery car that helped Wolt in generating and strengthening public awareness about their brand.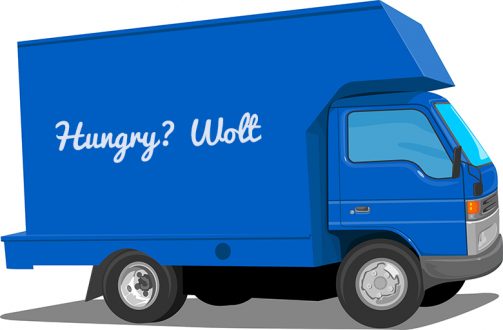 Foodora was no way behind Wolt in marketing and creating brand awareness. They chose to fully equip their staff members with the pink bicycle, pink jacket, pink helmet, and a pink delivery bag with the company's logo. According to the experts, this color marketing strategy impressed the local audience widely as the chosen color was quite eye-catching and quickly made everyone identify the staff members of Foodora with the pink color which became one of the important company's assets. Take a quick look at the costume of courier partners associated with Foodora in the picture, below.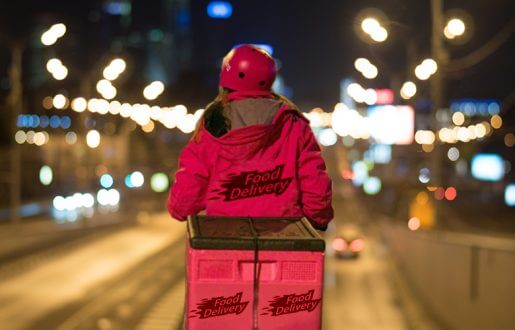 Summing-Up
This particular article presents the Wolt Business Model to answer the common questions arising in the minds of readers, i.e. "How does Wolt work" and "How does Wolt make money". From the inception where the customer needs to create an account on the app/ website and place the order to the food delivery system, everything is done in a well-organized way. The Wolt Business Model sets an amazing example for all the budding entrepreneurs to come up with a unique idea and nurture it with self-belief as- "Believing yourself is the first step towards success".
If you're willing to start your own food delivery platform – you should go with Wolt Clone, which has customized features to let you roll with your own delivery business.
Here are some other informative articles explained by NCrypted Websites: