4674
Views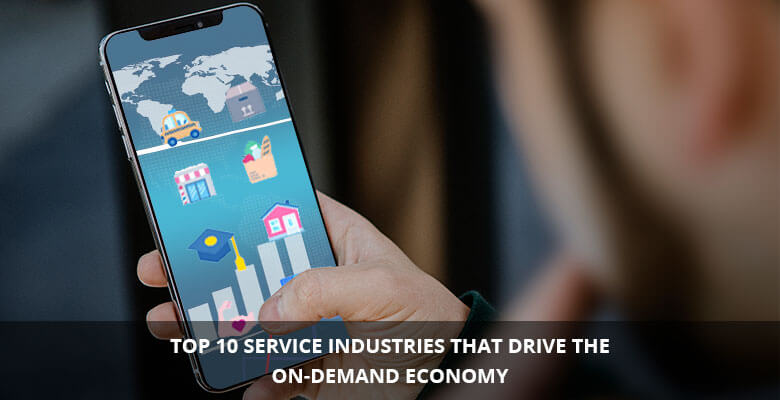 On-demand services are the talk of the town these days. These services are replacing the traditional business models faster than we could have ever imagined. Today, almost every business, be it small or a renowned organization/ brand has launched its business app. Businesses today have made humongous changes in their business models to cater to their customer's needs and stand up to their expectations.
The PWC report has estimated that by 2025, on-demand applications will touch approximately $335 billion. This data itself predicts the growth of the sector in the coming years.
First, let's understand the in-depth meaning of the on-demand economy, and then further, we'll look into the top 10 service industries that drive the on-demand economy while replacing the entire traditional business sector.
What is an On-demand economy?
The economic activity developed by online marketplaces and tech firms to meet customer demand for quick access to products and services is known as the "on-demand economy."
This particular economy is revolutionizing commercial behavior in cities(mostly) and towns all around the world. With the growth of the internet and on-demand apps, consumer behavior is changing to prioritize fast, desirable, user-friendly, and efficient experiences, and hence the on-demand economy is booming these days. Businesses and Industries driving this economy have put their years of effort into technological advancements and changes in customer behavior.
How does the on-demand economy work?
The on-demand economy works by connecting suppliers and consumers via technology. The aim is to connect consumers to the right service provider at the right time. This connection happens through technology services such as a website or a smartphone app.
Whenever consumers require service, they can easily open the app and enter their required details. The algorithm behind the app/ website works to send a request to the appropriate service provider and gets back to the consumer for acknowledgment once the request is approved by him. The service provider then performs the task of fulfilling the consumer's request. Upon the completion of the task, the payment process takes place through the application. Hence, the technology company is the intermediary in the entire process.
What are the advantages of an On-demand economy?
There are many benefits of an on-demand economy, primarily the real-time fulfillment of customers' demands, including the ease of connecting with a skilled service provider in the hour of need is the most appealing advantage.
Down below, we have curated a list of advantages of an on-demand economy in brief:
Businesses can fulfill the needs of their customers in a fast, efficient, scalable, and cost-efficient way
Overheads costs are reduced
There has been an increase in opportunities for freelancers
Hourly pay and work on demand are possible for this service
Flexible scheduling is possible
Businesses get a huge customer base through technology
Industries driving the on-demand economy
On-demand Food delivery industry
Reaching out to more and more customers has never been easy until the emergence of online food delivery apps. This industry is the most profitable one when compared to other industries since the way customers consume food items today has changed dramatically. People now prefer the comfort of home over everything.
Food solutions are always in demand, so it's a perfect sector if you are thinking of starting a business. But with opportunities come challenges too. It's not so easy to survive in a highly competitive market where the food tech giants like Just Eat, Uber Eats, Postmates, and many more are already competing with each other. According to Statista, the US market for online meal delivery generated US$306,808 million in sales in 2021 and is anticipated to expand at a rate of 10.01% a year (CAGR 2021–2025), with a predicted market volume of US$449,292 million by 2025.
The online food delivery market has already matured in the countries like the United States, the United Kingdom, and India. However, it is still expanding in many other countries, including Saudi Arabia.
On-demand transportation and travel industry
Whenever there's talk of on-demand transportation and travel services, Uber is ruling everyone's heart in almost all major countries around the world. Uber started its operations in 2009, and since then, a myriad of transportation and travel service has appeared.
We have an analysis below from Crunchbase by Sunil Rajaraman.
The data depicts that more than 75% of the funding has gone to 5 "on-demand" startups, and out of these, 4 startups belong to the on-demand travel and transport industry itself.
Research indicates that the market for on-demand transportation will grow between 2018 and 2025 at a CAGR of 19.8%.
The on-demand travel solutions have changed the way people used to travel. The traditional ways were too hectic to follow, but now, the whole process has turned very smooth. From online ticket booking to hotel and logistics, on-demand travel solutions have got your travel plans completely covered. There's no need to worry about last-minute checkout or make a last-minute booking; online travel services are there for you every time. You can access their services anytime via their application and book your tickets. They are a life savior for travelers.
The features of the app vary from company to company. To enhance the application, companies are nowadays adding map features to help the user reach their destination, book restaurant tickets, get information about the famous places to visit near you, and much more.
On-demand Logistics industry
Since the logistics and courier industry has become a part of the on-demand economy, the sector has witnessed significant growth in its business operations. Ecommerce applications are the backbone of this industry. The more people place their orders through these eCommerce apps, the more profit the logistics industry gains. People place their orders online, and the fulfillment partner plays the role of delivering them to the customer's doorstep through seamless logistic service.
With the aid of real-time customer alerts and SMS courier tracking, technology has significantly contributed to the expansion of the sector and the inclusion of smaller businesses. On-demand system apps have not only turned its operations more efficient and seamless but also expanded its customer horizon to a greater extent. To meet the customer's expectations, the logistics industry is continuously adding new features to its technology apps to make the process more customer friendly. The addition of the map feature has now allowed the customer to track the order until it reaches the final destination. A few popular names in the industry include Postman, DoorDash, GXO Logistics, DHL, Uber freight, Blackbuck, and much more.
With the advancement of technology, new integrations like AI, IoT, Blockchain, and Machine Learning will make the industry stronger and will indeed break through all our imaginations.
On-demand education industry
Online learning has made it possible to learn anything from anywhere and at any time. Education is not just limited to schools and colleges with e-learning concepts. Following traditional learning concepts is so old school now. With e-learning, you can choose subjects that align with your interests and goals. Corporate companies are also following this new trend and incorporating e-learning app concepts to train their employees and increase productivity.
The fact that on-demand learning will be the future of learning and is, after all, accepted by everyone since the arrival of the COVID pandemic, more and more companies are coming up with unique features to make some contributions to this industry.
By 2022, on-demand e-learning apps will bring in $245 million, predicts Statista. The e-learning sector in the US will grow significantly by $12 billion between 2020 and 2025. It is, therefore, evident that on-demand learning services are rapidly expanding and have risen to the top of the on-demand services list.
On-demand grocery delivery industry
The on-demand grocery industry is one of those industries whose popularity has boomed since COVID-19. As per the research by Bain & Company, only 3% to 4% of consumers utilized online grocery applications before the pandemic, and this percentage increased to 10-15% during the pandemic. Besides this, the research also included that 50% of grocery shoppers who are currently using on-demand grocery delivery apps will continue using its services even after the COVID ends.
Online grocery services allow customers to place their grocery orders from the comfort of their homes and get them delivered within a few minutes. This level of convenience seems quite eye-catching to customers, and that's the reason behind its growth.
Now, there's no need to wait in long queues at cash counters for billing and roaming around here and there for the items you need. Earlier the entire process was very time-consuming and exhausting, but now you can find any grocery item in a few clicks on your smartphone application and get them delivered to your doorsteps.
Many eCommerce websites today, like Amazon, have ventured into the delivery of groceries seeing the enormous potential growth in the sector. Their growth has itself witnessed that even post- pandemic online groceries delivery will continue to be profitable.
On-demand healthcare industry
This particular industry was in urgent need of on-demand services, and thank god that it has now stepped into fulfilling patients' needs online up to a certain extent. Earlier, patients had to visit hospitals or medical clinics every time they had some health issue, and many times this turned out to be hazardous. Now at least, a person can obtain the right medicine during an emergency by answering a few questions in the app or getting online consultancy from a doctor.
During the pandemic, these services were a life savior for many. The times when patients could not reach out to doctors physically because of the fear of disease spreading, telehealth apps were the best place to seek help. At times, it becomes very difficult to get a doctor's appointment, but with these apps, you have more doctors on the list to reach out to without worrying about how far the doctor is from you.
These apps also allow you to purchase medicines at home using a doctor's prescription. So, there's no more hassle of waiting in a medical clinic to get your medicine.
On-demand beauty and fashion industry
Customers can obtain hair and beauty care services at their convenience using a salon-owned on-demand app for beauty services. Salon app development is accelerating since it can provide excellent convenience to clients.
Everyone wishes to elevate their looks and take out time for self-care, but their busy schedule doesn't allow them to spend hours in a salon. Here, online salon services come to the rescue. One can access their services anytime, which will create a balance making it possible for people to enjoy the services of the beauty industry from the comfort of home while working efficiently.
Additionally, building an on-demand salon software solution saves you money by eliminating the need to buy a store, decorate the store to attract customers, and hire a large staff. Approximately 28% of hairdressers, stylists, and even cosmetologists in the US work as independent contractors and bring in $46 billion annually. Indeed, we have one more profitable industry driving the on-demand economy.
Some of the well-known online salon service companies in the online salon sector include Wecasa, Glamsquad, Urban, Blow, MyGlamm, GetLook, Missbeez, and Vanitee.
On-demand freelancing services industry
The on-demand industry has turned out to be revolutionary for freelancers, part-time workers, contractors, and day laborers, generating humongous opportunities for them. With the growing opportunities and the desire for flexible working hours, the number of workers joining the on-demand economy is also increasing. The on-demand economy seems to be the best setting to provide a better work-life balance because each employee has more control over the jobs they accept and the hours they are available to work.
Even big tech companies and startups are outsourcing their projects to freelancers and part-time workers. Whether it's technical or non-technical, all types of work are being outsourced by employers who are not willing to hire a full-timer for short projects. With this, they save the costs of hiring and providing facilities to hired employees.
The on-demand economy connects employers and freelancers. As a result, the independent contractors sign up for the apps and confirm that they are there to provide a service that comes under their niche.
On-demand entertainment industry
The on demand entertainment industry is one of the highly growing on-demand industries in the world. Youtube, Netflix, Hotstar, etc., are a few of the services ruling in this sector. These on-demand entertainment services come along with monthly or yearly subscription plans. It allows users to watch, read, or listen to nearly anything they want, whenever they want.
With the arrival of these online entertainment services, TV programs, live shows, and theatres, crowds are decreasing day by day. The way we consume entertainment content is changing day by day with the advancement of technology. The Internet is rapidly taking over all traditional entertainment mediums. Not only did it take over the mediums through which audiences used to seek entertainment, but it also offered and profitable way for the producers to experiment with content on.
And the main reason behind the decline?
Well, it's the comfort of home!!
Many people today prefer the comfort of the home above everything else.
On-demand online marketplace
On-demand online marketplace or eCommerce plays a very important role in driving the on-demand economy. It is a major factor in the growth of the on-demand logistics industry. It is rightly said that the success of on-demand and eCommerce goes hand in hand.
Amazon, Flipkart, and Walmart are all some of the most renowned names in the eCommerce industry.
The growth of the online marketplace, aka eCommerce, widely depends on the increasing use of smartphones. When more and more people use smartphones, marketing companies get a much more customer base to target them through ads and attract them to buy products from their eCommerce websites.
Conclusion
Since the on-demand economy is flourishing today, the demand for on-demand app development has also surged. Companies are looking for IT partners who can help them launch their businesses in this industry. Choosing the right business partner is not an easy task, but once done rightly, it works wonders. We at NCrypted Technologies have years of experience in this field, and we have successfully helped thousands of visionaries in launching their business solutions.
If you are also willing to launch your on-demand business platform, NCrypted has perfect solutions developed by our innovative and competent workforce. We offer customized and innovative features as per your requirement to let you launch a successful on-demand platform.