Mytaxi Clone Script
Booking a taxi was changeable before a decade which involved calling various tours and taxi operators. But in now, people want everything on just a single tap on their smart device. People want everything instant including transportation facilities.Taxis have become a very important part of the transportation system of almost each and every city. Booking a taxi online has become the latest trend in today's era.
If you think about all the aspects, Online Taxi Booking is crystal clear- This is one of the quickest ways of booking a taxi for passengers. This is the system to manage all the passengers online, passengers may get an instant confirmation for anything related to their travel plans and can go online anytime to check the status of their booking. It is always recommended that whenever the passenger makes a booking online, then he should take a print out of the receipt or booking confirmation.Mytaxi PHP Clone Script from NCrypted Solutions is the Best Taxi Booking App for the current scenario.
How does On Demand Taxi Booking App Work?
BooknRide is an on-demand transportation app like Mytaxi that works on a simple formula - It allows riders to book a cab by simply tapping the 'book now' button on their Mytaxi clone App, and get a cab arrive at the defined location, literally on demand.
How does On Demand Taxi Booking App Work?
BooknRide is an on demand taxi booking app like Uber that works on a simple formula - It allows riders to book a cab by simply tapping the 'book now' button on their app and get a cab arrive at the specified location, literally on demand.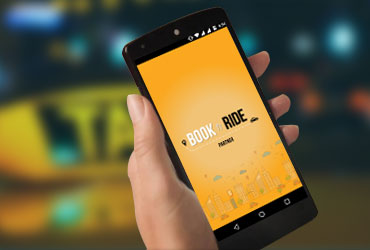 PARTNER APP
BooknRide driver application simply focuses on it's driver based aspects - to provide rider info, user requests, ride details, navigation details, transaction summary etc. in a convenient format.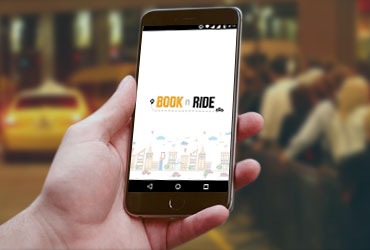 RIDER/USER APP
It allows the users to book cabs involving all the factors like destination, time of arrival (ETA), location details - all powered with easy to use navigation.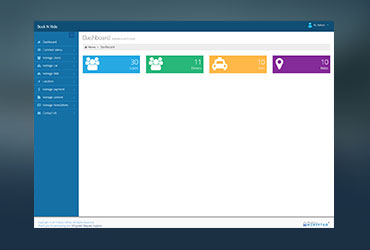 ADMIN DASHBOARD
View it all like a boss to speed up your taxi booking business outcomes with BooknRide App - view rides, rider details, driver details, define cluster areas, custom geo fencing, transaction summary and more.
Deep Dive - Uber Business Model Explained
How is Mytaxi Clone Script Beneficial for Business?
Pocket Friendly: With Mytaxi Clone Script, there are no extra costs, no contracts and no obligation. Users can get a ride when they require one and never worry about hidden fees.
Quick: Business is in real time. Whether employee or employer at the desk, in a client's office or anywhere in town, they can get a car in minutes.
User Friendly: Easy to set up and use, Mytaxi Clone Script for Business gets the employees to work without a hitch. Plus, simple admin tools let the accounts team track usage and expenses quickly and clearly.
How is Mytaxi Clone Script Beneficial for Drivers?
Mytaxi Clone Script helps drivers to find more jobs and more passengers and ultimately more money.
Getting More Passengers is Easy: Millions of potential passengers through online website and app, each just two taps away from a ride in the car.
Online Transaction: Hassle free online transaction of payment.
Key Benefits of Mytaxi Taxi Clone Script
It allows passengers to pick the vehicle in their budget with a fare estimate provided before ride
Execute proactive monitoring with accurate status updates in real time
Allow passengers to track drivers, vehicles and routes in real time on Google Maps
Provide a superior service enabling booking possibility for immediate and later needs
Provide a superior service enabling booking possibility for immediate and later needs
Integrated wallet option for drivers and passengers for easy checkout and secure payment
It reduces the response time for passengers permitting drivers for street pick ups on their way
Drivers and passengers can manage rides with a detailed history of all rides
Passengers can engage more with the service availing rewards and discount
Salient Features of Mytaxi PHP Clone Script
Mytaxi Clone Script is an Open Source Clone Script. And there are many salient features of Mytaxi Clone Script. Here take a look.
Easy to Register: Users, drivers and business can easily sign up and sign in.
Message Alerts: It aims at sending a message for sending notifications to the drivers along with the riders.
Search: The search facility is developed for the users to identify the location.
Price Calculator: The inbuilt feature helps users to calculate the fare using the app only.
Real Time Tracking Facility: With the exact solution, in Mytaxi Clone Script, users have been given the option of tracking the nearby cabs in real time. GPS integration has been provided for the purpose.
Grow your business with extra-ordinary efficiency in the era of high performing and custom mobile app ideas that make exponential profits. At NCrypted Solutions, we have been helping our clients for many years building amazing mobile apps with a rich admin panel that deliver higher engagement and out-of-the-blue usability. Our experienced and professional mobile app developers deliver the exact quality solution which best fits your business requirements.Mytaxi Clone Script from NCrypted Solutions includes all the technological aspects and their implementation, constraints of industry, user retention factors, and every other thing which is a necessity for the creation and the development of a cutting edge Clone Script.
Making your own app and for this, it is advisable to listen to some expert people but be sure to move to your own goal. The mix of the experience of the experts of technology and your own beliefs and personality is a perfect formula for leaders of the industry.If you are looking forward to bridging the gap between your business requirements and technology then contact us to have the best possible solution for your business requirements. Our dedicated and determined developers provide excellent services which lead your business and ambition to success.